King of Chill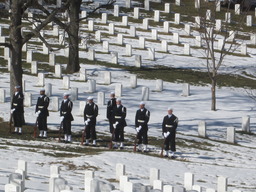 Arlington National Cemetery

Washington, D.C., USA
March 4, 2015

Pass through the main entrance, take the escalator up to the next level, walk past the Redbox DVD kiosk, continue on past the Bank of America branch and the CVS Pharmacy outlet. Straight ahead and down on ground level beneath will be an open-air central food court where tables and chairs are set out next to a Starbucks. Which building are you walking through?

No, it's not some small-town shopping mall. It's the Pentagon.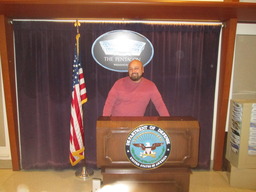 'King of Chill'
Behind Pentagon Lectern

Each time I visit Washington, D.C. I visit somewhere new around town. There's always another monument or memorial, another major museum, or another federal government institution whose existence I've been aware of since childhood--yet am visiting in-person only for my first time. It was two years ago that I first attended a hearing at the Supreme Court. Exactly one year ago I made my first visits to the Air and Space Museum and to National Public Radio's flagship studio. This year, the iconic D.C. site I toured for my first time was the Pentagon.

After going through security screening procedures to enter the building I enquired at a ticket window in the lobby. Was there anything else I needed to do before joining my tour? Three young servicemen from different branches of the military--each decked out in full dress uniform (as it turned out they were about to conduct the next hour's tours)--were on the other side staring back at me.

"What was the name of your tour group?", an army corporal asked me.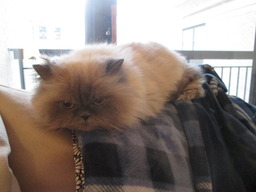 At Naomi's: Dagny,
the Grumpy Kitty
"My tour group? It'll be listed under 'The King of Chill'," I answered.
Everbody on both sides of the glass laughed aloud as the corporal flipped through a printed log of that day's tours to find my reservation.
"We've been waiting for you. We've been wondering who the 'King of Chill' was!", a serviceman in a Navy uniform standing alongside said to me as the laughter died down.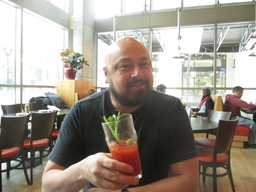 Bloody Mary Weekend Brunch

It wasn't hard to bestow myself with a silly title that appeared in the official printed manifest. To book a Pentagon tour it's necessary to first register personal details through an official website. Several weeks prior to my tour date I was in the process of doing just that, filling in all the typical fields required to be allowed to enter a secure government building. First Name. Last Name. Social Security Number. Etc.. On a whim, when one field asked which tour group I would be a member of I concocted a new, self-proclaimed regal status: The King of Chill. I reasoned that if all the other information jibed with whatever background checks they conducted then one silly detail wouldn't be enough to deny me entry. It turned out I was right.

The start of the tour--where I first saw so many typical chain stores upon entering the interior of the Pentagon, stores that could be found along any strip mall on the planet--was definitely a lowlight. The soldier who led our tour group took a strange pride in this, stating that the Pentagon contained not just one but two outlets of Dunkin' Donuts. He chuckled that it showed how "We sure go through a lot of coffee, here."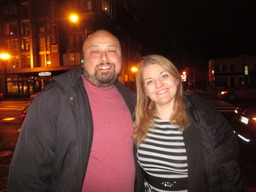 David and Naomi

Other aspects of the Pentagon tour were marginally more interesting than the bland franchise locations dominating the entrance. Displays lined several of the office corridors. One was a collection of models of military aircraft. Others gave biographical background on top-brass officers such as General MacArthur who had commanded in past wars. Those exhibitions might have proven educational and thought-provoking but it wasn't possible to linger and appreciate them in depth as one might in a museum. The Pentagon is a massive, functioning office building with plenty of foot traffic running through. My tour was limited to a single-hour walk-through with no straying from the group permitted.

The tour paused for its longest stretch at the part of the building that was stricken by aircraft on September 11, 2001. Though unquestionably a historically significant part of the structure there's little left to distinguish it as such from any other part of the building. All evidence of attack has been wholly cleansed and the corridors rebuilt exactingly. More limestone from the same quarry where the original building blocks were cut back when the building first went up during World War II was commissioned to reconstruct the damaged portion. The repairs left the building entirely uniform again with the only visible difference being that a memorial chapel was built at the area of impact.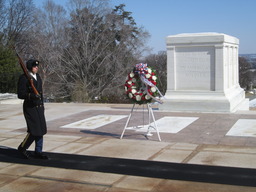 Tomb of the Unknown Soldier
Arlington National Cemetery

Though I am glad to have made the visit and seen the inside of the building with my own eyes, far more fun than taking the standard hourlong tour of the Pentagon has been spending the last few days catching up with Naomi. Starting with weekend brunch the day after I arrived we caught up over what appears to be the current drinking fad: mix-it-yourself Bloody Mary bars. Appropriately enough for a visit to D.C. we spent a good amount of time lazing about binge-streaming half of the first series of House of Cards, a TV program which before I had only heard about--but am afraid that I now may have become addicted to.

Since we last saw each other a year ago Naomi has moved to an apartment closer to the city, a building just around the corner from the Court House metro station. Her new location proved convenient for the other D.C. landmark I decided to visit for my first-time this trip. It's about a 20-minute walk to Arlington National Cemetery, a place where I spent an entire morning and the better part of an afternoon casually strolling from gravesite to gravesite.

Naomi's life is going steadily along. She's been doing well in the year since I last saw her. Her career seems sound and stable. Now, she's in final phases of making serious plans to plant down major domestic roots: I'm pretty sure there will be significant news in her life whenever I next buzz through D.C.. Thanks for hosting, Naomi! Come again to see me up in Montreal before I leave; do keep me posted on developments and additions in your life!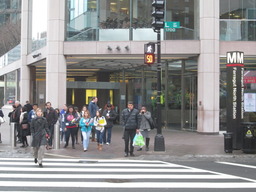 Central D.C.: Farragut North
Metro Station at L Street

My time visiting D.C. hasn't finished. Spring break is only half-over. I have two more quests while I'm still here. The former is, like my visits to the Pentagon and to Arlington National Cemetery, to yet another Washington landmark: there's a Persian calligraphy exhibition on at the Sackler Gallery of the Smithsonian that I am excited to see.

But, the latter item on my to-do list is far less institutional. I want to track down something called a "half-smoke". I must have read or heard about it on some discussion about regional specialty foods that aren't well-known beyond a limited area. I hadn't realized that there was any kind of cuisine unique to D.C.. Evidently, a half-smoke is some sort of spiced sausage that is local to and common around this town--sounds good to me. It'll be fun to have something new to seek out.

The remainder of this week will be spent staying with my cousin's family on the other side of the Washington suburbs. Hopefully, they'll know a thing or two about half-smokes.

Next stop: Rockville, Maryland