Slow Trains and Good Food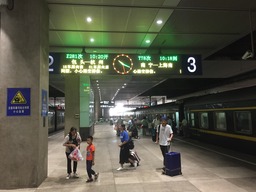 Station Call: Train T78
Nanning to Shanghai

SHANGHAI, China
July 22, 2019

I'm at the end of a summer travel adventure spent together with my niece. It was filled with lots of what I like--slow trains--and lots of what she likes--good food.

Before beginning this trip I asked Mai Linh where she would enjoy visiting over our travels. I first suggested places that I like: "Museums? Historical attractions?" No, she responded, those were not the kind of places she'd enjoy. I tried suggesting places that I seldom visit, myself: "Beaches? Shopping?" Neither of those struck a chord with her, either. But, she did offer up that, "I always enjoy eating lots of good, exotic food!" I thought that would be the perfect pursuit for us to chase over two weeks travelling across southern China and northern Vietnam, together.

Mai Linh Contemplates Catamaran

Those two weeks of travel together with Mai Linh for her 15th summer adventure have just finished up. She flew back to Seattle a few days ago. We indeed indulged in lots of good food every place we went. Then, after she returned to the U.S., I worked my way from Hanoi (where I saw her off at the airport for her flight home) out here to Shanghai by my preferred mode of travel: a long series of old trains.

While travelling together I wasn't sure whether Mai Linh would share my affinity for slow trains so asked her how she'd prefer to travel off the island of Cat Ba to our final destination of Hanoi. It would be quicker and more direct for us to go by ferry back across Halong Bay and then connect to a bus. Nope, she was more interested in modes of transport novel to her: in this case the catamaran connecting to the train. I did caution her that the train would be some rattly old carriage running along a slow line: quite the opposite of the zippy new high-speed rail lines we'd been riding across China. She seemed intrigued. I'm glad she chose the train over the bus.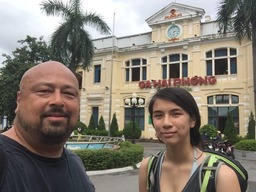 Haiphong Central Station

So, Mai Linh and I left Cat Ba, appropriately enough, on a catamaran. That brought us to Vietnam's third-largest city, Haiphong. With several hours to explore the city before our next leg (train LP8 to Hanoi) we walked through different neighborhoods around Haiphong from the ferry pier to the central station--indulging ourselves in snacks typical to modern Vietnam: coffee with condensed milk over ice, milk tea filled with chunks of pudding, and banh mi.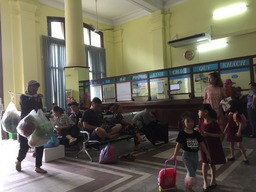 Haiphong Central Station

Once on our way out of Haiphong Mai Linh made the mistake of reading a book while riding the jolting train so suffered some motion sickness when we arrived into Hanoi. She soon recovered.

Hanoi itself was a treat to return to. I still have a lot of affection for that city I first stumbled into nine years ago not realizing I was plunking myself right into huge 1,000th anniversary celebrations. Mai Linh took to the rhythms of the capital quickly and easily. She didn't seem bothered by the scooters buzzing every which direction or the general indifference to traffic signals and lanes.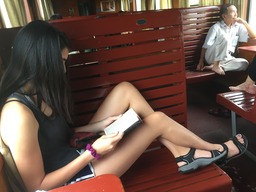 Mai Linh Reads Aboard Train

Despite her earlier proclamations not to enjoy such things, we did spend a fair amount of time at typical tourist attractions including the ancient Buddhist temple on an island in Hoan Kiem Lake and an afternoon at the Women's Museum. Lots of time was also spent buying things at Chinese chain Miniso. But, my niece seemed most content to stroll throughout Hanoi's old alleys and continue pecking at street food, sipping coffee with condensed milk over ice then change to a new venue every hour or two. That relaxed time in Hanoi was a great way to finish up our travels in Asia.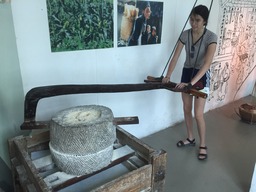 Mai Linh at Women's Museum, Hanoi

Mai Linh's flight from Hanoi back to Seattle left a few days ago. My flight to Seattle isn't leaving until tonight. That timing was to make sure that this trip would last long enough to maintain my tradition of being "out of the country" on my birthday every year. (I observed this one in Đồng Đăng, on the border.) I would have been happy if she had been able to stay on a couple days longer--we would have been together in Vietnam for both of our birthday celebrations. But, my niece has other obligations including a couple weeks at summer camp and a family roadtrip down the West Coast. What a busy 15-year old!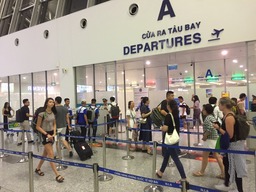 Niece Mai Linh Departs Hanoi

It was after dropping Mai Linh off at the Hanoi airport that my multi-day rail journey out here to Shanghai began. (Or perhaps should I count that trip as starting with that train ride together with Mai Linh from Haiphong to Hanoi?) An early morning departure from Hanoi on another rattly old train, Vietnam Railways' DD5, brought me to the border town of Đồng Đăng. There was little there, but I don't need much to recognize my birthday. Being in any different country for the day is my only requirement to maintain my tradition. I was also happy to take it easy just being on my own: no longer in charge of anybody else's travel and well-being for the first time in weeks.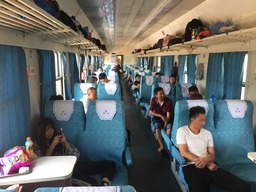 Local Train 5518 from
China/Vietnam Border

After a couple false starts walking in various directions from the railway station I found a hotel that was clean, new and reasonably-priced. The young staff could speak neither English nor French--but did have passable basic Chinese. I suppose that shouldn't have been unexpected in a town situated along the Chinese border. But it did surprise me that the street-food vendors in Đồng Đăng's central market were capable of communicating in basic Chinese, as well.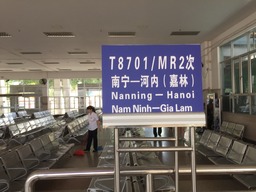 Boarding Sign for China/
Vietnam Train

The next morning after crossing the border into China was the only non-rail leg of my solo journey from Hanoi to Shanghai. I shared a 15-minute taxi ride with a young Vietnamese couple: fellow travelers who had crossed the border at the same time I did. I found that they too could communicate in basic Mandarin. Our taxi brought us from the border up to Pingxiang, the nearest railway head, where we parted ways.

I could have skirted that one short taxi ride and made the journey entirely by rail: there is an international train that runs from Hanoi across the border up to the major city of Nanning and then even further across China to Beijing. What with my penchant for riding the rails and crossing odd borders I did consider booking a ticket on that line. But, breaking the journey in Đồng Đăng allowed me to linger in another part of Vietnam and cross the same border on foot. Taking a domestic train within each country meant riding along over 99% of the same tracks for about $10 USD: about one-fifth of what the direct international train ticket would have cost.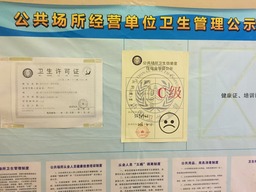 Signs You Might Be
Staying at a Sleazy Hotel

The penultimate leg, train 5518, was a pleasant afternoon ride from the Chinese border town of Pingxiang to the large city of Nanning. I passed a short night in Nanning. Checking into a hotel in the city center I did notice it was neither as nice nor as well-kept as the hotel where I'd stayed just the previous night across the border in Vietnam. But, it wasn't until I noticed posters promoting AIDS awareness and condom usage posted outside the hotel elevator bank on my way out to dinner that I realized rooms there were probably cheap for a reason. I was glad that I made that hotel choice after travels with my niece had already finished.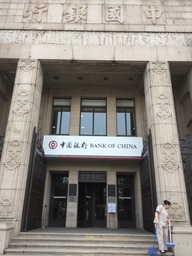 The Bund: Art Deco
Bank of China HQ

Finally, a run taking slightly over 24 hours on train T78 has brought me here to Shanghai. A Chinese train whose run starts with the letter "T" used to be considered an express run. The T stands for tekuai 特快 or "especially fast". But now all those old T trains feel pokey compared to the high-speed rail barreling down new tracks at 300 km/h everywhere across China, today.

I've wrapped up these many months in Asia with one day in Shanghai running errands. Some were fun missions such as shopping for a gift for the upcoming wedding of Kayla and her fiancee, Shahar. Others were boring tasks such as changing money at the bank. At least, when running the boring banking errands I chose to take care of my business in a beautiful setting: the flagship headquarters of China's banks are all located in beautiful, old art-deco buildings along the Bund.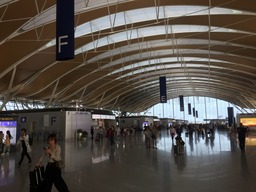 Shanghai Airport Terminal 3

By early evening I was exhausted from all my running around the city. I decided to take an early metro to the airport arriving here 6 hours before for my flight. The only reason I came here to Shanghai was because this is where my return ticket leaves from. That was because back when I flew into China 6 months ago Shanghai happened to be the cheapest city to fly into from the US. I didn't know then exactly where I'd observe my annual ritual of being in another country. But, I suspected it would be elsewhere in Asia so deliberately fixed a return date back from Shanghai a few days after my birthday. Though I had nothing other than that return flight across the Pacific bringing me here to Shanghai it's been good to spend some time revisiting the city--and good to have any excuse to make the long journey here on slow, old trains.

Next stop: Seattle