Creature Comforts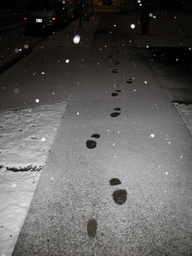 Seattle, USA
December 22, 2008

I've spent the last month staying at Mala and Vega's home. This is the longest stretch I've stayed in any one place over the last year-and-a-half.

I'm not just crashing. It's a fair exchange. We've struck a symbiotic relationship in lieu of rent.

I take on those eternal projects every household has. I've organized all of Mala and Vega's stray cords, cables, power transformers and electronic devices--weeding out two of three large boxes. I've made Goodwill runs. I'm transferring their old camcorder cassettes from source to digital format. I'll be scanning in film negatives. These are the kind of tasks that have been on my to-do list for years as well. Would I let somebody crash in my spare room as long as they were putting all of my data and material possessions in order? Damned straight, I would.

In exchange for taking these projects on for Mala and Vega I'm provided with the perfect accomodation. Their new home in New Holly Park is warm and brightly painted. I have a room of my own with the coziest bed I have slept on in, literally, years. I have my own bathroom. It's not a mother-in-law apartment with separate entrance: we bump into each other in the kitchen; my rooms are on the same storey as the master bedroom.

But, I've quickly embraced how plush everything is relative to the backpack/couchsurf existence I've been living for so long. Creature comforts that I long ago took for granted: closet space, an iron and ironing board, a washing machine and dryer are all fresh luxuries.

Much of the reason I've chosen to stay on with friends rather than staking out an existence on my own terms is because I've been reluctant to take any steps that would grow roots. I haven't signed onto a cell phone contract. I haven't pursued regular work. I dismissed the idea of temp' work quickly. Finding a place of my own would imply staying longer than I've yet accepted.

I may have to take some of those steps toward a more-established existence before long, though. My hope when booking tickets from Cambodia back to Seattle a couple months ago was that I might be able to hit the road once again should Mom's condition stabilize. I used frequent-flier mileage to return to Seattle from Southeast Asia. It took the same number of miles to issue either a one-way or return ticket. For the return back to Bangkok, I booked the latest date possible at that time, a flight in mid-March.

That was before we had a diagnosis of the severity of Mom's cancer. In the time I've been back her cancer has been diagnosed at stage 4, having spread to other organs. None of the therapies--radiation, chemotherapy--have proven effective. Christmas Eve, Mom will again change treatments. She'll begin a more intensive round of chemotherapy with a different cocktail than the ineffective one that was brewed up before.

I'm of course still hopeful that there should be stabilization, some sort of recovery. I'm realizing though: whatever the prognoses, I won't be leaving Seattle any time before long.

I know that come mid-March--when that return ticket to Bangkok comes up--I could reschedule the date to another further out for some fee. But: I'm anticipating that the time to return to life-on-the-road-across-other-continents may not come in 2009.