Recharging II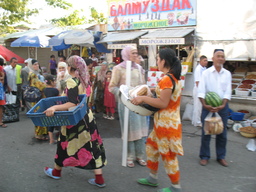 Osh Bazaar

OSH, Kyrgyzstan
August 9, 2009

The car we had arranged to drive us up to the Irkeshtam Pass didn't work out. By the time somebody called telling us that our ride was off it was too late to find any alternate means of transport to take us to the pass. The border is closed on weekends so this canceled ride meant that Friederike and I had to wait two extra days here before setting off for China--bringing our time in Osh to a full week.

These extra days in Osh are not a problem at all. Having unexpected time to spend would be great for taking it easy and relaxing, anyway. But Osh is such a pleasant city to visit. I'm questioning why we didn't just make spending a full week here our plan from the beginning.

It hasn't been a problem to extend our stay in the apartment for the full week. The extra days have also allowed me a chance to wander around and see more of the city. I've made return visits to the bazaar. Osh's long marketplace is one of my favorite across the world. The goods aren't exotic: aside from the tall white Kyrgyz caps people commonly wear in this corner of the world, there are few other items that might be unique to this bazaar. What's on offer is much more utilitarian. Everyday items such as used machine parts, detergent, CD's, plastic tubs in every size and color, vegetables, and meat are what bring people here. What I love about Osh's bazaar is how alive and bustling it is. It's clearly the nexus of the city, the place where everybody living in Osh often comes--perhaps to pick up fixings for dinner or to get their watch repaired. I love wandering through it.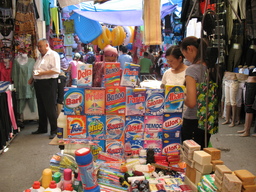 Osh Bazaar

The additional days have allowed time to revisit another place I came on my first trip to Osh. Last night, Friederike and I took our farewell-to-Osh dinner at the California Cafe. Until that final meal we'd maintained a routine of eating typically Central Asian fare at the chaikhanas around town. I'm still loving all those chicken kebabs. But, I've grown weary of dill. Dill seems to be lurking in every dish.

I realized that I go through the same love/hate relationship with dill every time I make a trip to the 'Stans from China. At first, I'm always excited to find fresh dill each time I cross the border from Xinjiang. "Dill! It tastes so good and it's everywhere here. Why can't I ever find it back in Xinjiang?"

Then, after three-or-so days, the novelty of this herb now no-longer rare wears off. As the food I order is set in front of me it's the opposite thought that comes: "Dill! It tastes the same in every dish and it's everywhere here. Why can't I ever find anything without dill in it?"

Done with dill, I decided to try tracking down the place I went with two students I met for dinner when here four years ago. I knew the California Cafe would be a dill-free zone--and therefore worth splurging on for the different menu. I was happy that I could lead our way back by memory, using hazy recollections of when I was last here. But I suppose that finding my way to one particular place I visited such a long time ago was really no great act of recollection or orientation--Osh just isn't all that big of a city. Once we got there, even four years on, everything was the same: same location, same pizza. The taste was neither great nor bad... but it was so nice just to have a dish without dill in it.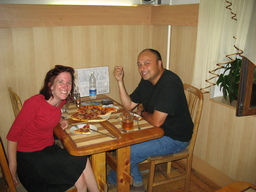 Pizza at California Cafe

Our last way of taking advantage of this unexpected lazy time in Osh was to zone out on a movie yesterday evening. We settled on one of several cheap DVD's I bought back in Urumqi. A poor-quality disc--clearly shot with a camcorder in some cinema--was a superior alternative to anything on Kyrgyz TV. The few channels in Osh were mostly broadcasting unfamiliar American movies dubbed into Russian. Watching a new Disney movie, "Race to Witch Mountain"--seemed the better way to unwind.

I knew it was a movie meant for children, but was excited when I saw the title of the disc in the shop. I remember loving the original "Witch Mountain" films when seeing them as a child. The latest sequel was, of course, horrible. But... I wonder if I wouldn't feel that the original films were equally bad, if seen through eyes that have aged several decades.

Theoretically, we have another car lined up to get us out of here today. If all goes according to plan, we'll be on a Jeep that will take us as far as Sary Tash, leaving at noon today. We'll spend the night there, then head up to the border crossing at the Irkeshtam Pass Monday morning. Given the difficulties I had when leaving Xinjiang last month, I hope I don't have any problems trying to re-enter.