Diglossia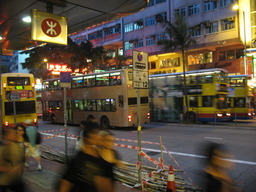 HONG KONG, China
September 9, 2009

"How would you pronounce this word?", I asked while grabbing a nearby scrap of paper. I scrawled out:

reich

Lup Ng brought the paper up close to his eyeglasses. "Reich?", he ventured--giving something like a "k" sound to the end of the word.

"That's what I would have said too... until a few weeks ago. The German friend I was just traveling with told me they say it with more of a 'sh' sound at the end..."

I'm staying with one of my father's cousins--a relative I'm particularly fond of. I'm not certain quite when, but I must have first met Lup Ng on some visit to Hong Kong, long ago. It couldn't have been later than '97: I remember him sitting across the table at a family banquet I attended while passing through that summer. We didn't talk much then. How he and I have managed to bond over the years, I'm not sure. We're of different generations. We live in different parts of the world. Somehow we just get along.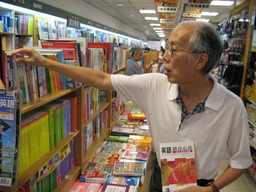 Lup Ng at Chinese Commercial
Press Bookstore

He's one of those guys who--while ordinarily reserved--has a tremendous amount to say if there's some topic of mutual interest. Over this stay--and previous stays in Hong Kong--Lup Ng and I have carried discussions late into the night. Occasionally we talk about travel. More often we talk about languages. His mother tongue may be Cantonese, but I believe that his level of English might actually be better than mine. He's authored and published books about learning English. Over the course of conversation the other night he even used--perfectly appropriately--a word I'd never heard: diglossia.

Lup Ng is in the process of writing another book--this one weighing the merits of the two systems (traditional vs. simplified) used to write Chinese characters. My approach to languages is nowhere near as academic as his--but we have good talks. We can sustain conversations that dip into areas neither of us know much about--the orthography of German, for example.

I'm finishing up these months on the road with a four-day visit to Hong Kong. I'm anticipating it will be a good long while before I again go on any extended trip, so am trying to call on as many relatives as time allows. These final weeks on the road have essentially been one long farewell to as many friends and family around Asia as possible--people I don't expect to see again soon. Come Friday morning I fly back to the U.S..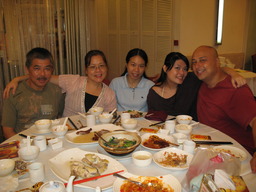 Nick, Eleanor, Annie, Joyce, & David
at Super Star Seafood Restaurant

In addition to Lup Ng, I've already seen several other relatives. These include "Auntie" (technically, first-cousin-once-removed) Eleanor's family. They're always a lot of fun to get together with. Every meeting inevitably involves lots of laughter over lots of food. Last night, they took me out to dinner at Super Star Seafood Restaurant, a yummy place near their new home in Tiu Keng Leng. Uncle Nick and Auntie Eleanor are well: they and 2nd-cousin Joyce seem to have settled comfortably into their new home. 2nd-cousin Bryant had to work late, though his wife Annie was able to join us. (Was it really one full year ago I came to town to attend their wedding?)

Annie and Bryant are doing great. They're both still working the same jobs in tech. They have big news: they're expecting their first child. I'll catch up with Joyce and hear more what she's been up to, tomorrow. She and I have scheduled time to meet for a drink somewhere around Hong Kong tomorrow afternoon. Later tonight will be dinner with another couple cousins of my father's--Mabel and May--as well as Mabel's husband Tom...

How I wish I had the time to call on everybody I'm related to here. But that would take weeks...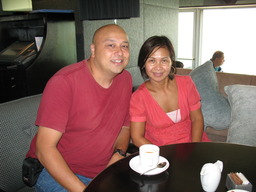 David & Cousin Josephine

Who else have I seen? 2nd-cousin Joesphine and I caught up a couple days ago. We met in Causeway Bay outside the Lee Theatre--she knew a good place for dim sum nearby. I guess Josephine's direction is opposite yet parallel to mine. She just returned to Hong Kong after a couple fruitless months in the U.S. trying to find work. I'm about to go the opposite direction: returning to the U.S. from Hong Kong. I'm hoping I won't have the same level of difficulty finding some sort of job once back.

After our fill of ha gow and siu mai we found that we both had the afternoon free--so decided to carry conversation on over coffee. I asked Josephine if she knew of any cafes nearby that weren't part of some larger chain. There are lots of branches of Starbucks and Pacific Coffee Company around Hong Kong. Not that I wouldn't patronize a chain coffeehouse--I was just hoping to find ambience different to that I could find in every other city around the world. Josephine said that she knew just the place.

We walked a few minutes west along Hennessy Road--but when we strolled up to her favorite cafe we came upon nothing but an empty storefront. Construction was going on inside; the business had closed up and moved across town. Ultimately, we found coffee and atmosphere at that same restaurant where everybody went for lunch after the wedding last year: Talk of the Town atop the Excelsior Hotel. Nice coffee, nice views of Hong Kong Harbor, nice to catch up with Josephine.

Calling on family around Hong Kong has been the right way to end these past months traveling around Asia. It feels good to reaffirm that I've been through this city enough times to know my way around and to know some places to go. It feels good to connect again with relatives over good food and good conversation.

I wonder when I'll be back.