Standing Date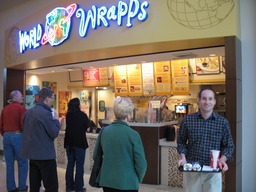 Michael in Bellevue Square Mall

Seattle, USA
April 15, 2010

We meet somewhere near his workplace to catch up over lunch. Conversation touches on topics far removed from those that used to define our lives. His: office politics (less conflict at the new job), day care (expensive), and late-night feedings (far easier with the second child than with the first.) Mine: funerary ceremonies (emotional and cathartic), emigration (imminent), and potential language study plans (Uighur? French?--details yet up-in-the-air).

During the long periods I've been hanging on in Seattle over the past couple years, I've kept a weekly date with Michael. It's strange to think that he and I were in, literally, the same place seven years ago, embarking on global journeys. He's now settled. I've never left wandering mode.

Catching up was easier while Michael was working in downtown Seattle. No matter where around town I might be housesitting or couchsurfing, I could always take one bus to his office: Metro runs most of their lines through the city center. When I got my own studio in Chinatown half-a-year ago, our lunch dates became even easier. I could step down from my fourth-floor apartment and walk over to his 19th-floor employee cafeteria within 20 minutes.

Michael began his new job a couple months ago. He now commutes across Lake Washington to one of Seattle's suburbs. We manage to keep the lunch date. Meeting outside the city sounded like it might not be possible without a car--but I've found it's no more difficult than periods when I took a bus downtown from anywhere within Seattle. An express to Bellevue leaves Chinatown station every 15 minutes.
---
"We're considering moving to a bigger house. We've looked around a few different neighborhoods," Michael mentioned when we met last week. It was an off-hand remark, one among many sharing whatever happened to be going on in his life. But, for some reason, that point was the one that triggered my realization: this ritual of ours is about to end. His family is likely to move; I'm certain to be.
Next week will be the last in our routine. My training for that short operation for the Census Bureau begins at the end of the month. I will remain in Seattle for several weeks to earn a little income through that. But, come end-of-spring, all of my plans involve moving along from this city. If I do attend that intensive Uighur language session, I'll leave in mid-June. Whether I enroll in summer courses this year, I'll begin my long trek sometime before autumn.
I might not be simpatico with late-night feedings and performance reviews. Michael is long-past making open-ended, overland journeys through Central Asia. ("That just doesn't appeal to me at all, anymore," he told me when I was contemplated which routes I might travel through later this year.)
Despite that our paths have diverged, one hour, once a week is never enough time together.