Exodus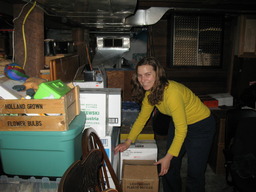 Devon in Greg's Basement

Seattle, USA
April 24, 2010

May will be a particularly empty month for family around Seattle. Most of us siblings will be away, making extended trips abroad.

Jen and her family will tour Europe the entire month. Alan and his girlfriend, Devon, will spend all of May in Ecuador. I won't be hopping continents or away from Seattle for quite so long, myself, but do plan to take another weekend back up in Vancouver. I'm hoping to make that roadtrip I had scheduled together with Ben back in February. That wound up as a solo jaunt. Thankfully, Ben realized at the last minute that he couldn't accompany me when I made the journey for my medical examination. The night before we were about to set off, he noticed that his passport had expired.

Though brief, our getaway some weekend in May will be more significant than any previous time I've gone up to Canada. The moment I cross, I'll acquire permanent-resident status. After so many years pending, my immigration application has finally been approved. I pick up my passport--with immigrant visa inside--from the Canadian Consulate, tomorrow.

With so much going on, there's been lots of preparation for what May brings. Alan is giving up his Capitol Hill apartment. I spent most of today helping him haul cardboard boxes of his posessions to stow in Greg's home. Greg--the only sibling who won't leave the country sometime over the next month--has been so accommodating, letting us use his place to stash our stuff. Now alongside Alan's, most of my things have been in his basement for over six years, over this extended time I've been living abroad and out on the road.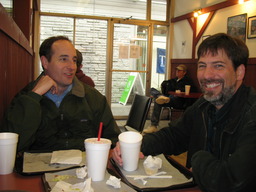 Michael and Mike

So much is happening these days. I actually had to turn down a request from Jen to housesit over their time in Europe. It's extraordinary for me to refuse such an offer--even after moving into a studio of my own in Chinatown. Staying on in any larger place--especially with cats around--is something I'm always up for. Except...

Except, that I'm starting another operation for the Census Bureau on Monday. I'll be out knocking on doors around Chinatown for "4-to-6 weeks". Housesitting in any another neighborhood makes no sense when my work will be on the very block where I live.

So, in anticipation of a full work schedule, I eked out one more lunch in Bellevue. This time two Mikes were present: childhood friend Michael and brother-in-law Mike now work two blocks from each other on the Eastside. Lunch with the boys was at local burger dive Broiler Bay. I'm sad that I won't be able to maintain my regular check-in schedule, but...

But, I have so much more to look forward to. There's still no word back about whether I'll receive funding to study Uighur over the summer. I'm still hopeful.

Funded or not, whether with extra language study beforehand: I'm still setting off for a return to Central Asia come summer...