Aunt Kathy's Closet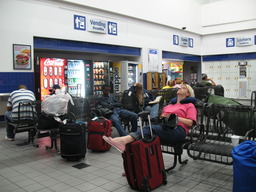 Chicago Bus Station

Chicago, USA
June 16, 2010

It's been so good to not have to explain myself.

When talking travel, I so often have to clarify the details of what I'm talking about: where a language is spoken, which regions a certain border divides, the location of some country I'm planning to visit.

But, when Megan and I catch up I never have to add anything. She's been to all the places I've been--but she usually made her trip to Destination X sometime long before I first did.

I stayed my first couple nights in Chicago at Megan's apartment off of Logan Square. We spent both nights staying up far too late: just talking the hours away. I'd throw out some place name where I've been over the time since we last met--Khorog, Osh, Urumqi--and she'd know first-hand exactly where it was. Conversation flowed so easily; it seemed impossible that it had been two years since we last saw each other.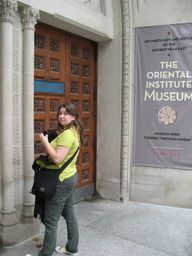 Megan outside Museum

Our conversation looked forward as well as back: we speculated on likely places either of us will land in the next year. Megan is talented. She independently runs her own graphic design studio and business is good. But--as with me--she's always contemplating some imminent inter-continental trip.

We didn't spend our time together just chatting late into the night. We took all of Tuesday out around Chicago, the bulk of which was spent at the Oriental Art Institute at the University of Chicago.

This visit to the museum was better than the last time I went. When passing through town four years ago I made a solo visit that left me disappointed. On that visit, I made a beeline to the Persian Room, presuming that it would house examples of my favorite artifacts: Islamic architecture and calligraphy. I was surprised that there was nothing on display throughout the entire museum representing any period after the advent of Islam.

Knowing what to expect on this trip, Megan and I toured the collection unhurriedly, scrutinizing cuneiform, sarcophagi, and other treasures that can no longer be seen anywhere outside of a museum. Megan has traveled more recently and more extensively throughout Egypt than I ever have, so she filled me in on details of the collection in the Egypt Room with the knowledge of a docent. I tried to reciprocate when we arrived at the Persian Room, gushing on about Persepolis--the only place I've traveled to that Megan hasn't. Yet.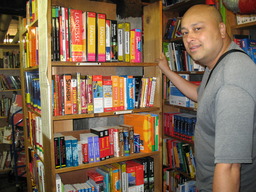 Books in the Basement

We made a point before leaving campus to stop off and browse the Seminary Co-op Bookstore, housed in the basement of a gorgeous Gothic building. Then, navigating a combination of CTA buses and trains found us sopping wet. Thundershowers struck while we walked from campus to make the first connection. Drenched as were were, at least we weren't too late to take dinner with Megan's boyfriend, Drew. We met at their favorite burger place, Kuma's Corner.

Kuma's Corner names all of their burgers after heavy-metal bands. I'd heard of most of the groups (e.g., Iron Maiden, Judas Priest) but my burger of choice was something called the "Plague Bringer". That one was evidently named after a local Chicago metal band. I don't know anything about the Plague Bringer or their music, but the Kuma's namesake was composed of:
Roasted Garlic Mayo
Tortilla Strips
House Made Hot Sauce
Fresh Garlic
Pepper Jack
Sliced Jalapeños
Yum.
---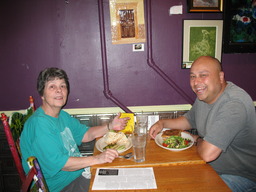 Aunt Kathy and David

I spent all of yesterday with Aunt Kathy. Much of our time was spent in her condo, sifting through objects in her closets that she inherited at one time or another. Grampa was an amateur coin collector. I organized his collection while in LaPorte two years ago. Those coins weren't taking up much space, but Aunt Kathy was considering clearing them out, perhaps selling them to some nearby coin dealer. Once I opened up the plastic tub to share what was inside, she seemed more inclined to hold onto them.

Nothing was extremely valuable but odd coins such as a 19th century U.S. 3-cent nickel and several large pennies from Canada bearing the bust of Queen Victoria seemed too cool to just hock somewhere down the street. Perhaps the collection might serve as a keepsake for latter generations back in Seattle. I can imagine one of my nephews or nieces being intrigued by coins their great-grandfather collected.

The other object from Aunt Kathy's closet that we contemplated what to do with was Great Aunt Mary--or, more specifically, her cremated remains. Great Aunt Mary's last formally expressed wish as to what to do after death was that her ashes be strewn upon her parents' graves in Ligonier, Indiana. Great Aunt Mary died years ago, but her urn has been residing in Aunt Kathy's closet ever since, much to the consternation of those both living and dead.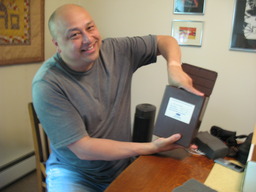 Examining Urn

It's not that attempts haven't been made to carry those wishes out. Aunt Kathy, Mom, Ben, and Alan drove out to Ligonier together after Grampa's funeral. They spent an entire afternoon methodically checking grave upon grave--but couldn't find the site. They knew it was there somewhere, but orienting based on memory of previous visits ended in a fruitless quest. There was no cemetery map to be found; they finally gave up. Great Aunt Mary returned to Aunt Kathy's closet.

It's now 2:00 A.M.. I'm at the Chicago Greyhound station. The departure to Bloomington is at the ungodly hour of 3:40. At least I have company. This station seems surprisingly clean and maintained. (Though, I admit my expectations were that this would be a last-class journey.) Many of the other passengers sitting nearby appear to be Amish: flat straw hats and beards on the men, long dresses and lacy white caps on the women. I don't think I've ever seen Amish people before; don't they shun the more modern means such as Greyhound?

It will be a busy summer for me with language study in Bloomington, but I'm already making plans to return to Chicago. I'm hoping to slip away over Independence Day to come back up here and spend more time with both Megan and Aunt Kathy. Hopefully, that long weekend will include a jaunt to finally put Great Aunt Mary to rest.