Skirting Borders III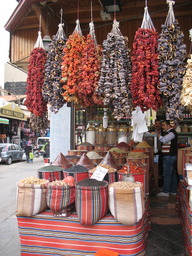 Gaziantep Bazaar

GAZIANTEP, Turkey
April 20, 2011

Syria and Lebanon were the two places I was most excited about visiting when I began this journey back at the end of last summer. But, I won't be going to either. I've been rebuffed trying to get into Syria twice more: once attempting another border crossing then again when applying for a visa at the consulate.

I did make it slightly farther into Syria I did than on my first attempt. On my second try, I was allowed through the no-man's land. The border guards on the Syrian side who inspected my passport were in a jolly mood, smiling and laughing. Among all three guards working the post they together knew maybe ten words of English. Even without much shared language their good mood was contagious. I really took it to heart when one of them finally said, "Welcome to Syria!", and waved me along to the immigration hall in the distance. I was excited. I thought I was actually going to enter the country.

But, my foray into Syria went only as far as the immigration post at the Tell Abaid crossing. As I filled out an entry card the immigration officers on the other side of the window seemed uninterested in letting me in, even before I'd completed the form. Trivial points about the nature of my work, about where I would be going in Syria, and other questions that I had already answered on the form were repeatedly asked. At some point the officer who seemed the most senior determined that I would need "approval from Damascus".

Gaziantep Bazaar

Whether or not "Damascus" actually made any decision, I was told after an additional fifteen-minute wait that I could not be admitted into the country without a visa. The fact that I qualify for a visa on arrival was, for whatever reason, moot.

While escorting me back to the border which I had just walked across, one of the immigration officers assured me there would be no problem getting a visa issued at the consulate in nearby Gaziantep. I was dubious, but reasoned that as I had already gone this far, I might as well give it one final go. The next day I took a bus a few hours further west to this city where I am now, Gaziantep.

The process didn't get any further at the consulate. The official in charge of accepting visa applications was extremely polite. But, he was also utterly unhelpful. "You must apply in your home country for a visa," was the standard line.

I persisted. I asked if there was any other way to get a visa. After a few minutes came back that same determination they made at the border: a visa could be granted with "approval from Damascus". That would involve faxes and waiting 15 days.

I'm sure that these constraints were supposed to be enough for me to give up the idea of entering the country, entirely. And by that point, I actually had given up hope of getting in. Applying for a visa at the consulate was my third failed attempt at a route into Syria. The excuses being made at each stage struck me as just ways to avoid saying "no" outright, hoping I'd just give up of my own accord. (With retrospect, perhaps it was actually a bribe they were fishing for, now that I think about it... .)

View from Şanliurfa
Citadel

Even knowing there was little hope of success, I went ahead and submitted the visa application, anyway. It didn't cost me anything; the consulate didn't care to hold onto my passport. All I had to give up were 2 photographs and fill my details out in duplicate. I said that I'd call in 15 days to hear whether "Damascus" has approved my application.

I assume that nothing will have changed in that time, but who knows? Maybe I'll get lucky. Or, maybe the protests and political upheaval that's currently rocking the country will have subsided in a couple weeks. I think that's the real reason I'm being given the runaround, not a question of whether my papers are in order.

One unexpected benefit to this rigmarole has been that it's taken me to a couple Turkish cities that I would otherwise have never visited. Both Şanliurfa and Gaziantep were enjoyable places to explore. They shared common attractions of historic citadels, traditional bazaars, and tasty baklava. I'd return to both cities on a future trip to Turkey, should I make one some day.

Now it's time to take a detour. I'll backtrack somewhat, then head up to the northeast corner of Turkey. I'm curious to see the area around Lake Van. Then, I'll cross out of Turkey for a brief time to visit a place that sounds unique: Abkhazia.

All this assuming that I don't have further visa complications.