Black Sea Circuit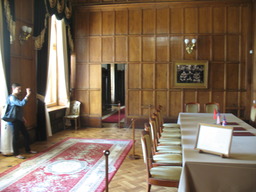 Yalta Conference Room

YALTA, Ukraine
June 15, 2011

I've practically wrapped around the Black Sea. I realized after arriving here that this leg from Sokhumi to the Crimean Peninsula has nearly encircled the Black Sea. If it weren't for the little blip of Russia along the northeast shore, I'd be able to make a full circuit.

Irina and I have arrived along with thousands of other vacationing visitors--though we might be the only two who didn't grow up speaking Russian. Discos, bars, karaoke bars, cafes, hotels--everything here is well built-up for the regional tourist trade--though we've found little English anywhere in Yalta.

Again, we found an apartment to sublet, this time for three nights. Finding a place to stay in Yalta was ridiculously easy. We were thronged by old women at the Yalta bus station, all asking if we were searching for accomodation--just upon stepping off the long trolleybus ride from Simferopol. Thoughout parks in the city center we've seen even more women holding up signs announcing available quarters. Notices seem to be posted to every other surface offering apartments to sublet. I love this system.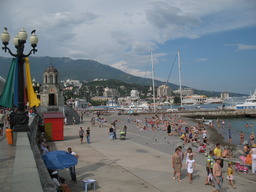 Yalta Seashore

This has been an easy visit. We found the beach between the promenade and the seaside to be the ideal place to set out, nurse a beer, and watch the moon rise. The misty hills behind the town are attractions, themselves. Tourist-resort town or not, I like Yalta.

Yesterday, we walked out to the nearby town of Livadia to tour the Grand Livadia Palace. Political junkie that she is, Irina needed no convincing to make the hike. The palace was not only one of the last constructions of Russia's last tsar but the site of the 1945 Yalta Conference, where lines for post-war eastern Europe were drawn up by Churchill, Roosevelt, and Stalin. Cool.

Again, we have to move along. We have tickets for a train leaving out of Simferopol tomorrow night. After this easterly detour along the north shore of the Black Sea, it's time for me to re-orient myself. Irina and I have another week-and-a-half to travel together throughout Ukraine before we cross back into the EU and part ways.

Next stop: Kiev