Graduate School III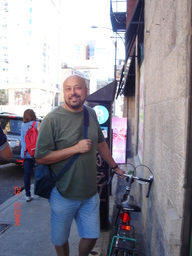 MONTRÉAL, Canada
September 30, 2013

Have I already been living in this city for a full month? Have I only been living in this city for just one month? My new life has settled into a good routine and quickly.

Courses keep me busy. A research materials class--mandatory for all incoming graduate students in the department--meets weekly. Thrice a week, I have a double-load of language classes that are identical to those I took over several terms as an undergraduate so, so long ago. Each hour of Urdu is followed on immediately by an hour of Arabic. Additional conversation and cultural sessions for the respective languages bring me back onto campus for the odd extra hour here and there.

I'm surprised by how much of what I studied way back when is still kicking around somewhere up in my head. Verbal structures I haven't seen since I was a teenager are yet familiar. Somehow, I can still chart out all the Arabic verb patterns from forms I to X. I'm pleased that my brain has retained knowledge that I haven't accessed or made use of in such a long time; I hope that it's still pliant enough to spread even more on top over the upcoming years.

I've quickly begun bonding with the other incoming graduate students. (There are only ten of us all together.) I've asked one from France to stick to French when we speak together and another from China to speak in Chinese when it's just the two of us. Both of their levels of English are far better than my capacity in their native languages so I'll have to make a conscious effort not to lapse back into English. My level in Urdu isn't high enough to keep up a normal flow of conversation with the two incoming Pakistani students, which is a shame. I'll have to force myself to avoid English when speaking with them.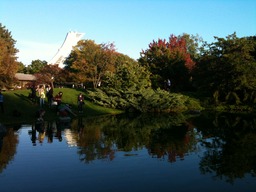 Botanical Gardens

This past Friday, most of us took advantage of free passes given out by the university to welcome international students. (Unexpectedly, there are no Canadian-born students among us.) The passes were good for free admission to most of the major museums around the city. A group of us took in the Biodôme at the Olympic Stadium and the Botanical Gardens just across the street. Then, today, I staked out the Museum Pointe-à-Callière on my own to see its archaeological remnants of Old Montréal and an exhibition on the history of tea. (The latter answered a question I'd always wondered about, why the name for "tea" in most every language worldwide resembles either the word "chai" or "thé".)

I should soon have occasion to be sociable once again. I've sent a message inviting all of us new grad students out to a hookah cafe on Rue St. Denis at the end of this week. I chose the same place I went when hanging out with another crew up McGill graduate students, La Gitane, back when passing through this city a year and a half ago. Most classmates should be able to show up.

In one short month I've landed myself comfortably into brand-new social, domestic, and academic routines. I'm still excited to see which direction life next leads me here in Montréal...