Pear Crisp III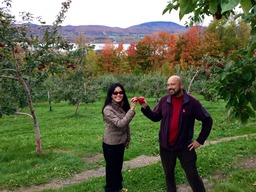 Cousins Jenny and
David in Apple Orchard

QUÉBEC, Canada
October 6, 2012

Yummy, fruity desserts will be on the menu in my kitchen this week. I've finally made my first trip to Île d'Orléans.

Exactly one year after the scheduled date of my French class's disappointingly aborted apple excursion I've harvested fruit from orchards of the island. Though, my sortie aux pommes hasn't been as field trip with classmates of my francization program but as getaway with twin cousins and a good friend I made back when I lived here in Québec City. Tonight, Cousins Jenny, Cindy, and I make our return to Montréal with a bounty of hand-picked apples and pears.

Once again, familiar faces from afar have come to visit, this time meeting up on my home territory. My twin cousins from Los Angeles, Jenny and Cindy, have flown here to tour La Belle Province for a week. I can't pretend it was exclusively a trip to see me--dear cousin as I may be--that brought them out here. Their trip across the continent was more-or-less already in-place: a mutual cousin of the New York Wong clan will be getting married down there this coming weekend.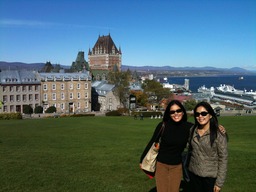 Cousins Cindy and
Jenny above Château Frontenac

When I thought ahead to the wedding date some months ago I thought it might be a good opportunity to show visitors around. I encouraged the L.A. twins to expand their journey. I knew they were planning on attending the wedding in New York so dropped them a postcard. I forget exactly how I scribbled it out, but remember suggesting something along the lines that if they hadn't already booked their air tickets into New York, why not route themselves to swing by Montréal on the way back East? An open-jaw ticket flying into YUL and out of EWR would cost about the same as a round-trip just to New York and back again. If they could take the time, it would essentially be a free stopover to visit Montréal: and if they were interested, to visit Québec City, too.

I have seen the L.A. twins here in Canada, previously--though on the opposite side of the country. They flew up to Seattle from California for my cross-border party when I immigrated to this country three years ago. Recalling that trip I thought they might be down for another excursion; I'm happy that we're able to hang out together somewhere new once again.

Back in Montréal early yesterday morning, I rented a car to pick the twins up right after their flight landed at YUL. We drove straight here to Québec City for two days of the cute-and-quaint Old World experience. I knew that as they'd been on the red-eye overnight from L.A. they risked collapse if we didn't go out to explore, immediately. I allowed them just enough time to check themselves in and to drop their bags off before meeting me outside for my personally guided walking tour of Vieux Québec. I knew that they'd be able to keep on going with the energy and excitement of landing somewhere new if we started exploring right away. But, I feared they'd crash long and hard if they spent any time beyond check-in at their hotel.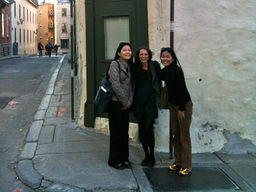 Cousins Cindy and
Jenny Surround Annie

So, within minutes of our arrival we took to the old town. We walked up to the Château Frontenac, around Dufferin Terrace, skirted the Citadel, then came back down into town along the city walls. About 90 minutes later as we walked from Place d'Youville through a turreted gate into the old city a familiar voice called out to me in mock chastisement:

"Speaking in English today then, are we?"

The three of us turned. Of course, it was only I who recognized the very person we were scheduled to take brunch with later on that hour: Annie. We gave each other the Québecois equivalent of a hello hug between friends--pecks on either cheek--and I introduced the cousins to my recent roommate. The three of us walked along together down Rue St. Jean then off a small lane to take our meal at Chez Temporel. Our time together was brief but I'm glad my cousins got to connect with a close local friend over their short visit. There's really nobody better than Annie to explain the inner workings of life in this province. We stretched out what time we had together after our meal by wending our way out through the alleyways to a viewing point lined with cannons overlooking the old port before finally bidding Annie farewell.

Though we're in Québec City for just the weekend it feels so comfortable to be back. Scarcely one month after I left to move off to the big city I'm unexpectedly nostalgic about the places I'm revisiting here around the small city. "There's the plaza where I would go ice skating in the winter," I said, pointing out a particular corner of the old city to my guests. "I used to come to this cafe so often: we have to order the crème brulée for dessert," I remarked around another corner. Happy as I am with my new life in Montréal I didn't expect to be reminiscing so much over this visit.

Cousin Jenny, David, and
Siliu at Montmorency Falls

Today, we've explored further afield. Our second day in town has been a second day spent together with a friend from my days living here. Siliu joined us for a spin outside the city driving out to the Montmorency Falls then a loop around the coast of Île d'Orléans. The twins had already seen most of the highlights they'd listed on their itinerary when initally planning their trip so the four of us improvised a leisurely picnic up above the cascading water. Out on Île d'Orléans Jenny and Cindy enjoyed not just plucking apples and pears from low-hanging boughs for their first time, but seeing the burning colors of autumn anywhere at-all for their first time. I hadn't made the connection as to how different the climate is in their home state of California so hadn't realized this would be their first time experiencing the colors of fall.

Now we're about to take dinner at a restaurant with local menu recommended by Annie: Le Cercle. We won't have much time to dine as I've announced our return drive to Montréal later this evening on ride-sharing site Amigo Express. I've never had a bad experience as either passenger or driver but do hope that whoever we share a lift with gives a good impression of the concept to my cousins. More people sharing rides more actively seems like a good thing.

We'll take the next several days in Montréal. Most of that time I'll be attending class while they get out and get to know the city. Come Thursday we'll rent another car to roadtrip down to our cousin's wedding.

Thanks for making the detour Cindy and Jenny! It's been so much fun to see you two again and to show you both around the corner of the world where I now live. More good times to come...

Next stop: New York