Cross-Border Party II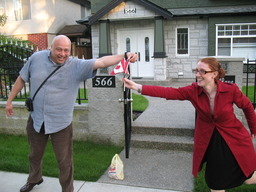 Flag Relay: Tiffany to David

VANCOUVER, Canada
June 13, 2010

"Look!", Ben pointed up into the blue sky directly above our heads. He and I were sitting alongside our cousins Cindy and Jenny around a picnic bench just within the U.S. side of the border. We were all eating peanut-butter and marmalade sandwiches.

"A bald eagle!", one of the twin cousins exclaimed. "I've never seen one before."

The massive bird had flown above us and was continuing to soar due west, toward the bay. I tend not to regard many events as omens or signs, but this one--whatever its significance--seemed practically scripted. Minutes prior, I had acquired permanent residence in Canada. We had just wandered across the meadow, back into the U.S. to sit down for lunch. (No border control is in effect within the Peace Arch Park.) America's national bird was flying overhead, on a course parallel with the border. The boundary was not ten feet from where we sat.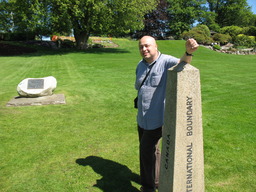 54° 40' or Nevermind

Auspicious birds aside, landing in Canada was easier than I hoped possible. Before being admitted, I forewarned Ben and our cousins Jenny and Cindy that they might have to find something else to do at the border for several hours. Perhaps some Immigration or Customs officer might take me into a back room for a long period processing paperwork. Instead, my immigration to Canada was carried out with mechanical efficiency. We spent maybe 10 minutes waiting in line and an equal amount of time in front of the officer who handled my papers.

Far more people than I anticipated came up to Vancouver to attend the second half of my immigration-to-Canada party. I assumed that only the couples I know living here, Tiffany and Rene and Carrie and Ed, would be on-hand. Both couples did come. But, I've been blown away with respect for how many people have shown up: our party has totalled well-over a dozen.

When I mailed invitations out I figured that only one or two other odd friends might make the drive up from Seattle. Instead: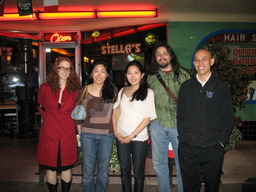 Tiffany, Jenny, Cindy,
Ben, and Rene

Cousins Cindy and Jenny came all the way from L.A.. Yet another pair made the drive from Seattle to attend parties on both sides of the border: Heather and her husband Tony. I became friends with Heather when she and I worked together for the U.S. Census Bureau last year.

There were more surprise faces in attendence. Astrid drove up solo, arriving a day early to mark a celebration of her own, spoiling herself for her birthday with a nice hotel and day out on Vancouver. I'm glad she was able to weave that time in with my immigration celebration. Even more unexpected than Astrid's appearance: Ben's former girlfriend Sandra and her recent husband, Cedric, made it to the Vancouver gathering. I was so happy and surprised to see them that I practically screamed and smothered Sandra in a hug when I saw them walk in.

My reaction to Sandra and Cedric's arrival wasn't just because I presumed they weren't coming. I had changed the venue at the last-minute. I thought it unlikely that anybody else could find the new location.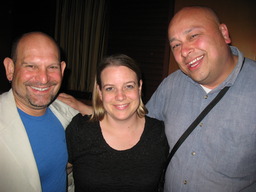 Tony, Heather, and David

After I sent out invitations, a wedding party booked out the entire wine and cheese bar I had chosen to host my event. The larger party trumped my immmigration celebration. When my first location fell through, I sent e-mail to those who I thought would come to the Vancouver gathering alerting them of the change. I'm so thankful that I had the further presence-of-mind to telephone the initial choice, the place whose name was printed on my invitation. I explained to a hostess several hours before going out for the night that there might be odd stragglers who hadn't received the word of the venue change. Anyone who showed up "asking for David" should be sent over to Stella's on 17th and Cambie.

That Sandra and Cedric actually found the Vancouver party seems like another good omen boding a smooth move to Canada.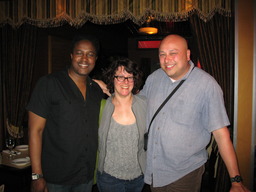 Cedric, Sandra, and David

Though, I've just acquired the right to reside, I won't begin life in Canada immediately. Next, stop: Indiana, where I'll begin that intensive summer Uighur-language program later this week. When that finishes in mid-August I'll take some time traveling within the U.S and across other continents. It won't be for some months--likely not until sometime in 2011--that I'll begin making use of my new resident status.

Now, Ben and I are off to the border. We spent what was left of the night after drinks crashing at the hotel where our cousins are staying. We're hurrying off now to cross back into the U.S.: but there's some sort of Boy Scout jamboree that will close the main crossing in a couple hours, "Hands Across the Border". If we don't manage to cross before that begins we'll be held up in Canada several extra hours, until the border re-opens in the late afternoon.

Tonight will be my last in Seattle: I'm taking anything still left in my apartment down to Greg's, where I'll pack, stay my last night, and leave behind what things I'm not bringing to Indiana in his basement until sometime next year.

Next stop: Chicago.