Ismailis III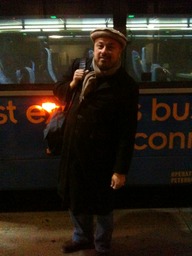 David Disembarks
in Toronto

HAMILTON, Canada
December 5, 2013

I saw a newly familiar face standing at the back of the line to board the bus to Toronto. It was the quiet guy who seldom spoke up in the Research Materials 603 course we were required to take as incoming graduate students just starting in the department. I usually travel solo so it was a welcome change to have somebody familiar to share conversation over the hours on the road from Montréal to Toronto. But it was especially enjoyable to talk with somebody with a strong connection to a remote area of the world that I loved visiting.

We'd nodded to each other from front to back of line so I was surprised when my classmate, Davlat, didn't take a seat anywhere near mine once we set off. At the one stop between Montréal and Toronto (Kingston) I invited him to come up and take the open seat alongside mine. I had a place in prime location on the second level seated directly above the driver with perfect view of the road ahead.

My classmate, turned out to be interesting in ways I hadn't expected. I had heard him speaking in Farsi around the department so presumed that he was from Iran. He corrected me as coming originally from Tajikistan.

"Which part of Tajikistan? I spent a brief time visiting the country four years ago", I asked Davlat.

"Gorono-Badakhshan. The mountainous area in the far east of the country," he said describing a vast general region, likely presuming that I wouldn't have been that far into the hinterlands.

"Oh, I've been to the eastern part of Tajkistan. Are you talking about Murghab?"

"No, not that far east. I'm from a place called Khorog."

"Oh, I loved that town! I met a lot of Ismaili people there. They were all so chilled out and nice. Are you Ismaili, too?", I asked my classmate.

"I sure am," Davlat said. Based on all the other positive experiences I'd had with other Ismailis I'd met, his saying that made me immediately like him even more than I already did.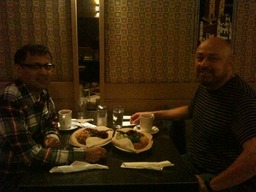 Akbar and David over Ethiopian

We spent the rest of our ride into downtown Toronto chatting about the course we'd just finished (challenging but good,) the future classes in which we'll have to enroll ourselves soon to keep our degrees from spiralling into interminable endeavor (why such rigid language requirements?), and what-all we each hope to do this summer (probably more language study somewhere outside of Montréal.) We both commiserated how this bus journey would have been our departure for Christmas break: if only we didn't each have a final exam bringing us back to Montréal in a week or two.

After saying goodbye to Davlat at the Toronto Coach Terminal I walked 15 minutes straight down Bay Street to Union Station to pick up a commuter line out here to Hamilton. I found it an odd coincidence that upon arrival here the very next person I spoke with after parting ways with my classmate was another Ismaili friend, Akbar. He picked me up at the Hamilton's central transit center; we drove straight to dinner.

Akbar knows my tastes all too well. He suggested one of two Ethiopian places he knows of in Hamilton. We caught up over doro wot, kitfo, and injera. Timing didn't allow Akbar's wife Sarah to join as she was cramming for a final exam of her own, this morning. It seems like her nurse-practitioner program is keeping her in as constant a state of study as I was over my last days of the term.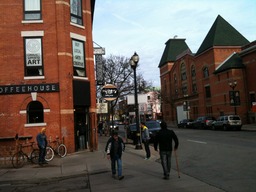 Downtown Hamilton

I've always preferred bigger cities but Akbar is doing a good job to convince me of the benefits of living in this smaller city. In addition to good Ethiopian restaurants, Hamilton's old downtown is starting to renovate and restore its neglected architectural past. At the moment I'm at a cozy coffeehouse on Mulberry and James. I don't know its name but it's an older building whose interior hasn't been completely renovated leaving it some rough charm. Mosiac tiling skirts the floor around the counter where orders are taken. Exposed brick around the inner wallk have small, arched windows letting a lot of light in. Perhaps it helps that it's clear, sunny, and well too warm to wear a coat--an unexpected benefit to leaving snowy Montréal, behind.

Thanks for hosting me for the night, Akbar! You're doing a good job selling me on what all Hamilton has to offer.

Now, I'm about to head off on the next leg of my journey: a bus down to the border. I've traveled this route often in the past but think I might pause to see a little more of the Canadian side, Niagara Falls, ON, this time through. I've usually made the crossing going in the other direction so have spent more time on the U.S. side, Niagara Falls, NY. Both cities cater mostly to daytripping tourists; either side has a towering casino, as well. I think I'll poke my head inside the one on the Ontarian side, just to see what's there, then walk back over the Rainbow Bridge above Niagara Falls to cross back into the USA.

Next stop: Buffalo