Persian Immersion: Fin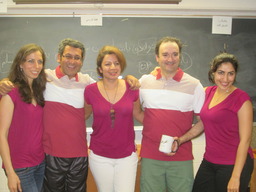 APTLII 2014 Persian Instructors:
Miriam, Mehrak, Parveneh,
Kaveh, and Fatemeh

Madison, USA
August 9, 2014

I hadn't expected how quickly this program would empty out. Class ended only yesterday yet I might be the last one hanging on here in Madison. Pretty much everybody else--teacher and student alike--has headed off back wherever they came from.

Yesterday afternoon, just an hour after the final exam, APTLII (Arabic, Persian, Turkish Language Immersion Institute) 2014 came to an end. A closing banquet marked the official conclusion to our summer of language learning. There were speeches. There was a slideshow. (A majority of the photos it used were drawn from the collection I shot on my camera.) Students from both the Persian and Turkish classes sang, and sang beautifully. There were comical video clips students of both of those language classes put together. The Arabic students kept their presentation simple by merely inviting anybody who cared to join along to participate in a traditional folk dance at the conclusion of the banquet.

Though I don't feel that I did as well as I'd hoped on my final exam I'm reasonably confident I'll pull off a fairly strong overall grade. Earlier this week our instructor, Mehrak, told us not to agonize over how we'd do in the class despite how inundated we were with preparing for presentations, term papers, and the final exam, itself: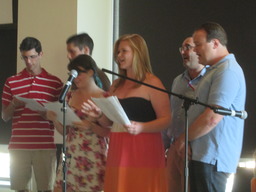 Persian Singers at Closing:
Banquet Tyler, Sebastian,
Iman, Kayla, Kaveh, and Cal

"None of you need to worry. Based on how all of you have done in class so far I know each of you is going to receive an A or an A-minus," he told us.

No matter what grade I've earned I am breathing easier now that classes are behind me. Everybody else has left town but I'm glad I tagged this additional day here to have one last look around Madison. I've taken an easy day throughout the city making one last visit to the places I became fond of over the summer. Much of my afternoon was spent sitting out at the Terrace though I've since moved indoors to the Memorial Union building to be out of the strong sun. I've decided I'll conclude my summer in Madison with a final spin on B-cycle this evening. I'm hoping to pedal all the way out to those gardens on the far side of the lake. Then, a Megabus will bring me into Chicago just past midnight: the first leg in my overland journey back to Montreal.

Naturally, I'm not the only one who has seen the conclusion of a summer of language immersion as reason to do something different and let loose a little. Yesterday evening saw plenty of food, drink, and students partying in ways typical on college campuses. Some of my classmates laid plastic cups out into triangular arrangements on opposite ends of a table to create a beer pong arena. The APTLII program coordinator was wise to have ordered well too many pizzas to the central lounge for the final night. That probably helped to keep at least some students from straying off from the dorm early on in the evening while additionally providing sustenance to blot up some of the alcohol that was being swilled down in copious quantities.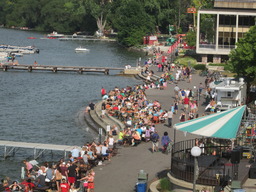 UW Madison Terrace

I didn't join in any of the drinking games though did decide that no better time would come to uncork a neglected bottle of champagne that I'd been meaning to turn into mimosas. Normally, I'd be all over the free pizza. But, despite having skipped dinner, I could only nibble at a couple slices. The closing banquet had been held just hours earlier. One final day of too many meals seemed like an appropriate conclusion to the constant excess of food this program has been providing the entire summer.

When it seemed like the beer pong might be petering out I invited the others to join me for some evening air. I fired up my hookah pipe in the courtyard outside our dormitory. Gradually classmates and instructors filtered down. Some sat to join in for lengthy conversation and laughter whether sharing in the fruity tobacco. Many had stepped out specifically to spend a short time just saying "goodbye". Others happened to be passing along on their way into town for an evening of dancing. It was so nice to have one last moment with the people I've studied with, lived next-door to, and with whom I've taken three meals a day over the past two months.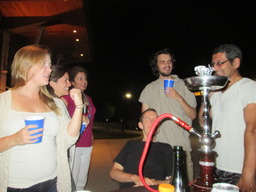 Courtyard Evening: Allison,
Joslyn, Parveneh, Ryan,
Colin, and Mehrak

Before heading back upstairs at the end of the evening I thanked the director of the Persian program, Parveneh, for bringing the experience. I wished her and her family well in their upcoming academic year. (Her husband, Mehrak, was my class's instructor.) Kayla was standing alongside. The program director regarded the two of us and commented on how enjoyable it was to have us both as students in her program. She concluded her farewell by stating, "You two are very, very good friends," using a clear but careful tone insinuating it was no secret how closely we'd fallen in together over the summer.

I drove Kayla to the airport in a Zipcar this morning. Even though she's already back home in the Southwest we've continued to exchange text messages as if we were still planning to discreetly slip out from lunch together or perhaps make another shopping trip by bicycle to the local mall. She mentioned that there's been a further sign of recognition--expressing some measure of tacit approval--that everybody was fully aware of our summer fling. She told me that every last photo of the two of us together that she's posted to Facebook (yet none of the others) has been "liked" by every one of our instructors.

Next stop: Chicago