Persian Immersion VII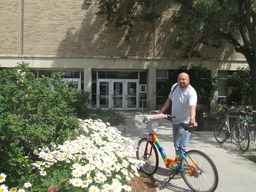 David with Art Bike
Outside Natatorium

Madison, USA
July 14, 2014

After class, between lunch and dinner, and before buckling down to do our homework Kayla and I have forged a routine to ourselves.

We text each other from far ends of whatever long table the class has gathered around to take lunch. Our exchange usually ends the same way:

13h25 Kayla: "I'm heading out now, azizam."

13h26 David: "Okay. I'm going to grab dessert. I'll see you out front around 13h35."

There isn't much point in our sitting separately over lunch, sending text messages sub rosa, or leaving the table at different times. It has to be patently transparent to the rest of the program that we're spending a lot of time together. But, what I dismissed a couple entries ago as "jokingly keeping things on the down low" does in fact seem to be evolving into a summer fling.

It's nearly a mile and a half from the campus dining hall to our dorms. (Chadbourne Hall and Phillips Hall, respectively.) Fortunately, Kayla and I both have B-cycle memberships so can roll most of the distance across the university rather than having to wait on a city bus or walk across campus under a hot sun. From lunch we walk to the docking station on the corner of Charter Street and University Avenue to check out a B-cycle. If there's an "art bike" (one of maybe 20 in the fleet that have been handpainted with unique design) we're sure to grab that one and snap a photo. We're in the middle of a whimsical endeavor to see if we can find and ride all of the art bikes in the system before the end of summer.

Our bike ride gets us as far as the Natatorium. We dock our bikes then cut through DeJope Hall for its air-conditioning and to check our mailboxes. (Which are usually empty.) With the advantage of being on two wheels we're usually the first back to our dorm. We make a beeline upstairs to my room.

Those are wonderful hours: lazy summer afternoons spent together just lounging about. To abide by the language agreement we really shouldn't be speaking in any language other than Persian. But, I figure that when behind closed doors nobody is going to give us any guff. We moan about class. We laugh together. We smoke my hookah pipe. We joke about how awful this time we spend together must be for our Farsi.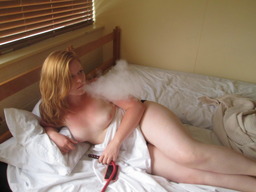 Kayla Exhales with Hookah Pipe

Not that I'd trade this burgeoning fling for any more solitary situation this summer... but my target language evidently could use more attention. (As if four and a half hours of class every morning, making conversation over three meals a day, nightly homework, and additional obligatory "mini-courses" weren't enough.) My mid-term from last week came back, today. I guess my grade wasn't all that bad. Nor was it all that good. Sometimes I think I shouldn't have tried my best on that initial placement exam at the beginning of the program. If I'd just made a quick pass over the exam I would have landed myself in a lower level of class from the get-go. This would be a far less rigorous summer on me. Oh well. Hard as it is now, I suppose my Persian will benefit from it in the end.

I certainly can't complain about all the experiences this program is offering me. For this weekend's field trip we've chartered a bus to Chicago. We'll be going to the Oriental Institute Museum at the University of Chicago. That's where Chia-yi works so I'm hoping to slip off from the excursion for at least enough time to grab coffee together with her somewhere around campus.

Next stop: Chicago