Free French: Reunions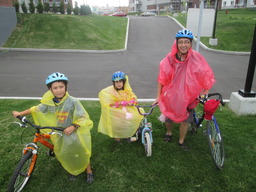 Sergio, Manuela, & Andres

QUÉBEC, Canada
August 28, 2014

I knew it would be more fun if certain people who I had come to see didn't know I was even going to be in town. So, just as the session was beginning, I slipped into the classroom along with the other attendees. The list of that day's topics was being written out in cursive on the blackboard. Lucie noticed me across the room and called out to Gaëtane in excited voice. Both volunteers leading the French conversation session came over and greeted me in typical Québecois fashion: with kisses on either cheek.

French language "conversation café" at the local community center was where I spent my Wednesday evenings over the year-and-a-half I lived here in Québec City. The informal coffee hour was free for anybody to drop into. The volunteers who organized and participated in the sessions were mostly retired women, among them Gaëtane, who had been a French-as-second-language instructor over her working days.

My regular routine at Université Laval ought to have provided ample language learning opportunity. Shouldn't six hours a day of well-organized instruction in the classroom have been enough? But, those university courses focused more on grammar and structure and less on providing opportunities for free-flowing conversation. So, I tagged on the weekly French conversation sessions at "Le Mieux-être des immigrants", a neighborhood service center providing services including a thrift shop and a food bank as well as the weekly café rencontre to help newcomers assimilate into life in Québec. It was here that I first began to feel comfortable expressing myself when speaking French.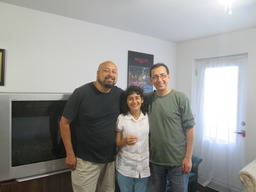 Francization Classmates
David, Rosa, & Andres

After the conversation session (this one a "getting to know you" game and a discussion about the origins of Labor Day) instructor Gaëtane and I fixed plans to meet up again over brunch before I head back to Montréal. It'll be good to connect one-on-one instead of in a classroom setting. But my time is thin. I'm here for just four days so already have quite a full schedule trying to call on as many friends around town as I can.

At the moment I'm staying with former Colombian classmates from days of French study together: Andres and Rosa. (Who, as my hosts, I did make sure to alert in advance to my visit.) The entire family is busy. The children are about to start at a new elementary school and both parents are about to begin new course terms as well. (Andres and Rosa are yet taking courses at Université Laval.) Still, they've made time for me: cooking Colombian dishes at their home and going out around the city together as their schedule allows. Today, Andres, the two children, and I went for a bike ride to a park in another neighborhood: the children didn't seem to notice the wet weather, at all.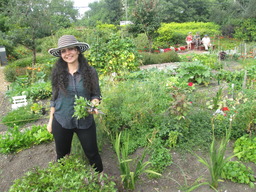 Somayeh in Community Garden

I'm happy to see everybody doing well and amused to recognize that everybody in the family is leading their lives in the same way I am: still in the classroom no matter the age. Good luck with the new academic year and thanks for hosting, Andres and Rosa!

The other rendezvous I've fit into this visit so far has been to the family of my former classmate from Iran, Somayeh. She and her husband, Habib, happened to be hosting his mother on a visit from Iran. That gave me an opportunity to try out some of the Persian I learnt back in Madison this summer. It was good to have an occasion to reactivate my Persian, but what a difference being away from class for three weeks can make. We spoke more in English than anything; I'm hoping my abilities will pick up again when I enroll in Persian at McGill when the new term begins.

Both Habib and Somayeh are also at Université Laval though neither study French at this point. Somayeh's level is now advanced enough to be doing a business degree with the majority of her classes in French. Habib speaks no French whatsoever but is finishing a Ph.D. in engineering in one of the few English-language programs that UL offers. It seems like everybody I run with is also a perpetual student.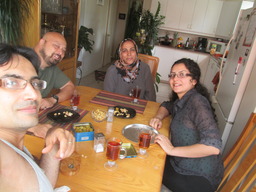 Visit to Habib &
Somayeh's Home

Lunch at their home was really something else. The women had prepared a feast of several courses of Persian food. For dessert there were several varieties of sweets from Iran. My favorite part was a simple beverage that I'm going to have to try to replicate the next time I have a blender: a milkshake whipped up with sweet date puree. That was so simple but, oh, so good.

Before concluding our visit Somayeh gave me a tour of the plot that the couple have been tending in their nearby community garden. Fresh basil, spearmint, tomatoes, cucumbers, and other greens were all ready to be harvested. Somayeh plucked off the items that were ripe to gradually fill a large plastic bag for me to take back to Montreal. To top it all off she handed me a plastic tub filled with homemade fessenjan, a Persian dish that she knew I liked.

Wow. Thanks for all that food, Somayeh and Habib. I really have such good people here in this city. And I'll be seeing even more friends over my final two days in town. Several rendezvous are scheduled before I head back to Montréal: with a former roommate, with the activity coordinator from my first French classes, and with yet more former classmates from Colombia.

Coming here has made me wistful in a way that I hadn't expected: I realized that I developed ties with so many people in Québec City that are closer than what I've formed with anybody at-all I met while living this past year in Montréal. Even if it's for just a brief visit it's good to be back.