Crosstown Moves II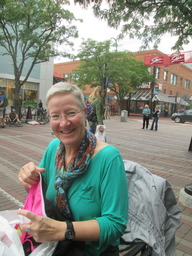 Professor Gwen on
Church St., Burlington

Burlington, VT, USA
September 21, 2014

This is just a quick dash across the border. It's a day trip taken for no reason other than that I happen to have a set of wheels for 24 hours and that there is little added expense in using them to dip down into the U.S. for the afternoon.

The main reason I rented a car was to move myself back into my little studio at the corner of Amherst & Sherbrooke. I didn't have to rent this car to move house. Professor Gwen would have driven my things over and said as much when I told her how I planned to move on from my recent cat-sitting stint at her place. But, additional expense aside, I just didn't want to be too dependent on her generosity. The cost of a one-day rental wasn't all that much.

I could have kept the car within Montréal and used it strictly to shuttle my things across town. But, as the cost of gas is significantly lower in the U.S., I figured the jaunt here and back won't add more than a few dollars in additional expense. It's fun to be making a short getaway for no reason other than just seeing a different city for the afternoon.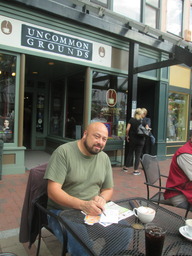 David Pens Postcards
on Church St.

I thought this would be a solo journey but at the last moment, as I was literally stepping out the door, Gwen asked how long I'd be away. She made the spontaneous decision to come along for the ride. "It'll be fun to not be the one behind the wheel for once!", she said. I rode my bike to the rental agency. She dug her passport out. We headed south together.

Gwen knew of a good restaurant in Burlington, India House, where she'd previously dined. We've just taken the chutney- and tandoori-chicken heavy lunch buffet there. I'm now in that content, drowsy state that only a full stomach can bring about. We've picked up some groceries at the local branch of Trader Joe's that opened up just a few months ago. Gwen also went to a sport supply shop to buy a bright pink replacement swimsuit for her laps at the local pool. Though we don't have any exemption from duty on goods purchased over such a short time away I don't expect either of us will have to pay anything. I'm always honest at the border about what I'm bringing back into Canada. They usually wave me along through as the value of duties they could levy on what I bring back wouldn't be worth their hassle to process. What's the duty going to be on $25 worth of cheese, anyway?

This has been so nice. At the moment we're winding up our excursion by sitting outside a cafe along the Church Street pedestrian promenade. Over cups of hot chocolate Professor Gwen has been reading a doctoral dissertation written by somebody whose defense she'll attend, tomorrow. I've been writing out Green Mountain State postcards. We'll turn around to head back up to Montréal, shortly.

Then, I'll make my cross-town move tonight and return the car tomorrow morning on my way into school.

Fun! I should make little road trips like this more often.