Code Postale G1K 3C1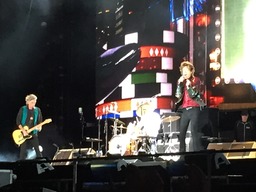 The Rolling Stones:
Live in Québec City

QUÉBEC, Canada
July 16, 2015

Who knew that Mick Jagger spoke fluent French? I certainly didn't. That is, before last night.

I found that fact out first-hand at the climax of this year's Festival d'été. The last stop on the Rolling Stones' current "Zip Code" tour was here in Québec City. I thought the lead singer might pepper the show with a few generalities along the lines of bonsoir or merci so was both surprised and impressed when the overwhelming majority of banter between songs and announcements was carried out in French. This was not a capacity I had presumed the frontman of an aged classic rock-'n'-roll band would have.

After 50 years of touring it stood to reason that the band would know how to put on a crowd-pleasing performance. The glitz and glam were expected: lots of costume changes including a sparkly long coat with tails hanging beneath the knees and a furry red cape were worn among many other outfits. That the musicians knew how to play the entire stage instead of remaining frozen at its center (as the two opening acts had done) was also expected. But, I hadn't anticipated the sheer energy that musicians who must be in their seventies could put out. The prancing, skipping, and high-kicking from one end of the stage to the other last night--Jagger could have been leading an intensive aerobic workout class--if intensive aerobic workout classes were held for over two hours.

As consummate showman he engaged the audience by introducing songs and cracking jokes in French throughout the night. At one point he recognized the lengths fans might have taken to come from nearby cities to attend the show by asking:

"Who's come from Trois-Rivières?"

Crowd response: "Ouais!"

"Who's come from Montréal?"

Crowd response: "Ouais!"

"Who's come from Ontario?"

Crowd response: "Boo!"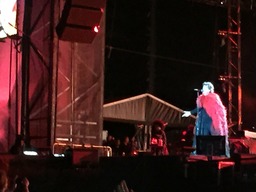 Caped Mick Jagger Performs
Sympathy for the Devil

As soon as he'd delivered those lines I realized how formulaic they must have been for everywhere the band has toured for the past decades. They were the same lines that he spoke, though adapted to the local venue, as when I saw the Stones perform for their "Steel Wheels" tour many years ago. When I saw them play that previous concert, in Vancouver, B.C., the lines were, "Who's come from Seattle? From Portland?"

I watched the performance from a location far closer to the stage than I'd expected to reach. Before the show I joined the throngs massing outside the temporary gates set up around the Plains of Abraham only 3 hours before the first opening act went on stage. Anybody with a festival pass was let in on a first-come, first-served basis. There were no individual tickets or reserved seats. I wasn't sure whether arriving at that time would be early enough to even guarantee me entry to the concert grounds, let alone a decent viewing position.

Somehow I managed to secure a spot standing about 25 feet away from the main stage throughout the entire night. Though close, it wasn't uncomfortable: the space between people was far less close and crowded than, say, the Tokyo metro during rush hour. I was surprised that people maintained elbow-room distance with no constant crush of anybody touching up against me.

Much of the performance was what I remembered from going to outdoor festival-style rock concerts in decades past. Girls hoisted up on somebody's shoulders, singing and waving their hands along to a song or two before they eventually became too heavy to keep aloft. Occasional pungent clouds of marijuana smoke wafting past throughout the evening. Though, today's technology has changed certain crowd behavior. Cellphone cameras were constantly held up to record audio, video, and stills of the performance--mine occasionally among them. Nowadays, the slow ballad is no longer waved along to with cigarette lighters swaying in synch but with cellphones held high with their flashlight function on.

Though my days of wearing mega-rock band T-shirts finished around the time I began college I couldn't help but buy a souvenir from this concert as well. When I saw them play in Vancouver I bought a shirt specific to the Canadian dates of their tour. It had maple leaves interspersed among the band's tongue-and-lips logo. So, my souvenir this evening had to be the long-sleeved fleece with the fleur-de-lys of the Quebec flag emblazoned over the tongue. I doubt I'll ever wear it again--but somehow got swept up in the band's savvy marketing.

When I first saw the Stones play so long ago I was surprised that they were still recording and still out on the road. Seeing them again last night I can't imagine that will be the case much longer, but who knows? Given the energy and showmanship of last night's concert maybe I'll have yet another opportunity to see them again some future years from now.