Ferry Detour

Burlington - Lake Placid Ferry

M.V. Champlain
August 14, 2015

The cats will have to wait another day for company. I've taken an unexpected detour.

At this precise moment I should have been on a train heading down to the southern edge of Vermont to begin a two-week stint cat-sitting for friends. Instead, I'm on a ferry boat heading west to New York State. Today's itinerary was wholly re-routed by last-minute serendipity.

I had already had bought a southbound rail ticket to get myself down to Brattleboro. Then, Professor N. reminded me of an alternate possibility. She and several of her professor colleagues from Buffalo would be extending this weekend to camp near Lake Placid. Would I be able come from Montréal to drop by and join them?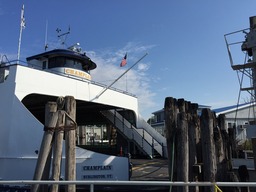 Ferry M.V. Champlain

I doubted it could come together but consulted a map to be sure. I found that it was indeed a stretch... but might just be possible. I'd already purchased a ticket for the first leg, a cross-border bus into Burlington, Vermont. That would arrive a few hours before a rail connection that I'd also purchased well in advance: an Amtrak train would bring me down to the opposite end of Vermont for two weeks of cat-sitting at Logan and Olivier's Brattleboro home. But, Professor N's camping expedition wasn't all that far away off from my break in journey legs. The ferries plying a passage between Burlington and Port Kent across Lake Champlain were a mighty tempting detour. I'd been meaning to explore those sailings since one time coming down here with Professor Gwen, a time when we realized those boats could be a viable and beautiful route from Vermont to the eastern border of New York State.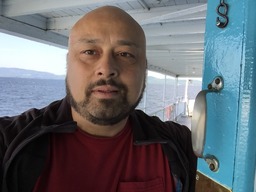 David aboard Ferry

I e-mailed Professor N.: could she pick me up at the ferry slip and drive me on to Lake Placid? If so, I'd throw away my Amtrak ticket and go join her and her colleagues to stay on some nights in a cabin in the Adirondacks. I e-mailed the last person to leave Logan and Olivier's before I was due in for cat-care: could they top off the cat dishes for an extra day? Yes on both counts. Everything became possible.

Now, I'm aboard the ferry M.V. Champlain somewhere between Burlington and Port Kent. Professor N. should be awaiting me on the other shore in Port Kent to give me a lift back to Lake Placid. I've come bearing cheese, salami, a loaf of bread, and several bottles of wine--all picked up at the Burlington Trader Joe's opened when it opened this morning.

Next stop: Lake Placid