Whither Winter VI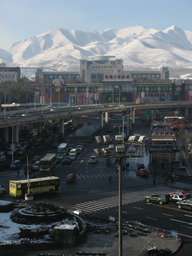 View from my Hotel:
Changjiang Road

URUMQI, China
November 8, 2010

I have a better sense which routes I might take onward from Urumqi.

Nisagul is indeed up for taking that trip together to Southern Xinjiang. Near Hotan is a village called "Jiya". That's the location of a shrine where large numbers of pilgrims trek every year. We wouldn't be visiting at the right time for the annual pilgrimage, but she's curious about the shrine itself.

If Nisagul and I do go to Jiya together, we'd have to leave Urumqi either tomorrow or in ten days' time. November 17 marks the holiday of Eid-ul-Adha. She wants to be in Urumqi over that time to celebrate with her family. If we left tomorrow, she could make it there and back again to Urumqi in time for Eid. Or, we could wait until after the celebrations are over to leave.

I was all set to leave tomorrow, but Nisagul found out further details that make me inclined to stay in Urumqi longer. As a tour guide working for a travel agency she knew just the right places to call to get the official word on travel routes I had been contemplating out of Xinjiang:
She found that the Khunjerab Pass between China and Pakistan is slated to stay open through the end of December. When contemplating routes I had presumed that traffic would have already stopped back in mid-October. It used to close at an earlier time of year.

The Khunjerab Pass is not my first choice of route. It might be a difficult time to be in Pakistan now what with bombings, the aftermath of floods, and widespread anger at the American occupation of neighboring Afghanistan. Still, going that way would be an overland route out of Xinjiang I didn't think was open.

An additional wild card: I'm sure that December 31 is only the "official" date of closure. The real date could be moved forward due to foul weather. Heavy snow or avalanches can make driving conditions along that road (the Karakorum Highway) impossible any time of year.

Nisagul also found that the sporadic bus connecting Kaghalik (Xinjiang) to Ali (Tibet) is no longer running at-all. When we traveled that road together with Tiffany we chose to hitch lifts with trucks rather than trying to get a ticket for that bus in-part because we thought it would be more interesting to go by thumb. But when we began asking around about transport, we found we had no choice but to hitch. At the time we went, bus service had been suspended on account of celebrations recognizing the 40th anniversary of the establishment of the Tibetan Autonomous Region. Looks like what thin service there once was has now ceased.

I now know to not bother trying to enter Tibet from that road beginning in Kaghalik. I don't feel like hitching lifts on cargo trucks this time around. If I do make my way out through Tibet it will be on the train running to Lhasa.

The best information Nisagul found out is the location of the office that has the authority to issue an Alien Travel Permit for Tibet. There's a bureau here in Urumqi that should have the authority to do so. Theoretically, it should involve paying only 50 yuan ($7.50 USD) and handing over a passport photo. However, most travel agencies or individuals who have the connections to get these permits issued on behalf of foreigners add a huge mark-up for themselves, easily $200 USD.

I don't know if I can avoid paying anything extra. I don't know if I'll even be able to get the travel permit: getting anything done officially in China is necessarily bureaucratic and bound-up by time-consuming red tape. But, I am a step further along with this concrete information on routes and knowing the official word on traveling to Tibet as a foreigner.
I'll add some more days to my stay in Urumqi to try to flesh out the logistics of where I go next. Nisagul and I will meet tomorrow for lunch (liver kebabs!) then make a trip to that office to try to get my Alien Travel Permit issued.