En Route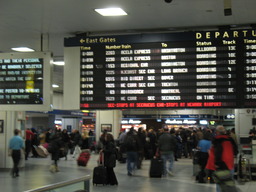 Penn Station Departure

Aboard Amtrak Run 69: NEW YORK to MONTREAL
January 28, 2012

Not bad for just 14 hours passing through New York City. After rolling into town on the Megabus from Washington I managed to synch up with Bonnie B. and Marven over drinks and Persian appetizers at a place somewhere on 26th Street between 7th and 8th Avenues. I followed that up with a proper dinner of sashimi on West 3rd off MacDougal Street with Uncle Philip. Then I walked to Cousin Jade's apartment down on Mott Street to spend the remainder of the night catching up with her and crashing out before moving along in the early morning.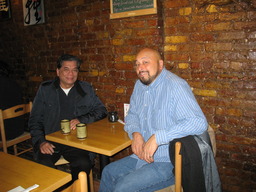 Uncle Philip and
David Post-Sashimi

I'm on a train, now. Specifically, it's the run up to Canada. I just crossed through immigration and customs. In one sense, they're smart about it. The immigration and customs officers came aboard the train, avoiding wasting time by having passengers disembark at the border to go through exit and entry procedures. Making everybody get off then back on the train is so common traveling when crossing so many other borders. Yet, in another way, they're dumb about it. Why pause the entire train at the border when officials could get on at the last stop in the U.S., ride to the first stop in Canada, then return on the train going in the opposite direction out of Canada to repeat the formalities. Less waste of everybody's time, I'd think.

Upstate New York

I'm finally on my way to settle down in Canada.

Next stop: Montreal.