Around Town with Friends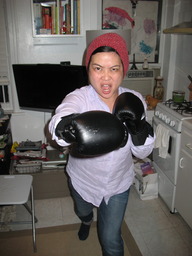 Cousin Jade, Chez Elle

New York, USA
February 23, 2013

Cousin Jade put me through the motions:

"One-two. One-two. Uppercut. Hook. Jab."

I knew my cousin was sassy and tough. I did not realize that she held a black belt in Tae Kwon Do. Nor did I realize that she currently takes boxing lessons. We just spent my last evening in New York with her taking me through crouches, stances, and punches I'd only seen broadcast on fight nights.

Cousin Jade has just hosted me for nearly a week in her neat Mott Street walkup. In addition to picking up moves I will never use in any ring, I've enjoyed hanging out with my cousin at home and around Lower Manhattan. I've gotten to know other sides to her in addition to her martial art ability:

Thursday night, not a minute back inside her apartment after work, Jade flipped on the DVR and TV. It was time to watch "Scandal". My cousin gave me the background on previous episodes. I am certainly not above guilty indulgences following trashy TV shows. So, I was happy to be introduced to another program to zone out on times I feel like a break from la vie en francais back up in Quebec.

We spent our next morning together going to Health Department Court. Evidently, her restaurant received an inspection that Jade felt inaccurately represented the true state of the kitchen. (E.g., being cited for a worker not wearing a cap despite that that worker was wearing a bandana.) Before we went I was intrigued by my cousin's description of the waiting room being a zoo of angry restaurateurs fuming in the very same building as angry motorists contesting traffic citations. It turned out not to be such a madhouse that particular day, but the main point was just to spend whatever time I could hanging out together with my cousin according to her schedule.

Times she was at work and I wasn't elsewhere about town I tried to make myself a useful houseguest. At one point Jade confided that a shortage of electrical outlets meant that, on occasion, she would boil up hot water using a socket in her bathroom--a practice that proudly cemented her role as ultimate mad aunt in the eyes of her niece. Simple solution: I bought an extension cord with multiple outlets, moved aside her fridge and makeshift kitchen counter, found a place to plug the cord in, then placed everything back where it was. (Sorry if you lose Crazy Tita status for that repair, Jade.)

A floor lamp I last saw when I stayed one night over a year ago was still in the same state of semi-functionality. To turn it on or off the steps were:
Pick up nearby dishrag to use as insulation
Clasp bulb
Twist
The rag-and-twist routine was so familiar that I don't think either of us gave it a second thought. That is, until I forgot to grab the dishrag one time and singed my fingers when turning the lamp off. I found a hardware store down Canal Street and picked up a basic switch. Even though I'd never replaced an electrical switch on a lamp before I knew it couldn't be that hard. Unscrewing the plastic halves, stripping the ends of the wires and piecing it all back together took under 15 minutes.

Jade was thrilled. Though, she did confess to me the next day that she was yet reaching for the dishrag out of habit.
---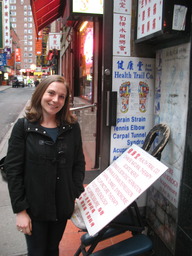 Catherine Q., Chinatown
I didn't have to go far from my cousin's apartment to meet up with another friend, one afternoon. I walked one block over to enormous dim sum palace Jing Fong to catch up with Catherine Q.. Chinatown was an appropriate place to meet: we first met back in China itself back when I was living in that country.
Catherine Q. is evidently in the throes of her final term at law school. It sounds like utter madness drafting legislation for a justice while prepping/fearing the bar exam this summer.
"I'm glad you got me out of my apartment," she told me as we plucked hot shrimp dumplings with chopsticks from opposite sides of the same dish. "I never leave my neighborhood anymore."
"What, are you just busy with work and prepping for the bar?", I asked.
"There is way too much of that. But... I also wind up just distracting myself a lot watching shows."
"You know, my cousin just got me into this political soap opera set in D.C.. You ever hear of 'Scandal'?"
"Oh my God, I love Scandal... !"
We caught up further over coffee then parted ways on a small side street. Catherine Q. asked me if I wanted to join her for a session of tui na.
I wasn't sure what that was. Coincidentally, I had noticed those very words printed on a flyer while walking down East Broadway the previous day. I had at first presumed it was a misspelling of "tuna" before realizing it must have been a word that I didn't know written in pinyin.
"What is it?", I asked.
"Oh, I thought you would have been all about tui na," Catherine replied. "It's like those massages you always went for in China but they really work the areas that need it. It can be a little rough but you feel great, afterwards."
I was scheduled to meet another friend just half an hour later so had to take a tui na rain check. Maybe we can go the next time we meet. Thanks for coming all the way to Chinatown to meet me this time, Catherine Q.. Best of luck with the bar and beyond!
---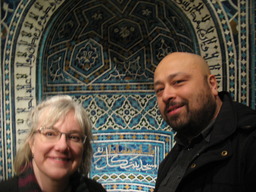 Bonnie and David
Islamic Wing, Met
Bonnie B. and I took a full, good day running about town together. Depsite that she lives here and despite that I've been through New York so many times we realized that we'd each visited the Met only once, ever. I wanted to visit specifically as I'd heard they'd completely renovated the Islamic Art Wing just a few months prior.
The galleries were great places to linger and look at collections of Korans, carpets, and calligraphy. We deliberately avoided the subway and caught a slow bus downtown to take the rest of our day indulging in simple, yummy food: Xi'an Famous Foods for rou jia mou. Venerio's pastry shop for cannoli. Unfortunately, husband Marven had to spend his evening over a work-related dinner so I couldn't connect with him over this visit. But, it sounds like the couple are doing well, traveling lots and happy to be living in New York.
Though, there is unfinished business. Bonnie still hasn't finished the project she was working on when I last saw her this past summer, reading War and Peace. The founder of the book club leading that dropped out; she feels guilty that she hasn't rescheduled more gatherings to keep people reading on together.
Good luck finishing that--hope you've moved onto less daunting reading whenever I next pass through town.
---
It's been a really good visit to New York checking in with friends who live here. I've enjoyed being back in the city more than I did the last time I came through. But, now it's time to move along farther south to make the most of my time off between terms of French.
Next stop: Washington, D.C.