FLÉ II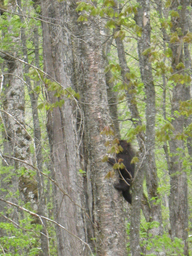 Porcupine Descent

QUÉBEC, Canada
May 18, 2013

I didn't know that porcupines climbed trees. I found that fact out today only after seeing one climb up a tree then cautiously reverse back down several minutes later.

This was not the type of information I expected to be learning over this term of intensive language study. Brushing up on the pluperfect and future perfect tenses: those seemed more-likely candidates over an intensive session of French grammar. However, I've decided to take advantage of all opportunities on-offer to explore this region around Québec City before I run off to Montréal later on this summer. And in so doing, I've inadvertently learnt something more about porcupine habits.

Finishing this phase of my life with français langue étrangère was the right decision. I'll take my French as far as I can before focusing on languages spoken in a completely different corner of the planet once I've moved to Montréal. This current program is packed field trips that maximize opportunities to practice French. Those include whale-watching, river rafting, and soirees with wine and cheese. Most activities are either free or require a nominal fee that might not even cover cost.

Today, I joined a day-hike to the summit of Mont des Loups in nearby Parc national de la Jacques-Cartier. I can't remember the last time I rode a yellow school bus anywhere, let alone to join in on a class field trip. It was just the day for it: skies mostly clear but sun not too hot. En route, I eavesdropped on other students across all levels of the program, most of whom fall somewhere in their early twenties and hail from other provinces across Canada. My immediate fellow classmates also fit this Anglo-Canadian profile with the exception of the odd student from Colombia, Brazil, or China. The Canadian students seem to have a more solid command of grammar rules than I have--though I'm pleased to find that I speak far more fluidly and with less-pronounced of an accent than they do.

I've landed in the advanced class: sixth out of seven levels. (One=low; seven=high.) My two Colombian classmates from days of francization who are also enrolled in the FLÉ were placed in the classes just surrounding mine: levels five and seven. The three of us still get together over lunch, though I've enjoyed meeting new students to practice French with. Over today's excursion I spent most of the hike chatting with a fellow student my exact age who has come here, kids-in-tow, all the way from Nanaimo. I find it bizarre that after a year of classes I can now converse with more fluency than Canadians who grew up in English-speaking provinces. I owe it all to Free French.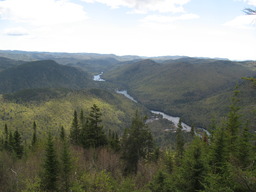 View from Mont des Loups

Though there are still four weeks left in this first session I'm already mulling over the possibilities where I could go over the upcoming break between sessions. This FLÉ intensive program is broken into two five-week sessions running from mid-May into mid-August. That allows the latter weeks of June and the first week of July--three full weeks--free from class. I'm hoping to take at least a couple regional road trips with friends.

And then... I'll need to figure out where to go for my birthday. For over 25 years running I have made a point to make a trip "out of the country" on that date. Unfortunately, my birthday will fall smack in the middle of the second session, this year. I have had other summer sessions of intensive language study where I've had to find a creative solution to observe my annual ritual. I might wind up booking a ticket to the cheapest destination that is neither in the U.S. nor Canada. (Now that I have permanent residence in the former and citizenship in the latter I don't think either place truly counts as being "out of the country".)

The most logical place I could go would be somewhere in either Mexico or the Caribbean. A non-stop flight from Québec City to Cuba could fit the bill. There is also another unique possibility just off the Atlantic seaboard where there are two islands that are neither American nor Canadian but a part of France, St. Pierre et Miquelon, that are temptingly proximate. Going there would satisfy my routine of being in another country on my birthday.

But really... flying anywhere in Latin America or French America for just the weekend seems too far to go and too much to pay, even for my one special day. Happily, I think I may have hit on a place far closer to celebrate my birthday, a place where I can simultaneously be outside of both Canada and the U.S.: a library built in two countries.

Actual birthday destination to be revealed in an upcoming episode of davidwong.com. Though, that won't come until after many more weeks of intensive French grammar...

Trivia: The french word for "porcupine" is porc-épic, which is pronounced similarly to "Porky Pig".