FLÉ: Intermission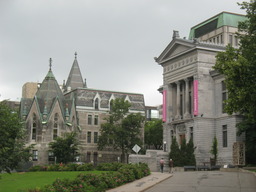 Left: Morrice Hall - Where
My Classes Will be Held

MONTRÉAL, Canada
June 19, 2013

I'm only passing through Montréal: this time, around. But, I'll be living in this city for real in just two months: I can scarcely believe that. I've been getting ready for my new life, treading paths, and seeing faces that will become part of my regular routine once I've settled here in late summer. With a three-week break between sessions of the FLÉ back in Québec City I've started my vacation by taking baby steps toward the big move and the new program I'll begin in September.

I got together again Monday morning with my academic advisor, Professor P.. It was good to connect with him to talk about which courses I should register for and how best to proceed with my thesis. He's been encouraging me to save any trip back to the sub-continent for later. No need to generate new research data: existing sources should be adequate for my thesis. Okay, that should work for me.

As ever, Professor Gwen is abroad. That gives me a free apartment in which to base myself while buzzing through town for a couple days. Sadly, there are no cats for me to sit on this visit. While she's away this time her kitties are in custody of her parents, south of the border.

The neighborhood the apartment is located in--Notre Dame de Grâce (NDG)--is now familiar territory. While staying here I've made a point to revisit both Banette, the traditional bakery down Sherbrooke (for a fresh almond croissant) and Akhavan, the local Persian supermarket also on Sherbrooke (for a big bottle of doogh.) Even though NDG is an English-speaking part of town and even though I'd like to keep my French current by living in another neighborhood--I am contemplating finding an apartment in this familiar, diverse area when I finally move to Montréal in late August.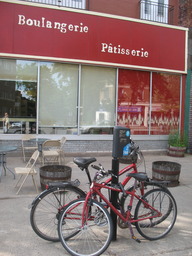 NDG Bakery

I've kept up with one of Professor Gwen's grad students as well--one of the crew that I went out around town with for Nuit Blanche last year. Dan has been great about cluing me into how the whole system applying for funding works. Grants, scholarships, loans... I wouldn't have known where to start without his advice. Happily, Dan clued me in the right directions that have secured funding that will cover my first year's tuition--and then some.

Dan and I met up again in the NDG neighborhood were where both he, Professor Gwen, and a large percentage of Montréal's anglophone community live. The three of us had previously gone for a quiz night together at local pub, Ye Olde Orchard. Even without Professor Gwen along this time, he and I did surprisingly well (45 points, with a winning score of 51) for just two guys forming our entire team.

Aside from seeing people and seeking out favorite treats I even managed to get some registration-related errands taken care of on campus. I'm glad I paused here for some days. I feel like I've taken care of a little bit of business. But now, it's time to pack up and move along from Montréal. I have a ticket to Toronto leaving at 10h30. That should allow me the late afternoon in the city, after which I'll take commuter trains out to see some familiar faces in a city further out west.

Next stop: Hamilton, ON