Friends in Town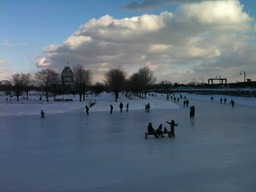 Old Port Ice Skating

MONTRÉAL, Canada
February 9, 2014

I must be settling into Montréal. Each time out-of-town visitors come I'm able to play tour guide just a bit better than whenever I last showed any guest around.

This weekend, it was friends from days of French class in Québec City who came to visit. Now that I've lived in Montréal a few additional months since my last guests came through it was that much more natural for me to navigate the city and to show people around. This time was easier than it was when Dad came back in October and even the more recent time when Siliu was in town over Christmas.

Once again, my guests were another Colombian couple who I first got to know through courses. Silvia and I attended the same classes the entire year-and-a-half I was taking intensive French at Université Laval. Her husband Gabriel worked at the local community center where I went for informal French conversation every Wednesday afternoon. They became friends of mine who I'd see every so often even outside the classroom: the three of us went out together for the occasional dinner around town or might see each other at a party chez eux or chez des autres. They were the ones who gave me that bicycle that I used to commute to school everyday here in Montréal until changing weather made it too dangerous.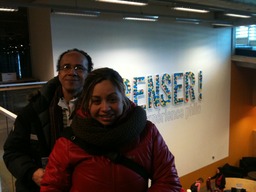 Gabriel and Silvia Visit
the Grande Bibliothèque

I was surprised that this was Gabriel and Silvia's first time exploring Montréal. They were already living in nearby Québec City even back before I myself moved there. But, as parents with grown-up responsibilities and obligations I suppose they never had the luxury of free time to take off to explore the big city until this weekend. With just one full day together to tour the town that meant the slice of Montréal I shared with Gabriel and Silvia was only the most general of introductions. We covered lots of ground but within a limited circle in the city center: seeing what attractions I knew were nearby and what places they had specifically asked about visiting.

When we met up Saturday morning I was initially embarassed to realize how out-of-practice my spoken French had become. My daily life at university had flipped from Université Laval en français to English-medium McGill just mere months ago. I'd been trying to maintain my ability by speaking only in French whenever running errands around Montréal. Why was I so often stuttering and searching for the right word in prolonged conversation? Thankfully, after the first few minutes re-connecting with Gabriel and Silvia my ability to speak gradually returned to the same level where I left it this past summer.

Their hotel was a brief walk down the street from the Grande Bibliothèque so we started our tour of the town at the library. I thought it would be worth a peek inside just to see the open, airy architecture of the building itself--though both my friends were further interested in registering themselves for borrowing privileges once they saw the vast collections of all type of media on offer. Even though they don't live here in Montréal every resident of the province of Québec can sign up for access to the Grand Bibliothèque and National Archives.

We ambled ourselves down through the oldest parts of Montréal, down to the Old Port passing Notre Dame Basilica en route. We'd step into the odd trinket shop or teahouse--but were more wandering and exploring than doing any actual shopping. That area at the heart of the city probably would have seemed charming and old-fashioned to most other out-of-town visitors--but to two people from Colombia who now live in Québec City, I'm sure that the colonial-era architecture in Old Montréal pales in comparison to that in the country where they grew up--nevermind what they can see every day in the center of the city where they now live.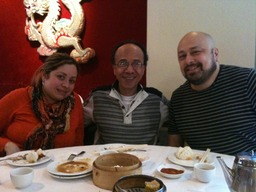 Dim Sum

Even more than strolling around the city center from one attraction to the next we spent the bulk of our time together somewhere indoors catching each other up on life over a shared cup, dish, or pipe of something warm. Though neither of them had previous shishah experience they were up for a round of mint tea and bowl of apple-flavored tobacco at my favorite local hookah lounge, Café Gitane on St. Denis.

A couple times when it was too cold to take in the sights from out the streets we found some coffeehouse in which to warm ourselves up where we shared news of ourselves, our former classmates, and our past teachers:

"Do you keep up at-all with that guy from Iran--he moved here to Montréal, right... ?"

"Oh, you still see our former sub on campus everyday: definitely tell her 'hello' from me... !"

"Whatever happened to the teacher from our first term? At one point she just suddenly fell out of contact with everybody... "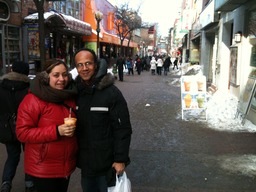 Chinatown Bubble Tea

We were well placed at lunchtime. Le quartier chinois had been the one specific neighborhood Gabriel and Silvia had asked to visit. It would likely have been on my itinerary, anyway. Everything about it was new to them. (Québec City did have a Chinatown of its own some decades ago--but its core was razed to construct freeway off-ramps.) Dim sum and bubble tea were completely new concepts to my Colombian friends. Gabriel raved about the garlic calamari. I tried my best to articulate in French exactly what the tapioca balls in bubble tea were made out of.

I'm glad to have spent a full day re-connecting with people who I saw regularly until very recently. I'm glad to have taken a full day around town speaking in nothing but French--I hadn't realized how rare an event that had become since I moved to Montréal. Above all, I'm glad to still be maintaining contact with some of the friends I made while living in Québec City--a place and stage of my life that feels more and more distant to me.

We finally concluded our brief visit with dinner at a Japanese restaurant halfway up the Plateau. Thanks for the good meals and the good company, Gabriel and Silvia! It was wonderful to see you two out here in Montréal--if just for part of the weekend. I do hope that you can both come back one day when the weather is nicer. I'd love to show you two around again: hopefully in some months' time after I've gotten to know this city better, myself...