Brief Check-in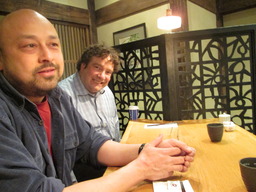 David and Marven at Ootoya

New York, USA
March 6, 2014

For such a brief time (15 hours) passing through New York I've done well connecting with old friends. I've managed to spend time calling on Astrid, Marven, and Bonnie B. and hear all of their news: most of it good.

Astrid's life has seen major change since we last met face-to-face. Most significantly, she's been teaching full-time at NYU this past academic year. It's not a permanent position but certainly one that fits where she wants to be in life and career.

Our margin to connect was thin but we managed an hour over coffee just off of 34th & 7th, then walked back to the Port Authority Bus Terminal together from where she rode back home.

Thanks for the cuppa and for being flexible with synching schedules, Astrid! It'll be my turn to treat when I pass back through New York again at then end of next month!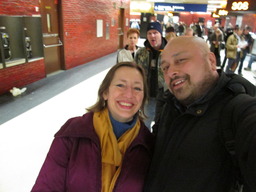 Astrid and David
in Port Authority

Bonnie B. and Marven are hosting me for the scant remaining hours I have before meeting my connection back north to Burlington. We met near the Flatiron Building where Bonnie B. was just getting out of a class keeping herself up to day in current IT skills. That location was perfect, walking distance from where I saw Astrid, off.

The couple have plenty of major news regarding career- and life-changes, too. Though the main storyline is still up in the air. It seems that Marven's job is on the cusp of transition with his company--either about to fold or to be sold--depending or on how the stars (and the venture capitalists) all align. If the former he and Bonnie B. wouldn't be leaving New York immediately, but they are exploring possible career paths outside of New York as well as what options they might have to stay on.

I'd feel like it was the end of an era if they do move elsewhere, though I have seen them both several other parts of the globe so know that--wherever they do wind up next--it won't be long before we all get together again.

It's time for me to get some sleep. I have a 6h50 departure out of Midtown. That means I'll sneak out of Marven and Bonnie B.'s place in just a few hours for my final legs back to Montréal.

Next stop: Burlington, VT