Museum Run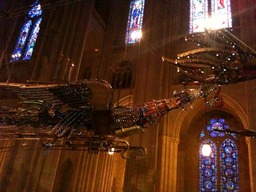 Phoenix (Xu Bing)
Hangs in Cathedral
of St. John the Divine

New York, USA
February 16, 2014

Admission to tour exhibitions at the Met, the China Institute, the temporary installation at the Cathedral of St. John the Divine, and a side-trip to a gallery in Chelsea: all of that was paid for. Cabfare and meals around the city: those were included, as well. Even the cost of transport getting down to New York and back up to Montréal: that was covered, too. I may be well-versed in the art of travel on the cheap. I may have traveled far and traveled globally on expense account, too. But, I believe this is the first time I've made an entire trip to New York City and not had to spend one single cent. This was not at-all the starving student experience I'd anticipated when enrolling in grad school.

Even better than getting a free trip to New York has been the experience of attending various exhibitions around town along with one of my professors and several classmates over this long weekend. These past few days have been a wonderful change of pace from my classroom routine.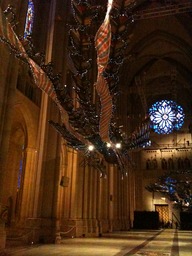 Phoenix (Xu Bing)
Hangs in Cathedral
of St. John the Divine

The start of my currently chosen adventure arrived a couple weeks ago in a batch of otherwise mundane e-mail. Professor M., who teaches my Chinese brushwork class, sent a mass message to me and all other graduate students working with him this semester. The gist was that he intended to view three particular exhibitions displaying significant works of Asian art that are currently running here in New York. If any of us also wanted to make a long weekend of it--and would be further willing to commit to attending all three exhibitions in a group together with him--then he would have budget ample to offset our travel expenses.

Umm... yeah? It seemed too good to be true. I naturally followed up right away. Who wouldn't jump at the chance to have meals, travel expenses, and entry admissions all paid over an excursion to New York City? I felt that I had to first confirm with the prof. Had he really mean to include me on the list of invited graduate students? The brushwork course I'm taking with him is cross-listed between East Asian Studies and Art History--but I'm a student of neither department.

"Yes, of course," Professor M. wrote back right away. "You are most welcome to come along the excursion."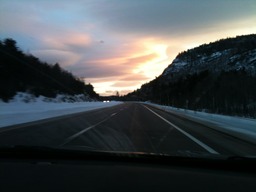 Southbound from Montréal

Logistics smoothly fell into place. A couple days after the initial invitation another of the students followed up on the e-mail thread. Would anybody else be interested in driving down together? How could we go about it? I wrote back letting everybody know that I'd already reserved a rental car to make the roadtrip. I've done that so many times recently--last Easter with Siliu, last autumn with twin California cousins--it took me no time to find a low rate. I knew it would be a relatively easy ride down from Montréal. Anybody else who wanted to join would be welcome, I announced. I didn't know what response to expect but figured it wouldn't matter. I'd already calculated that even if nobody else rode along my expense allowance would cover a solo drive down and back.

In less than an hour there were responses filling all five seats in the car.

So, this has been a fine weekend, indeed. Roadtrips and museum-visiting would be among my favorite pastimes, anyway. Getting to know grad students in Art History and the one fellow classmate from Chinese Brushwork class who was able to join the trip has been a lot of fun. I've even managed to squeeze in some time to call on friends and relatives around town.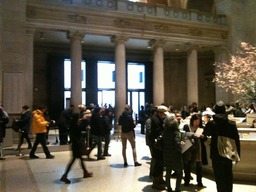 Met Lobby

The exhibitions were the highlight of the trip. I'm sure I would have attended some of them even if I had just happened to be passing through New York on my own at this time, anyway. But it was all the better with Professor M.'s connections. He's good friends with the curator of the main exhibition we attended at the Met, "Ink Art". The soft-spoken curator--who wore blue jeans and introduced himself as "Joe"--kindly came in over the weekend just to bring our group through the installation and comment on the works and share the reasons they were selected for inclusion in the exposition. Even more interesting was his sharing the rationale underlying the utilization of the space in which the art was displayed: how they had unconventionally elected to let long, wall-length scrolls curl up at the base inside a glass case; the "happy accident" of how natural illumination of the room happened to highlight the key features of another work hanging across the same gallery hall.

I loved having the ultimate guide take us through and introduce the exhibition. But once again, I found myself in an odd paradox of having both nothing-at-all and absolutely everything to say. I've previously noticed this certain, odd place I occupy attending graduate school in-general but particularly so in my Chinese Brushwork class. I somehow simultaneously lack all the pre-requisites while having more experience in the particular area of study than anybody else in the room.

Introduction to Landscape
Painting Wang Dongling

Playing perpetual student I'm well-used to being the old guy in the classroom. But, it's not so much the age gap I notice. It's that my classmates usually have a more formal, academic grounding in the subject. For example, when we view slides of Chinese artwork in class everybody else seems able to flesh out nuances that seem obvious once they're brought up--but are aspects of the work that I hadn't observed until whichever classmate chose to comment specifically on them. Some examples of the vocabulary that fellow students have (and that I don't: )

"Heavy, dense concentration in just one corner... "

"Tonal varation in the same stroke... "

"Converging orthoganals from fixed-point perspective... "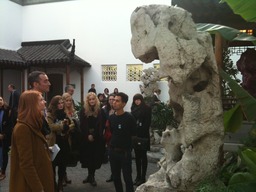 Touring Reproduction of
Garden of Master of Nets

After whatever aspect of whichever artwork has been pointed out by whomever I can see exactly what's been described. But I tend to mostly sit mum just managing to force myself to contribute at least one commentary aloud at least once every session. In last week's class I wondered how idiotic I would sound if I admitted that an 11th-century Chinese painting of a bird sitting on a branch most reminded me of a 19th-century European ornithology guide.

But then from the opposite perspective, I do know that I have far more connection and experience than my fellow students--albeit informally--with the subject matter. I have studied calligraphy and languages over a period of years in China: most of my fellow grad students visiting these expositions here with me in New York have never been to that country and don't speak any Chinese, let along Uyghur. I've seen these places firsthand: I'm usually the only one in the entire room who has any of these sites, sites that keep coming up in class readings as the inspiration or center of particular artistic movements and traditions that might stretch back over a millenium.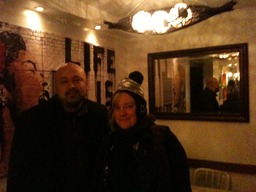 David and Bonnie B.
Catch up Over Pint
at McSorley's Ale House

In previous class sessions and over our time here in New York this weekend so many places I've visited have been described as the area traditionally depicted by a certain style of painting or the historical setting where whatever movement in Chinese art took place. We've spoken at length about the Mogao Caves of Dunhuang, the Garden of the Master of Nets in Suzhou, the Southern Song art depicting West Lake in Hangzhou, the contemporary scene at 798 outside Beijing, and the art of Xu Bing--whose works I've admired over multiple visits to the Sackler Gallery of the Smithsonian. I know there are even more...

So, I am contradictorily far older with far more real-life experience--yet am at a far earlier point in academic study than everybody I'm surrounded by in class. This unique limbo is, perhaps also contradictorily, a very fun place to be. I'm finally getting a solid academic background in the areas I've most loved visiting around the world. This sense of acquiring greater depth in areas I've long been curious about goes not just for my Chinese brushwork class, but also what I'm learning in Urdu class, related topics in Islamic studies, and my currently gestating thesis topic. I am indeed king of perpetual students.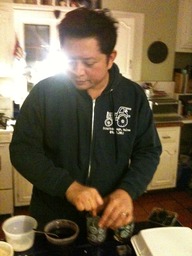 Cousin Jason Stirs
Up an Old-Fashioned

Over this museum extravaganza weekend I've had just enough time to call on others around town. Bonnie B. (whom I coincidentally also went with to the Met almost exactly one year ago) and I met up for a drink at McSorley's Old Ale House in the East Village. I'd never been there before but saw a recent article describing it. I was curious to visit a saloon opened in the 1860s that still had nothing on tap but either dark or light ale. The cost of accommodation anywhere in New York would likely blow my expense budget completely so I asked Cousin Jason if he could host me at his family home in Bay Ridge. Though his family was off to the Catskills for the weekend he took me in and let me have the run of their place over the weekend. Our schedules synched just enough to take a midnight snack with my cousin and then breakfast with his wife and two daughters the next morning.

But, most of my social time here has been spent neither with friends nor family but getting to know the grad students in the Art History department. I'd never spoken with the one fellow student in the Chinese Brushwork class who has made the trip to New York. She turned out to be friendly and open to a good conversation: I'm thoroughly envious to know that my classmate will likely be spending the next year off studying in China. Another evening, I took an evening drink at a subterranean bar beneath Chelsea Market with Professor M. and another graduate student who is now pursuing graduate study in Art History--but turned out to have finished an undergraduate degree in the very same department at McGill where I'm pursing my M.A., the Institute of Islamic Studies. It's wonderful to be surrounded in my daily life with smart, dynamic people and feel that I'm making connections with them.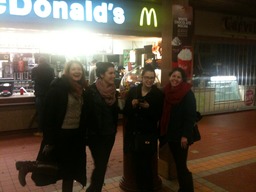 Fellow Grad Students
On Roadtrip Rest Stop

As with most of my recent cross-border jaunts I've included a bit of mundane shopping, stocking up on staples that would cost three times the amount back in Canada (even when buying them in downtown Manhattan.) It's all cheese and wine in my shopping basket this time: wedges of Parmesan, Jarlseberg, and extra-sharp Cheddar have been paired off with eight bottles of Malbec, Merlot, and Shiraz. I'm presuming that nobody else in the car will be exercising their duty-free privileges. (Just two bottles of wine are permitted per person for trips of more than 48 hours away from Canada.) I sure hope nobody else is, as the duty they levy on anything about the standard allowance makes it probably even more expensive than buying the same goods in Canada.

Whew... I'd better crash out, now. I haven't had more than a few hours of sleep each night in New York and probably won't get more than three, tonight. To get everybody back to Montréal in time for their class tomorrow afternoon I have to pick all the others up in Midtown at 6:00 A.M..

I'm exhausted--but in a happy, content way.