Crosstown Moves IV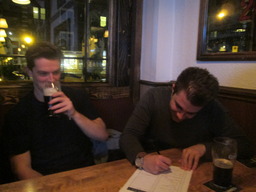 Dan and Jonny at Pub Quiz

MONTRÉAL, Canada
November 14, 2014

Though I ride to campus to attend class just three days a week there's plenty else keeping me busy around town:

I've begun three-way weekly language exchanges with a couple fellow graduate students in my program. Pauline, as native French speaker from Belgium, volunteered her language ability to lead regular but informal sessions for all interested students in our program. We select, read, then discuss academic texts written in French. Though it's not required for me as an M.A. student the Ph.D. students do have to demonstrate proficiency in a European language relevant to the field. I've been pleased to find that my French ability is on the high end of the spectrum. Most of my colleagues can understand the gist of what they read but lack any conversational ability.

In other regular language practice, Mitra--a new M.A. student from Iran--has begun a smaller weekly conversation hour in Persian with just me and Pauline. The three of us get together at Cafe Aunja on Sherbrooke and chat as we can. My speaking ability is far from fluent but that summer of Persian immersion I took at the University Wisconsin allowed me to speak at a level that's far ahead of my classmates in our intermediate course.

After a few sessions of French and Persian, Pauline and Mitra turned to me to suggest a third language exchange: one in which I would correct their English. They're both far more capable in my native tongue (as evidenced by the fact that they're doing graduate degrees at English-medium McGill) than I am in either of theirs: French and Farsi. I'm happy to reciprocate. I have enough experience casually exchanging languages from years living with roommates in Xinjiang that pointing out small English mistakes on request feels very natural.

In addition to these language exchanges my time around town has fallen into another regular pattern these past few weeks. I've been attending a quiz night at Ye Olde Orchard Pub just down the street from my new apartment. I've been going with Dan and a grad student visiting from the U.K., Jonny. We always do well enough but always fall just shy of being among the top three teams, the level that would net us some prize.

In just two weeks of living in my new apartment I've settled comfortably into the place. It's much bigger than the little studio I moved from and far better furnished. Though I don't have a lot of possessions it is nice to have places to keep what I do own: a bookshelf to hold my books, a closet to store things I don't use on a daily basis. I further appreciate having a space to keep my bicycle indoors. At my old place I'd been locking that up outside on Sherbrooke so rain and theft were always a concern.

The best aspect of my new place is that it's just large enough to allow me to host either small dinner parties or overnight visitors. I'll soon put that to the test. The first of my houseguests at my new place will arrive tomorrow. Tiffany flew to the east coast for a business trip earlier this week. She's tagging on a spur up here to Montreal where she'll stay on as my guest for a week. Then, adding to the fun and invoking memories of days past when the three of us ran around China together, Lisa will fly in from L.A. a couple days later. I'm planning to rent a car to make a mini-road trip out to Québec City so Tiffany can experience somewhere new (she visited me when I first moved to Montreal a year ago.)

Despite the increasing cold and forecast of snowfall I'm feeling comfortable, sociable, and settled out here in west Montréal.