PDX Pals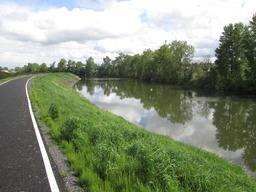 Portland, Oregon, USA
April 29, 2014

It feels so nice out here. This whole city is verdant. Even the air tastes fresh. I've been happily biking around town and am so glad to be away from the cold, lousy weather back East. It feels like I've arrived on some other planet entirely out of the orbit I left behind in New York and Montréal.

Where have I landed? I've returned to the area where I grew up: the Pacific Northwest.

Though I'll be spending most of this time in the Northwest calling on family up in Seattle I had been planning on making a visit to Portland to say "hi" to Tiffany and Leah, at some point. When originally plotting travel in Montréal I'd imagined that as flying straight into Seattle then making a cheap run down and back on BoltBus. But, when I priced out airfares I arrived at a far better itinerary:

The lowest one-way fare I could find from Montréal to Seattle had been $266. That seemed way too expensive. I then tried pricing flights departing from nearby Burlington and Plattsburgh. Those fares did cost less, but were about a wash with the added expense and time to get to either of those towns from Montréal. I finally tried checking flights from New York City to Seattle. Those were yet cheaper but not enough to justify the roundabout detour--until I hit on the magic fare:

AA - EWR => PDX $135

That fare would be half the price I would have paid to have flown out of Montréal. I could get down to New York from Montréal for under $20 via a schlepp of Greyhound and Megabus. I could then get from Portland up to Seattle for $8 on the BoltBus. I would save both the fare and the necessity of the Seattle to Portland overland leg, get a free trip to New York to call on friends, as well as pay $100 less to get myself to the west coast. I checked in with Tiffany to see whether the dates the über-cheap fare was offered would be good for a visit. Our timing synched; I booked my flight.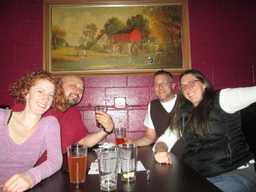 Pub Quiz: Tiffany ,
David, Gene, & Christi
Though I've had only three days in town it's been ample to catch up with both of my friends who live out here. Both Tiffany and Leah are doing really, really well.
Tiffany indulged my love of pub quizzes by organizing gatherings with her friends two consecutive nights in town. The first was at the Basement Pub on 12th and Taylor. We formed a team with friends of Tiffany's I hadn't previously met: a couple who were one-half Kate along with other-half Katie. The second night was at the Florida Room on on Killingsworth and Commercial with friends of Tiffany's I had previously met: Gene and Christi. (They and their dog hosted a game night one evening the last time I came to town a year-and-a-half ago.)
Neither of our teams won--but that's never the point with quiz night, at least in my book. Somebody on our team came up with the all-too-clever team name of "In 4th Place" which led to all-too-confused recitations of rankings after each round.
Tiffany is doing really well. She's still together with the same guy she was seeing when I was last here. She's balancing her life well by continuing to work part-time at a Portland-based non-profit while bringing in even more money with freelance Chinese translation. But, in a move that seems way too grown-up to me, her biggest news is that she's in the process of buying a house.
Good luck on the assessment, Tiffany! Perhaps the next, and all future times, I swing through I'll get to see the new homestead. As always it's been another catch-up that will become good memories. I truly have no idea where our next time will be (given how the last place we saw each other in remote Vermont) but know it will be fun.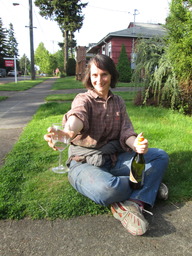 Leah Outside Studio

As with the last time I came to Portland I managed to catch Leah for an enjoyable afternoon. Though I've known Leah since she and I were on opposite ends of middle school this may be the most flourishing state in which I've seen her. She continues her pursuit of the artist's way--though it's no longer in such a starving state as it once was. Her home situation is now cozy: she's moved into a little one-bedroom house that doubles as art studio. What's really brought stability to Leah is that her day job--independent art instruction she teaches on-line via Skype--is booming.

As with the last time we saw each other we started at a teahouse (Seven Virtues.) After taking tea we spent a warm, clear evening sitting out on the lawn outside her home-cum-studio sipping white wine and catching each other up on where we've arrived in life. Having nothing but good personal news to share was such a nice moment.

Leah, we are of course going to get together when you're back up in Seattle at the end of the month?

Okay. Time to for me to hop the cheapo bus northbound.

Next stop: Seattle