Traveling Less Far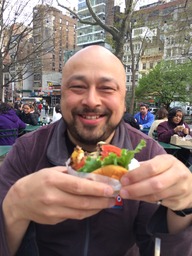 David at Shake Shack

Newark, New Jersey, USA
April 26, 2014

I must be slowing down. All the friends I've seen around New York City are either just back from, right in the middle of, or about to make some international trip. Me, I have no plans to step out of North America anytime soon.

I suppose that, technically, I did cross an international border just a few days ago: the one separating Canada and the U.S.. And my dateline does reflect travel in-progress: I currently have a couple hours to kill at EWR while waiting on a flight to the west coast. But, everybody else seems to be out jet-setting farther-away, more exotic places than I. Before I hop on my plane to PDX, here's a quick recap of the time I spent catching up with friends around New York City:

After Jenn flew back to Germany I spent my final two nights at Cousin Jade's place down on Mott St.. Jade is still living in her same little apartment, a place I hadn't realized (until it came up casually in our conversation) was the first tenement building in New York. Evidently, back before it all became Chinatown the neighborhood was a rough area called Five Points (a place name I--for some reason--remembered playing a specific role in the movie The Sting.)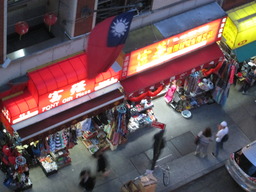 Mott Street from Jade's Roof

Jade told me to check out the old structure and the view from up above. I found that the front block of her building has skinny, narrow stairways running nine flights up to the roof, all with no elevator. I suspect everything about the construction would violate several exisiting building codes were it built today. But, the view from her roof to Chinatown down below and to the lower Manhattan skyline up and beyond is great: I'm surprised that my cousin never encouraged me to climb up and have a look from it any of the previous times I stayed at her place.

Jade is always cool to meet up with. We spoke of the season finale of Scandal, a TV series she hooked me on when I stayed with her last year. We caught each other up on what we're doing in life. I may be busy with grad school but Jade is way busier than I am. At the same time as managing the family restaurant on West 4th Street she's keeping busy with lots of international travel and lots of classes. Colombia and Panama were the only two of several countries I can remember her mentioning traveling to so far this year. She's signed herself up for classes as well. She's taking up woodworking, has workouts with a physical trainer scheduled several times a week, and attends an intermediate-level language course at the Alliance Française.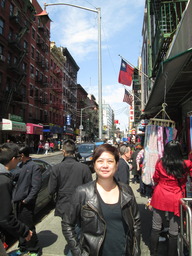 Cousin Jade

While preparing for her French class it was fun for me to look at the lesson she was currently studying in her textbook. I was pleased to find I could easily understand every last word. I guess I did learn something over my time living in Québec City.

Thanks for hosting, Jade. Come see me up in Montreal and we'll put your French to use outside of the classroom!

I also managed to catch Catherine Q., who is, coincidentally back here in New York for one week around this time I'm presently passing through town. We met up at Madison Square Park specifically to eat at the Shake Shack, a burger joint I'd heard of but had never tried. This was evidently the default lunch location while she was working in New York, located just around the corner from her law office.

Catherine Q. was in town just for her bar swearing-in ceremony which I will, regrettably, be unable to attend. Her life in Geneva sounds great--though office politics are evidently universal and never fun. Between sips of thick milkshakes and bites of really tasty burgers (we both ordered the "Shack Stack") we found that, counter-intuitively, we each have better ability in the language the other is currently immersed in: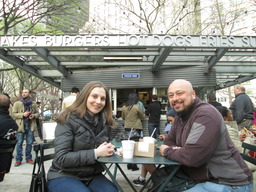 AKES BURGERS HOT
DOGS FRIES SU
Catherine Q. and David
in Madison Square Park

Though she's living in Geneva, Catherine Q. hasn't yet had time to focus on French. And though I've just finished my intermediate Arabic course back at McGill her years living in Oman mean that she can speak a colloquial dialect of Arabic more fluidly than my clunky, bookish Standard Arabic. Catherine Q. laughed as I repeated excerpts from my final oral presentation: everything I've learnt of the language back in the classroom makes my speech sound stilted, formal, and hyper-correct.

I'd love to visit Geneva--especially with a friend living there. It's a part of Europe I haven't explored. But, again--there are no impending plans for me to be traveling off-continent. There is a possibility that Catherine Q.'s Swiss posting will finish at the end of springtime. We were contemplating whether that might allow her to visit the U.S. Midwest while I'm there studying out there, this summer. I suppose there's really no need to speculate. There are certain friends--despite how we initially met on the other side of the planet and how we have never lived in the same city--that I never question I will see again soon in some totally different location.

Finally, I managed to catch Astrid over a happy hour. She knew of a place on Madison off of 28th Street that had good prices on drinks and appetizers. In the brief weeks since we last met just a few blocks across town while I was last passing through New York she's already been back in Europe and has a couple return trips lined up in the next months. (Hmm... one of her trips is to Switzerland. I wonder whether she and Catherine Q. would get along.) Making me further jealous, Astrid has another trip lined up that will bring her back to Uzbekistan in the next months: something to do with a book she's co-authoring at one of the schools where she's teaching. Given how many long stretches of travel I've had I know that I shouldn't be envious that everybody else seems to have a trans-oceanic flight lined up. But, reflecting on how I truly have no idea when I'll next leave North America--let alone return to somewhere like Uzbekistan--I realize how I'm less and less often traveling far and wide these days and more and more focusing on living my life in one place.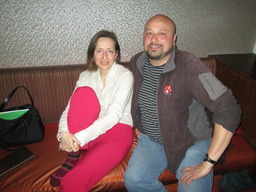 Astrid and David - Happy Hour

Jealous or not or her travel plans, I was happy to see how well Astrid was doing. She talked about perhaps making a fuller visit to Montréal (she and her mother drove up to say "hi" last year while I was living in Québec City) sometime this autumn. I filled her in on my take on the ratio of cost to comfort to time when going by bus, rail, or rideshare. In the end, my recommendation was that she do what I did when visiting New York one year ago: drive between here and Montréal and getting passengers to pay for the gas.

Maybe see you in Montréal this fall, Astrid?

So, this finishes up another pleasant visit around New York checking in with friends. I'm leaving on a couple of small notes that make me happy. First, the wi-fi here at Newark International Airport is a subscription-based network that should cost a fee to access. But for whatever reason after initially being restricted to a limited number of sponsored sites the router has started allowing me to connect to the entire Internet for free. Nice! Second, I'm further pleased that I figured a way to get to the airport from Manhattan for a grand total of $3.20. NJ Transit route 107 took me to a point out on the edge of airportland where the internal shuttle took me right to my departure terminal. I am slightly disappointed how before allowing me here to the gate they confiscated my big, new tube of toothpaste at the security checkpoint. But that's far outweighed by the other good experiences over this visit that have me leaving New York on a happy note.

Okay, it's time for me to get ready to board my flight.

Next stop: PDX