Historic Lodge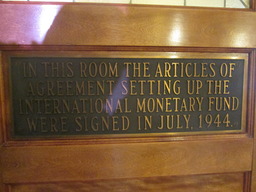 Plaque Commemorating
Creation of IMF

Bretton Woods, USA
November 30, 2014

"Bretton Woods." Now, why was that name familiar? I knew that I knew it from somewhere. Was it something to do with... currency exchange rates? The gold standard? I couldn't quite recall--but decided that I'd be proximate enough that I ought to swing by to find out in-person.

I came across the name while skimming a map of the White Mountains of New Hampshire. That's the area where Logan grew up and the area where I am now passing through. Though she and her family now live across the border in Vermont, her father, Fitz, still lives up here in the White Mountains. He was the one to host the family Thanksgiving dinner this year. When Logan invited me to come join their celebration I couldn't refuse. Everything about the situation was perfect: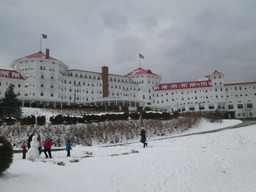 Snowman-building Behind Mt.
Washington Hotel, Bretton Woods

Thanksgiving is held six weeks earlier in Canada than the date when it's observed in the U.S. I'd done nothing to recognize the holiday in Canada this year so had presumed that I'd already missed any opportunity to stuff myself full of turkey and cranberry sauce. But Fitz' home was a mere three-hour drive from Montréal. Even better, I didn't have to skip any class to attend: they chose to celebrate on the Saturday following Thanksgiving Day.

It was before driving down to Thanksgiving dinner that I pulled up a map to see if there might be any nearby points of interest I hadn't previously visited. Wherever it was that I'd previously heard the name "Bretton Woods" it resonated uniquely with some financial accord. Those associations were so strong that I was surprised to see the patch of map near Logan's childhood home delineating "Bretton Woods" as referring to an actual forested area of mountains.

I took a cursory look into just what the site's signifcance was. Bretton Woods indeed turned out to refer to a big conference held at that location during World War II: this was where the IMF, the World Bank, and the system standardizing modern currency exchange rates were all born. It also referred to a grand old hotel, the Mt. Washington, built in the 19th century. That's where delegates from dozens of countries gathered during the war to discuss and then sign the final accords.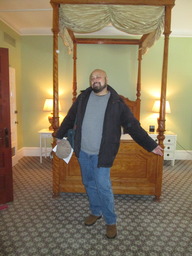 David in Haunted Room
at Mt. Washington Hotel

After finishing Thanksgiving dinner with Logan's extended family I drove half an hour through sparsely-settled hills to a long, massive lodge built up in another era. There were grand pillars supporting a high ceiling festooned with ornate lights and Tiffany glass. Wraparound wooden terraces running along the exterior of the ground floor: I'm sure rocking chairs must sway on those decks throughout the summertime. Winding my way down the hill behind the hotel I found a footbridge spanning a creek that led to cross-country skiing trails. The downhill slopes at Mt. Washington are evidently consistently ranked among the top skiing destinations in New England.

I've spent most of the afternoon here poking around the interior and exterior of the building but still don't want to leave. I'm yet hanging on in the lobby of the Mt. Washington Hotel where I've spent the past hour sitting and writing out postcards. It's a shame that the time I allotted to come visit Bretton Woods was only a couple hours after which I'll turn around and drive back up to Montréal. I'm sure that room rates here are far, far steeper than the types of place where I'd usually stay--but it'd be nice to perhaps come back and spend more time one day. Maybe there will be another event hosted at Logan's dad's home before long that will give me occasion to return?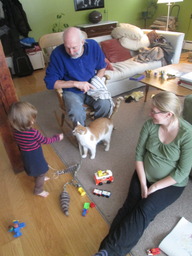 Lily, Fitz, Logan,
and Vincent the Cat

Thanksgiving itself was lovely. I was genuinely disappointed when some of Logan's relatives weren't able to come at the last minute, relatives whom I'd met and had begun getting to know when I was here two years ago for Olivier's and Logan wedding and who I saw again over their baby shower some months later. I suppose that their absence did mean all the more sweet potatoes, stuffing, and pie for we people who did come. There were so many leftovers that I was given a doggie bag that will serve as at least two future meals. Another silver lining of a gathering that turned out smaller-than-expected: it was nice not having to compete for the attention of the friends I'd come to visit.

As it's been less than two months since I last saw Logan and Olivier's family down in Brattleboro none of their news was terribly surprising. But, even in that short time Lily has grown noticeably. Logan's belly has certainly grown as well: she's due to give birth to a son in February. Perhaps it will again be within two months that we next see each other. Logan and Oliver are talking of hosting a housewarming at their home in Brattleboro in January.

Thanks so much to Logan for inviting me, to Fitz for hosting, and to everybody else for just being on hand to celebrate the occasion. You all are invited to come see me up in Montréal!