North America on a Shoestring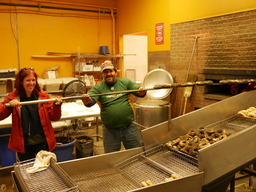 Friederike Bakes
Bagels in Burlington

Burlington, VT, USA
June 2, 2015

A poppyseed bagel; hot, steaming, and fresh out of the oven; was hovering above our heads. It was dangling from the tip of a long wooden pike. Neither Friederike nor I were any the wiser to the the fact that this bagel had just been plucked from an oven 15 feet away from where we were seated and then been pointed up to a spot an armslength above the center of our table. The baker yelled out at us:

"Hey! Eye in the sky!"

Oblivious to the steaming bagel dangling up above us, oblivious to anybody calling our attention to its presence, Friederike and I continued on chatting and eating our breakfast. It was scarcely 6:00 A.M.. On top of what an early hour it was the two of us had other reasons contributing to our groggy and unaware state. We'd just spent the night in a friend's cabin in the woods outside Montpelier, an area a good hour's drive to get to where we were sitting. We'd stayed up socializing with our hosts a little too long into the previous night (a late evening of pizza and Go Fish.)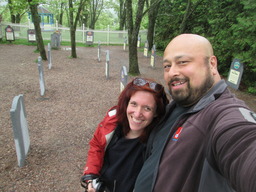 Friederike and David
Visit Ben & Jerry's
"Flavor Graveyard"

Even if we had been bright and alert, even it had been a better time of the day--would we really have been expecting a hot bagel to be floating just above our heads?

The baker-cum-prankster holding the bagel-tipped pike from the other side of the counter called out to us again:

"Look up!"

I looked up.

"Oh!"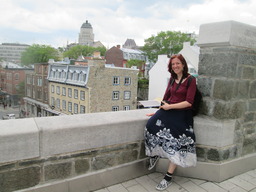 Friederike on Québec City Walls

I finally noticed the free offering from the early morning shift that was set at the end of the extended pole. Hot. Fresh. Yummy. Poppyseed. Both Friederike and I had already eaten nearly half of our intended breakfast: bagels with lox and cream cheese garnished with fresh vegetables. The bonus bagel was torn in two and happily incorporated into our meal. We each wolfed our repsective halves down before they got cold. This chance act of generosity: what a perfect note for us to conclude our visit before we the two of us parted along on our separate ways.

Friederike and I have met up across an odd range of spots around the planet. We first met when we were both studying Uyghur in Urumqi. Since then, we've traveled together across a couple countries in Central Asia, made a roadtrip down the entire U.S. west coast, and spent time in various parts of Germany together more than once. It's almost natural that we should add the Province of Québec and the State of Vermont to that list.

Our time together over the past five days was just one pause Friederike made along a five-week solo trip she's making across North America. Vermont is her penultimate stop. At the beginning of her trip she knew she would call on friends of hers who lived in different parts of California. But, she knew nobody living anywhere else and had little sense of what other places would be most interesting to visit on the rest of the continent, thereafter. So, I scripted a large part of her itinerary. That I had a hand in her travel plans was evidently apparent even to other people when she described her route. When my friend Chia-yi took Friederike in to let her stay with her for some nights at her Chicago apartment she sent me this e-mail message:
Siliu and Friederike
in Montréal's Chinatown
"She told me how she was gonna get to Montreal and I thought you must have had a hand in organizing her itinerary.. a circuitous route can only mean that David planned it!"
Yes, of course I'd be the one to plan circuitous routes incorporating long-distance buses, overnight trains, and red-eye flights. I suppose most other people don't base their travels around which dates it's possible to snag a $1 fare on Megabus. Most other people probably don't calculate how much might be saved by walking from the city bus stop in Niagara Falls, USA over the bridge and following the river up to the bus stop in Niagara Falls, Canada as part of their itinerary. But Friederike travels as I do. She was happy to follow my recommendations to patch together ridiculously low fares by bus, by rail, and by air to get herself from the west coast to the east coast via snippets of the South and the Midwest. Along the way she paused in what places I suggested would be highlights for anybody crossing the U.S. and Canada. (New Orleans was her favorite.) In the end, she paid very little to get around the continent and very little for accommodation. Perhaps I should seek a career as cheapo travel concierge extraordinaire. Could there be any market for that?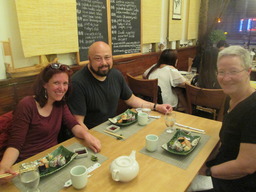 Friederike, David and
Prof. Gwen at Dinner

Most of our time has been spent not here in Vermont but back up in Montréal. I've gotten the routine down for visitors who make the effort to come out to see me. I enjoy showing my guests around. Even when it's the nth time I've gone to see whatever attraction it still doesn't feel formulaic when it's the first time my guest is experiencing the place we're visiting.

When time allows I try to introduce my out-of-town guests to some of the friends I have around Montréal. Siliu was a logical person to get together with as Friederike had spent several years living in China, herself. I hadn't previously heard Friederike speak much Chinese over any of the time we concurrently lived in Xinjiang or traveled together across parts of that region. (I guess we were both more focused on Uyghur.) But, over the dim sum the three of us shared this weekend I found that she's definitely at a far more advanced level of spoken ability than I myself ever achieved.

Having a friend visit from out of town was a good excuse for Professor Gwen and me to finally make dinner reservations at a tiny Japanese restarurant on Sherbrooke that we'd been meaning to try. The place had only six tabletops... or maybe it was even fewer than that. The sole option was the set menu which was several courses of small plates served throughout the night. It was delicious. We were there for over three hours. I hope to go back there again sometime soon--regardless of whether some out-of-town friend's visit justifies the occasion.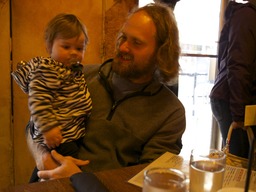 Owen and Jeremy
Over Friederike's visit, as with those of all my guests, I schedule a day- or weekend trip to Québec City. That usually works out to be free--or very nearly so--as I offer up a couple of the car's open back seats to rideshare passengers in both directions to pare down transport costs. Further, if I schedule the drive for a Saturday, that means less traffic to negotiate in both Montréal and Québec City. Picking the car up Saturday morning from a downtown Montréal location means returning it back there Sunday morning--which is perfect if my guest is interested in attending morning Mass in French at nearby Notre Dame Basilica.
Now, another drive has evolved to become part of the tour I offer out-of-town guests who have the time to take an additional trip. That's the spur down here to Vermont. The city of Burlington has an independent streak woven in with small-town charm that's easy to appreciate. Yesterday, Friederike and I visited the Ben and Jerry's headquarters in nearby Waterbury. That was my fourth time taking the tour of the ice cream factory. I'd be happy to go again.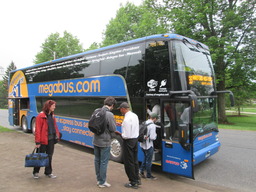 Friederike Boards New York City-
Bound Bus from UVM Campus

Among other friends Friederike got to meet was one who lives down here in Vermont, somebody I've known since childhood. Jeremy was initially not a friend of mine but of my youngest brother's: the two met in elementary school at the age of seven and went on to study together all the way through college. I remember him coming to family parties at my home to play word and board games together from when he was still in elementary school--and him holding his own at some of the games we played. Now, he's started a family out here in Vermont and we've begun to reconnect. It was their cabin in the woods where we stayed last night.

Jeremy is apparently passing the game-playing tradition along to his own children, now. We all played a couple rounds of Go Fish with his partner, Rae, and the elder of their children, three-year old Gwendolyn. I had to laugh each time the little girl corrected Friederike, admonishing her for saying "I don't have any," when asked if she had a particular card. "No, you have to say, 'Go fish!'," Gwendolyn insisted several times throughout the night.

Friederike is now on a bus bound for the last stop on her trans-North America trip: New York City. Four days from now she flies back to Berlin. Me, I'm off to carry out another routine that I make whenever I leave Vermont to return to Montréal. I'll drive to a grocery store in South Burlington to shop for cheese and maybe a bottle of wine. Those are things that would cost several times as much if I bought them back north of the border... which is exactly where I should arrive just a couple hours from now.