Native Tongue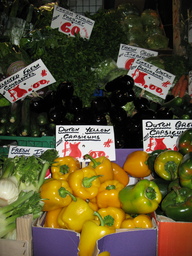 Couscous Fixings

LONDON, United Kingdom
March 04, 2008

It's been quite the Xinjiang reunion. Over the past several days, I've been staying with friends--all of whom I first met back in Urumqi.

My first days were at Catherine's place in New Cross. Yesterday, I shifted across town to stay with Tristan and Victoria, in Kentish Town.

On top of those three familiar faces, at least one additional fellow Xinjianger is here. A student from Spain, Rafael, was also taking Uighur courses at Xinjiang University over my last year in China. Tristan and Victoria say that he too is in London these days. The twist with Rafael is that he was good friends in Beijing with one of the folks I saw last week in Portugual, Maria-João, the one who picked me up outside Seville. Small world, this.

Since coming to town five days ago, I've mostly been going out and being social: restaurants, pubs, gigs. I'm relaxed--being in London allows me to experience several things for the first time in a year. One example: Catherine and I took dim sum together Saturday afternoon. The last time I had dim sum was over the Mayday holiday last year, down in Hangzhou. There's nowhere I know of that serves dim sum in Urumqi. I find that fact ironic, given that dim sum is among the better-known of China's cuisines, outside China.

Another refreshing aspect of being in London: this the first time in over a year where I've been in a setting in which English is the default language. With the exception of my brief day trips to Gibraltar, I've spent my last fourteen months in countries where the first language is something other than English. Loving learning languages as I do, I find it unexpectedly relaxing to be on the other side of the lanuage barrier for a time.

On several occasions around town, I've seen visitors trying to function, attempting to run errands which are beyond the scope of their English ability. In each case, my heart went out to them. I've been in identical situations so many times while living in China, or at other points along the road.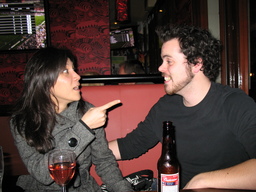 Catherine with Boyfriend, Sam
In the first situation I saw, a tourist had difficulty buying a ticket for the Underground. At the Victoria Travel Information Centre, a man with a European accent couldn't understand the question, "How many journeys will you make today?" The employee repeatedly delivered the question in the same manner without changing the phrasing. It was a legitimate query--the tourist could have saved money by buying a less expensive ticket than the full-day Travelcard he asked for. However, the befuddled tourist gave up, using the same tactic I myself used so many times when at the most elementary stage of language ability: fork the money over, repeat what bits can be expressed, and hope to get the right thing back.
I also empathized with a young woman with Asian features being served ahead of me at the New Cross post office. She had no English ability whatsoever. When her turn came, she merely slid across a stack of blank documents to the woman behind the counter. The one-sided conversation took well under a minute; the customer retrieved her documents and walked out of the post office. I remember being similarly flustered on so many occasions, times when I've put-off or given up on accomplishing the simplest of errands.
I have a different approach now. No matter where I am, I'll try to keep the conversation running. At earlier points along this journey--when replacing my camera in Spain and when buying stamps at a post office in Iran--I found myself blabbing in what I knew to be ungrammatical and thickly accented attempts at the local language. Not long ago, I probably would have given up more quickly, feeling embarassment that I was holding up other customers or that I was speaking as a child would. Now that I no longer care, I tend to get what I want.
I should get ready to cook. Tristan and Victoria have invited Rafael and several of their local friends back to their flat for dinner tonight. I'll be the chef. I brought a couple heavy bags of couscous up from Morocco. I figure making the occasional dinner is the least I can do to thank the friends who will be hosting me for an extended stay in London.