Creature Comforts II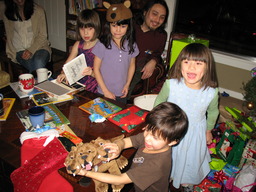 Tai Unwraps the Three-Headed Dog

Seattle, USA
December 31, 2008

I've decided I must be the ultimate couchsurfer. Though, what exactly was the term the media used when referring to Kato Kaelin during that trial-of-the-century? A houseguest? Hmm... that sounds more respectable.

I've spent the past week staying in yet another home. Sister-in-law Louise lined me up a gig housesitting at a neighbor's home. Having the sweetheart deal I have at Mala and Vega's I hadn't been looking to spend nights elsewhere. However, an offer thrown into my lap of a place of my own for a week was too much to pass up. Cat care is a benefit rather than a hardship. A walk across the alley from one back door to another was a Christmas commute second only to waking in a house with chimney-side stockings.

Christmas itself was beautiful: The entire Seattle family on hand. Stockings and gifts for all. Roast beast. Yorkshire pudding. Singing. Laughter late into the night. Games. Homemade rumballs.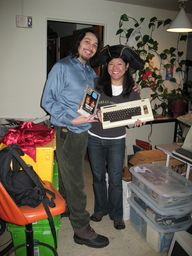 Ben & Cousin
Tina Bond

I've realized how good my support network is in Seattle. There is no shortage of people who have been helping me out: allowing me to stay for long stretches, inviting me for a meal at their home or out on the town, borrowing cars.

It's good to have the occasional vehicle so that I can play chauffeur. Mom's hospital visits have decreased--new chemotherapy regimen--but there is still the odd errand I'll take on. Yesterday was a shopping trip to Safeway.

I'm about to dash off to more festivities with family. It will be the usual round of word games with not only siblings, but Cousin Tina on hand as well. She's here visiting from California for a week. We'll all go to a New Year's Eve bash hosted by friends of Jen's who also homeschool their children. Sloppy Joes are dish of choice; midnight will be rung in based on an EST clock--a full three hours before the west coast. I must be old. The tame nature of the party is actually part of the appeal.

I have no resolutions for 2009.