Creature Comforts III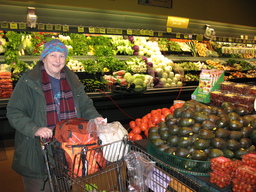 Mom amongst the Avocados

Seattle, USA
February 15, 2009

I presently have three houses to stay in.

When I moved into Mala and Vega's place back around Thanksgiving, they said I'd be welcome to stay on at least through February. That arrangement has worked out well, but I decided to leave a month early. A couple of housesitting gigs have opened up--various friends of siblings are spending time out of town over this month and into March. I'm taking my time elsewhere, figuring that Mala and Vega might appreciate having their space back to themselves for a time.

For the past week-and-a-half I've been back at Greg's neighbor's home, that same place where I was staying over Christmas. It's a big, old house just across the alley from Greg's home, somehow simultaneously large and cozy. I'm happy to have an affectionate cat to care for.

Then tomorrow, I shift across town to West Seattle. A friend of a friend of my sister's will be away for a month. I thought I was the ultimate couchsurfer--and a fair host, too--but I've never invited a total stranger to take over my place during an extended absence. It's a great situation for me. The responsibilities are light. There are no animals to care for: just plants to water. (Though I would be happy to have a cat for company.) This will be "home" through the first week of March.

Thereafter... I can't decide where I'll move along to next. I will attend that wedding down in New Orleans in mid-March. I'm excited to spend time back in a city I have visited only on brief occasions--but associate with a disproportionate amount of fond memories. I have to be on hand to see Rian and Laura get married. That will be beautiful, I'm certain. But then, a couple days after the wedding, I do have a ticket back to Asia--the return leg of the itinerary I flew back from Southeast Asia on.

I'm conflicted. From day-to-day I feel opposite pulls. One day I'll be intent on getting away, using that ticket and flying back to Bangkok come mid-March. Other days, I feel that I can't leave. Mom's situation is not dire: she's still able to get out and meet over the biweekly Sunday Dinner or to baby-sit her grandchildren. But getting out is a big chore for her. She's easily exhausted, even on days with no activity out of the house. She's been needing a lot of rest: sleeping most of the hours out of any given day. My leaving Seattle while her condition hasn't improved feels wrong--but so does my staying on here doing nothing.

Mom and I have plans to take lunch together this Tuesday. It will be a return to my present obsession: Ras Dashen, that Ethiopian restaurant I find so yummy. I'll ask her directly what she thinks about my staying on in Seattle or hitting the road again. Perhaps I could make this a brief jaunt, just a month or two touring Asia? Perhaps I could be "on-call", ready to catch the next flight back at the first notice of bad news?

All of that speculation may be moot. There's another round of chemotherapy on the calendar in the first week or March. What the doctor says after that appointment will likely be what truly makes my decision.