UUU Reunion IV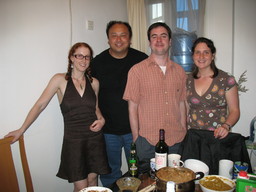 Tiffany, David, New York
Dave, and Rachel E.

BEIJING, China
June 24, 2009

Even before ringing the buzzer and bringing my bags up, I bumped into somebody I knew. "Hey, is that David Wong?", a voice called out. I turned to the first of many familiar faces from Urumqi I would see that night: "New York" Dave had just walked up behind me.

Dave had come from across town to bid Tiffany farewell at her going-away party: she's decided to finally quit China and head back to California. I had come from the airport to spend my first three nights in Beijing crashing at her place. Dave helped me carry one of my bags onto the elevator; we rode up together to the party in Tiffany's apartment.

I've been seeing so many people over the past few days. Several of the westerners who lived in Urumqi over recent years have migrated out to the capital. Tiffany was a good friend and classmate over my days at Xinjiang University. New York Dave was teaching English in Urumqi even before I began my life out there in early 2004. Rachel E. moved to Urumqi to work for a windmill manufacturing company in 2006.

All of them played Frisbee at least once with the ragtag group of foreigners and locals that became dubbed "UUU"--the Urumqi Ultimate Union. Later, all of them made unrelated decisions to move on to Beijing for their next step in life. Both Rachel and Dave now have regular employment here. Rachel is working for another energy company; Dave is at some sort of start-up tech-biz news agency. Tiffany is taking the next step, flying out tomorrow to begin a new life in California with her boyfriend, René. However, given how both of us have been "on-our-way-out" for the past several years, yet keep coming back to this country, I wonder if the next time Tiffany and I meet won't be back here again, somewhere in China.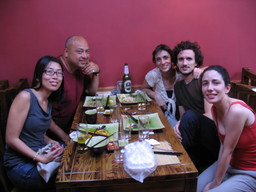 Lisa, David, Maria-João, Pedro,
and Rafaella eat Vietnamese Food

Tiffany and I actually have a running joke that we may well never meet outside of China. It's odd how our acquaintance has been geographically broad, but entirely within the boundaries of this country. We met in Xinjiang and have traveled on together to the far reaches of China: Tibet, Hong Kong, Macao... yet we've still never seen each other in any other country. And now we're hanging out together in Beijing.

Chances are fair that we'll meet someday on the west coast of North America. Whenever that happens might be preceded by yet another rendezvous in Greater China, though: Tiffany's former Urumqi roommate, Catherine, will be married in Singapore this autumn. There's a possibility that both Tiffany and I will attend the wedding. While Singapore might not be administered by the People's Republic, I think it qualifies as China. It would be ironic if the next place we meet still has a majority-Chinese popluation.

I've managed to re-connect with some other friends while passing through. Lisa, is the only friend I have in Beijing who I knew from my days before living in China. She and Zach split-up a couple years ago, but has since established a solid relationship with a new boyfriend: Erik. Earlier this afternoon I shifted hosts, moving across town from Tiffany's place near Chaoyang Park. I'll be at Lisa and Erik's hutong apartment near the Drum Tower for the rest of my stay in Beijing.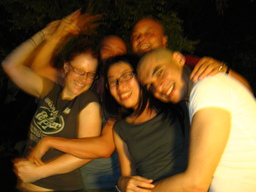 Back Row: René, David
Front Row: Tiffany, Lisa, and Erik

This evening, the three of us got together for dinner with one of the enduring friends I've made through CouchSurfing. I still have some sort of contact with at least half of the people I hosted at my apartment in Urumqi. With some, the connection maintained is merely a casual exchange of e-mail. With many more, it's a stronger link: we've met up again in other cities or countries.

Maria-João was one of the guests who reciprocated, hosting me in her hometown after I hosted her in Urumqi. We last met a year ago in Portugal when I was wrapping up my big overland trip. Over the past seven years she's been living in Beijing, working as a freelance journalist.

All these faces I know from all these places just finished up an evening out together. First, there was dinner at a Vietnamese restaurant near the Drum Tower. Maria brought a couple other Portguese expatriates who live in Beijing to join Lisa, Erik, and me for dinner. We then met Tiffany, René, Rachel, and N.Y. Dave (among many others I didn't previously know) for a round of drinks over Tiffany and René's final hours in the country.

I have three more days in Beijing before flying along to Urumqi. Most of that will be spent with Lisa and Erik, though I'm hoping to track down a few other people I know out here. Lu Jun is probably just as likely to be somewhere in Tibet as here: I'll have to ring him. Joyce has strangely not been responding to e-mail and has let her mobile phone number of several years expire. Neither Lisa nor I have been able to get ahold of her over the past several days. I do hope she's all right.