Recharging III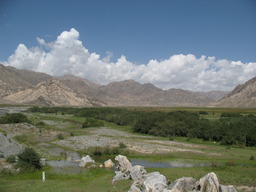 Irkeshtam Pass

KASHGAR, China
August 14, 2009

It's a shame that our ride leaving Osh Friday morning didn't pan out. We barely missed meeting up with Rian and Laura. They left Kashgar less than 24 hours before we arrived; I hadn't realized they were in Asia, let alone back in Xinjiang.

I might have guessed, though. Back in Bishkek last month, I received a 'phone call with both Rian and Laura on the other end. They were asking about the situation in Urumqi after the riots. Having lived here and studied the greater region they were upset by accounts they had heard of violence, destruction, and death. They were contemplating whether they should fly from Ithaca to Xinjiang straightaway to connect with people and display some show of outside support. "We're seriously thinking of heading out there now. What do you think?", they asked my opinion.

I told them that I probably wouldn't make such a trip myself. When I left Urumqi last month it seemed that the worst days of killing were over. My guess was that the situation would soon return to some semblance of normalcy. (My sense from the last couple days in Kashgar is that I was only half-right. There don't seem to be protests, killings, or acts of violence--at least at present here in Kashgar. But the situation is anything but normal. The military has clamped down in a huge display of presence and might. Not to mention the cutting of the most ordinary channels of communication: e-mail, international 'phone calls, even text messaging. Only domestic calls seem to route anywhere.)

So, it was only on the way in from the Kyrgyz border I learnt that we just missed Rian and Laura. I found out inadvertently when calling Nisagul up in Urumqi to ask an unrelated question: did she know any hotels in Kashgar that might give a fair price to foreign guests. Nisa has been working as a tour guide throughout Xinjiang--and all China--over recent years. I figured that if anybody could give a recommendation it would be Nisagul.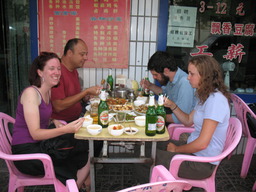 Dumplings: Friederike, David,
Dominic, and Iona

"How much do you want to pay? Oh. Well, the places the tour groups stay at tend to be five-star, top-end, and expensive. Why don't you ask Laura? I'm with her now. She and Rian just came back up from Kasghar, yesterday."

"What? Rian and Laura are back in Xinjiang! Oh, if only I'd known they were here... we're just about to arrive into Kashgar."

I spoke with both of them that day--at least they were able to suggest a place in the city center, the Century Hotel, just a couple blocks east of the enormous Mao statue. 100 yuan ($14.64 USD) a night paid for a well-maintained double with private bath. (Thanks for the tip, Laura! And you, Rian, and I have a tremendous amount of catching up to do at some location at time yet-to-be-determined.)
---
Before leaving Osh, Friederike and I had heard about the military patrols and communications blockade from other westerners traveling the opposite route. Considering how troublesome it was for me when leaving Xinjiang last month I was worried that it might be difficult to cross out of Kyrgyzstan and back into China. My fears were unfounded. Any problems entering China this past Monday seemed reserved for another foreigner--not me.
Immigration officers at the Irkeshtam Pass border crossing spent scarcely any time looking at my passport or the forms I filled out upon arrival. The only question I was asked on the Chinese side was whether I had any "meat or dairy products". Straightforward and efficient, what a relief.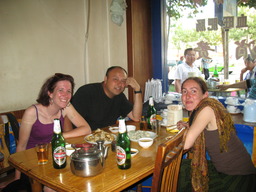 Friederike, David, and Antonia

However, the poor Scottish couple who had traveled with us in our car from Osh... they were held up for hours. One of the two, Dominic, had a slight temperature. Fears that it could be on account of the H1N1 virus delayed his entry. Border officials refused to let him enter the country, directing him into quarantine in a back room at the immigration post. The hope was that after waiting a short time a second reading would show a falling temperature... in which case he would be free to pass. His temperature remained high. Dominic was kept in quarantine. His girlfriend, Iona, dutifully stayed behind, telling us remaining foreigners to leave them there at the border and proceed along to Kashgar.

That left three to go ahead on to Kashgar: Friederike, me, and Antonia--an Australian who hitched a ride with our car at the halfway point, Sary Tash. I felt bad leaving the Scottish couple behind--we'd shared not only the ride all the way from Osh, but had been having good conversations and getting on well. We'd taken dinner and played games (SET and anagrams) together the night before in Sary Tash. I also felt bad leaving the two behind for another reason: we had lucked into a good ride on to Kashgar--I didn't think they'd be able to negotiate a lift into town for as low of a price, themselves. A van that had been hired by a tour group crossing into Kyrgyzstan that morning had just dropped its passengers off. As it was empty and heading back to Kashgar anyway, the driver was willing to ask a fair price for passage ($10 USD per head) to pocket a little extra money.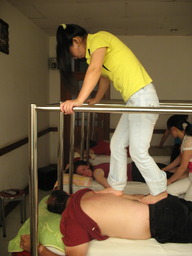 Back Massage

In the end, I suppose we all made out okay. Antonia, Friederike, and I got a quick, comfortable lift into Kashgar. When we managed to connect with Dominic and Iona here in Kashgar the next day, they told us that the two of them had done us one better: their ride from the border was free. Dominic's temperature had remained high for several hours. By late afternoon, he and Iona were bound up in plastic suits to prevent spreading potential disease. They were then shuffled into an ambulance for the four-hour ride to Kashgar and delivered directly to hospital: whereupon a doctor immediately pronounced them swine-flu free.

So, over the last days it's been my turn to play tour guide. Antonia has traveled throughout China on previous occasions, but it's the first visit for the Scottish couple. When they asked what I thought they should do, I--of course--gave my version of what's worth doing in China:

"I've grown so tired of Central Asian food and how every dish in Kyrgyzstan has dill in it. First, we have to get good dumplings and beer somewhere. Then, we should go for a traditional foot wash and body massage. Uh, what else is an integral part of China? Bai jiu, do you know what that is? It's sort of like China's equivalent to vodka: cheap, powerful, and drunk way too much by men who want to bond over repeated toasts. I avoid the stuff on-principle, but if this is your first trip and you have only three days in the country, we'll have to have some of that..."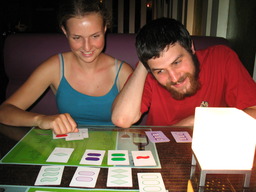 Iona and Dominic Play SET

We wound up following through on all of my suggestions, more often than not with Antonia, the Australian, along. Dumplings with beer. Foot wash and body massage. We just finished up Dominic and Iona's last night in town, spending hours playing games over a table at the local branch of Eversun Coffee: where we shared a bottle of bai jiu.

I wonder if I haven't horribly skewed the perceptions of what life in China is like to a couple young, first-time visitors to this country.