T-Train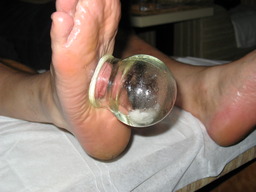 Glass Suction Jar used
in Foot Massage

ABOARD TRAIN T97, China
September 6, 2009

I'm off! I'm aboard line T97, snaking from Beijing down to Hong Kong.

Though the train won't cross into Hong Kong until tomorrow, I've technically already departed China. Before I boarded, my passport was stamped with tomorrow's date: September 7. Weird as it is to recieve tomorrow's stamp today, it does make some sense. The train won't cross the border until noon, tomorrow. Before entering Hong Kong, the T97 makes four stops. Passengers in carriages crossing the border aren't allowed off anywhere en route--even to step down onto the station platforms.

(Pop quiz: can you name the four cities in China where the T97 stops between Beijing and Hong Kong? Answers below.)

Other times I've taken trains out of China, customs and immigration formalities don't happen until reaching the border. But riding this line was like departing on an international flight. Prior to boarding, exit procedures were handled in a special hall at Beijing West Railway Station. Stepping onto the train was akin to stepping out of the country.

In addition to having tomorrow's date stamped onto its back (as well as into my passport) the ticket I'm traveling on strikes me as strange in several other ways:
The ticket uses simplified characters. These are standard throughout mainland China. But, the simplified version of long--"dragon"--seems out-of-place. Throughout Hong Kong, where Kowloon Station is located, the place-name is written 九龍. Using simplified characters that becomes 九龙. The initial character remains the same, but the latter turns into something that--to me, at least--looks just plain ugly and broken.

Transliteration of the origin and destination are based on Mandarin, rather than Cantonese. That practice too is standard within mainland China: I'm long-accustomed to seeing Beijing rather than Peking. But seeing the destination printed as Jiulong rather than Kowloon makes me feel like I'm on the wrong train.

What next? Will Beijing one day insist that the rest of the world use Mandarin-based transliteration even for familiar place names? The city of Canton has already been rendered Guangzhou. Next-door Hong Kong would thereby be written Xianggang. Referring to the country itself as China would become verboten--it would have to be Zhongguo, instead.

The final thing that strikes me peculiar about the ticket is, despite that it's a cross-border train, it's just an ordinary Chinese train ticket. It's the same nectarine-colored stub used on any local line. Other international trains I've taken out of China (e.g. to Almaty, to Moscow) have used long multi-page booklets that resemble flight tickets... at least how flight tickets looked back before those were all issued electronically.
Concerned about potential delays, I got to the Beijing West station a couple hours before departure. I figured there might be long lines or a thorough inspection of my bags. No such trouble. I wound up with an hour to kill on the platform waiting for the train to leave.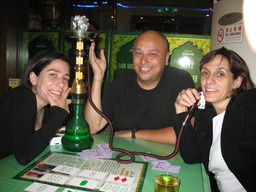 Rafaella, David, and Maria-João
Play SET around a Hookah

Standing on the platform wasn't a waste of time. I rang several friends back in Xinjiang to say one final farewell--Internet access and international 'phone calls to that part of the country are expected to remain blocked for months, yet. Nisagul seemed to be doing much better than the last time we spoke. When I called a few days ago Urumqi was again on-edge: rumors of bands going about the city attacking people with syringes were keeping everybody indoors. Public transportation had again been halted; schools closed. It sounds like life is starting to carry on once again... though it seems questionable if Urumqi will ever return to pre-July normality.

Placing those calls from the station platform I finally managed to speak with the one person I couldn't contact while back in Urumqi: Nik. It turned out he was incommunicado merely because he'd returned to his hometown of Tashkorgan. He just wasn't using his Urumqi 'phone number down there. That means that I've heard first-hand that all my friends are fine. Whew.

These past ten days were great: I caught up with so many people around Beijing. After a couple nights at Lisa and Erik's place, I stayed several nights at Maria-João and Pedro's apartment, then finished my visit with three days at Rachel E.'s. I spent one afternoon making the trip to the suburbs beyond the fifth ring road to call on Joyce and Xiao Q. An added bonus was an extra farewell to two Urumqi friends who happened to be making separate trips to Beijing: Meenday and Shamsiya both arrived in Beijing over the time I was there.

Here are synopses of time I spent with various friends:
---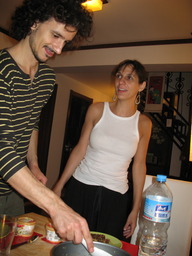 Pedro, Maria-João,
and Apple Crisp
Maria-João and Pedro
When I shifted over to stay at their apartment, Pedro continued his kitchen surprises--this time with me as the unwitting guest of honor. My first night, the main course for dinner was a recipe of his own, a bacalhau lasagne. Absolutely delicious--I'd never had a seafood lasagne before. Dessert was even better. He must have searched on-line to find American recipes. Rather than serving the dessert immediately, Pedro insisted that I should first try guessing to see if I could recognize the familiar dish by its scent. I closed my eyes; he thrust a pot in front of my chest. I sniffed.

"Hmm. Mmm! I smell brown sugar. Cinnamon, also... Is it? Is it? Apple crisp!"

Maria-João and Pedro laughed aloud. We ate up the apple crisp and dealt out another round of SET--I've gotten both of them hooked on the game. In the mere days since I introduced SET to them they've become addicted, playing on-line everyday through the official SET website. Maria-João is talking about ordering several copies of the game to give out as Christmas gifts when she visits Portugal later this month.

Aside from eating good food and playing SET together, the main other way we spent time was moving house. My visit coincided with their move to a new apartment. I didn't mind lending some muscle. And as moves go, theirs must have been about the easiest possible: not only within the same apartment block, but going down two flights, on the opposite side of the stairwell.
---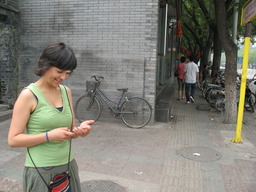 Shamsiya in Central Beijing
Shamsiya
Former roommate Shamsiya has moved on since we shared an apartment together back in Urumqi. At the end of our stint as flatmates, she started seeing a Frenchman, Rudolph. Despite that he has been working in other countries over the last two years, the relationship has endured. He's recently returned to China to seek work and pursue the relationship.

Shamsiya left Urumqi earlier this summer. She and Rudolph are currently both looking for work and an apartment to share in Beijing. Shamsiya and I caught up at coffeehouse Waiting for Godot; it was the first I'd seen of her since the night of the riots in Urumqi two months ago.

Out of habit, we continue to speak to one another in Uighur--though I suspect that her level in English is now superior to mine in her first language.
---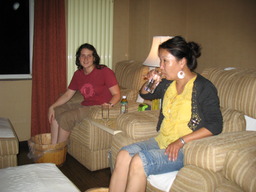 Rachel E. and Meenday
get Foot Wash
Meenday
Meenday was passing through Beijing on her way up to Hohhot, in Inner Mongolia. Coming from Urumqi, Beijing wouldn't normally be en route. However, she started her vacation by escorting a niece on the train ride out to begin her freshman year of university down in Shanghai. Beijing is a logical stopping point to change trains on the way up to Inner Mongolia.

When Meenday first mentioned the idea that she might accompany her niece to university orientation, she showed me her niece's acceptance certificate at a school in Shanghai. I mis-read the Chinese characters printed in gold-leaf atop the document:

"Shanghai Seafood University? What kind of school is that!", I asked.

"No, not 'Shanghai Seafood University'," Meenday replied. "You mistook the character. It's 'Shanghai Ocean University'."

"Oh, you're right. Now I see. The radical on the left of the fourth character is the three-drops-of-water radical... not the fish radical. All the same, I like the idea of a 'Shanghai Seafood University' better."

The characters on the line below read "Shanghai Ocean University":

上海海洋大学

上海海鲜大学

The characters on the line above read "Shanghai Seafood University".

Between my departure and her arrival we had only one full day together. We maximized our time, starting with dim sum at that 24-hour dim sum place near the Yonghegong Lama Temple. I chose the place for a couple reasons. I never found dim sum back in Urumqi, so figured it would be a new taste for Meenday. Also, she'd made pilgrimages to Tibetan monasteries we'd visited together in Ulaan Baatar and Qinghai. I figured the attraction of another monastery right next door might be worthy of a pilgrimage after lunch.

It turned out that Meenday had been to the Lama Temple recently--while on a business trip to China Radio International headquarters back in June. As she wasn't interested in a return visit so soon, I instead suggested a trip to Beijing's Apple Store. Before coming back in June, Meenday made a specific request: if she re-imbursed me in Urumqi, would I bring back a digital camera and Mac laptop? I knew that prices for both items would be lower in the U.S. than in China. I would be bringing little baggage, so agreed.

However, after I arrived in Urumqi I found teaching her how to use her new notebook to be difficult. She's by no means a novice computer user, but I found that the vocabulary required to express differences between Windows and OS X in Chinese was beyond my ken. I knew that the Apple Store would offer introductory tutorials. (I also wanted to point out that the sticker price was indeed significantly higher in China.)

Though she sat through two classes and took notes, I still wonder if such a fancy new laptop was a worthwhile purchase for her.
---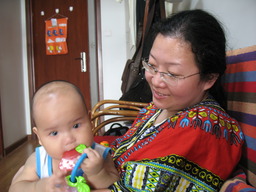 Xiao Q in Joyce's Lap
Joyce
Joyce has embraced the stay-at-home mother role. Her husband has a job in IT. She seldom ventures out of their apartment block.

Joyce does still pursue her own entrepeneurial ambition in a limited way. She's seeing money come in through a small on-line business she set up several months ago. She now has her own website selling imported food products to the domestic Chinese market.

We spent a weekend afternoon catching up at their home in the suburbs of Beijing. Xiao Q remains a cutie.
---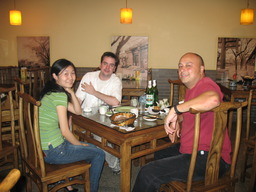 Kate, "New York" Dave, and David
eat Dumplings at Xian Lao Man
"New York" Dave
I took just one evening catching up with "New York" Dave. He's lived in China for years, but he hasn't been in Beijing all that long. He had moved to town just a couple weeks before I last saw him, at Tiffany's farewell party in June.

When I rang him up to decide where to meet one evening, he asked what I was in the mood for. I'd already had enough chi-chi Chinese and international cuisine over recent days. I wanted basic street food. "How about dumplings and beer, tonight?", I suggested.

"I know just the place," Dave said.

By coincidence, NY Dave happens to live in the same Bei Xin Qiao apartment compound where I was staying with Rachel E.. We met up in the plaza off the nearby metro station. He introduced me to his new girlfriend, Kate. The three of us started walking towards Jiao Dao Kou. When we turned right at the main intersection, I realized that I knew exactly where we were heading: right back to the very dumpling house where I ate (twice, actually) with Maria-João and Pedro, Xian Lao Man 馅老满.

A repeat visit was no disappointment. The variety and preparation of the dumplings are worth coming back for; large bottles of Yanjing Beer are a reasonable 4 yuan.

Dave has been working the past months at a small start-up that conglomerates Chinese news items pertinent to the tech industry and translates them into English. It was good to hang out for an evening. He seems well.
---
Rachel E.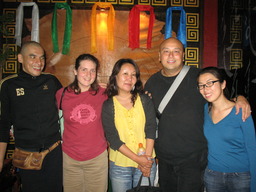 Erik, Rachel E., Meenday,
David, and Lisa at Darkhan

My final three nights in Beijng were at Rachel E's apartment. She's busy, working for an international corporation developing alternative energy technologies. Still, she made time to catch up and go out.

Last night she, Meenday, and I went for a final foot wash and massage. The massage parlor she frequents down the street from her apartment, Massage Club 和中堂足道, was great. The atmosphere was more pleasant than the operations where we used to go back in Urumqi: nicer decor, no annoying fluorescent lights overhead. Also, they used a wonderful technique I seldom found out west. The masseuse lit a match and stuck its flaming head inside a a small glass jar to create a vacuum. She removed the match then plopped the mouth of the jar onto my oil-slicked sole. Moving it about gave a sensation of sliding suction. It felt wonderful.

After the foot wash we joined Lisa and Erik for dinner. Meenday knew a particular restaurant, Darkhan, just down the street from the Mongolian Embassy. The menu was delicious and wholly unlike any dishes I've eaten in Mongolia or at Mongolian restaurants in Xinjiang. I had two favorites. The first was an iron pot of milk with plain, salty cheese and pork boiling up in it. That was kept simmering atop our table by a small can of Sterno beneath.

The second dish was a black sausage made from intestines stuffed with coagulated blood. The ingredients way not sound appetizing, but it was delicious.

The five of us made conversation, falling into the unusual choice of speaking in Mandarin. It's not unusual to speak Chinese in certain situations with other foreigners in this country. What I found strange was that it was strictly a lingua franca--the native tongue of nobody at the table. Erik grew up speaking French. Rachel E. and I grew up speaking English. Meenday grew up speaking Mongolian. (She was probably one of the last to go through a Mongolian-medium university in Urumqi. All higher education in Xinjiang is now conducted in Mandarin.)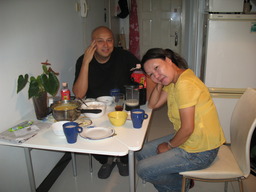 David and Meenday eat Breakfast

I guess Lisa qualifies as a native speaker of Chinese--she's perfectly fluent. She grew up speaking the language at home with her mother. But being raised in America her English is as natural as mine--so there's never been a reason for us to speak with one another in Chinese before.

It was a good dinner and fun conversation... but it just reaffirmed to me that I can definitely express myself far better in English than any other language.

This morning Rachel E. served up a farewell breakfast: hot cereal with a side of fresh mango. Meenday--who also stayed at Rachel E's for one night--boiled-up Mongolian milk tea.

It was a perfect way to end a great visit with good friends. I don't anticipate coming back to Beijing--or anywhere else around Asia--for some time. I'm on my final leg of this journey, now: still making my way down to Hong Kong. Then, after calling on relatives around the city over the next several days I'll fly back to Seattle--where I plan to stay for at least several months.
---
Quiz Answers:
The stations where the T97 stops between Beijing and Hong Kong are:
Zhengzhou
Wuchang
Changsha
Guangzhou (a.k.a. Canton) E.