Title VIII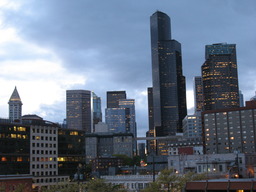 City View from my Studio

Seattle, USA
May 7, 2010

That intensive Uighur language session I applied to: I've finally heard back. I'm going! The funding committee sent a determination today.

They'll award me money (Title VIII) that should pay for my entire summer. I've calculated it out: tuition, airfare, room, board--the award should be just enough to cover all my expenses. I am beyond pleased.

This means that I'll be leaving Seattle in a little over a month. Oddly, my first stop--the place where I will immerse myself in Uighur language for two months--will not be back in Central Asia. Indiana University in Bloomington is one of the few schools that offer instruction in not only Uighur, but languages even I consider exotic: from Azeri to Yiddish.

Suddenly, there's so much to prepare. I need to book a flight: should I fly into Indianapolis or Chicago? The former is much closer to Bloomington, but the latter will be a city where I can spend a few days calling on friends and family.

I need to vacate my studio. It's such a tiny place that the move won't be that difficult. But, I'll have to stash everything that I'm not bringing along to language school--and my subsequent jaunt back to Europe and Central Asia--into Greg's basement. That will take some time to organize.

I'm plotting out exactly which date I'll enter Canada on my immigrant visa. I think I'm going to have a cross-border 2-day party: consecutive nights of celebratory drinks on either side of the border. I haven't decided which weekend I'll make the journey, but the Friday night will be at my favorite teahouse in Seattle's Chinatown. Saturday night will be somewhere up in Vancouver. I'm bribing Tiffany to perform reconnaissance, seeing if she can find any appropriate venues around town for the second round.

I could continue on with the census-taker job for some weeks out. I'm still enjoying being out on my bike and having some money come in. But, it might make sense to cut work short to have more time to attend to all these other matters.

So much to look forward to!