Quelf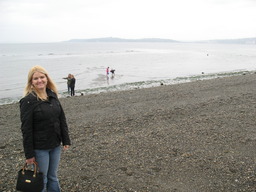 Seattle, USA
June 1, 2010

Our plans to rendezvous were repeatedly foiled for over a year.

Last spring we were supposed to meet in New Orleans. I managed to make it down, to attend a wedding. But, Naomi had a last-minute change of plans and couldn't make the trip.

Then, just a few months ago, we were supposed to meet in the city where she lives, Washington, D.C.. That was my turn to back out. I had everything planned: I'd bought my ticket months in advance. I'd scheduled 10 days of calling on family and friends around town, down to booking exact blocks of dates staying with various people to maximize time together. The first stop was to have been at Naomi's. However, a record snowstorm cancelled not just my flight, but all air traffic into the region for several days.

Rather than re-schedule for the next flight available, I decided to postpone the D.C. visit indefinitely. My reasoning was that--even if I could get another flight into the city--snow on the ground would make for an unpleasant time getting around. Not going to D.C. at that particular time turned out to be among the luckiest coincidences in my life. Mom died the day before I was scheduled to come back from that trip. If not for the blizzard, I would have been away from family and received the news from afar. Thankfully, when her time came I was at her bedside in a Seattle hospital, not somewhere across the country.

Finally, the spell has been broken. Naomi and I have met up--twice--over this long weekend. She's spending Memorial Day back from D.C., visiting friends and family around Seattle.

We started Sunday morning with a movie at the Neptune Theater. The Seattle International Film Festival is running from late May to mid-June; The Eagle Hunter's Son was filmed in the steppe and desert of western Mongolia telling a tale of Kazakh-speaking nomads. The storyline wasn't all that engaging, but I did enjoy hearing the spoken languages and seeing the spectacular scenery, re-living my travel four years ago around the area.

(Thanks to Dad for getting tickets to the screening. He's been volunteering at SIFF each season for nearly 20 years. He seems able to score passes to just about any film.)

The rest of our time together Sunday brought a sense of deja vu. The weather and setting were nearly identical to when Naomi and I last spent a full day catching up, over a year ago: grey skies above a gravelly beach. We didn't drive quite as far as when we spent the day together last year. This time we chose to stroll around nearby Alki Beach in West Seattle. It was barely drizzling when we arrived, but that steadily turned into heavier rainfall. We eventually decided that taking a dry seat and cold drink inside Duke's Chowder House made more sense than continuing to stroll outside.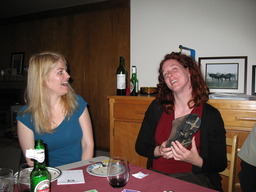 Shannon Sings an
Ode to her Shoe

The next day the weather cooperated. We spent Memorial Day at a salmon barbecue hosted by Naomi's family at their home on upper Lake Washington. Familiar faces were on-hand. Shannon, Naomi's closest friend since childhood, was up from L.A.. Shannon was my parallel two years ago, the one playing maid-of-honor to my role as best man at Michael and Minh Chau's wedding. Also attending the barbecue yesterday: the very couple whose wedding reception Shannon and I crashed after playing our roles as best man and maid-of-honor.

Face-to-face with the friends of Naomi's whose wedding I'd crashed, I confessed that it wasn't actually the first time we'd met. They apologized for not remembering meeting me at their wedding. I told them that I actually hadn't been invited, explaining how crashing was the only way Shannon and I could spend any time with Naomi. I apologized for leaving with several boxes of cookies that were foisted on me as a departing gift after their reception.

We all had a good laugh; they absolved me of any cookie impropriety.

After the barbecue, we finished the holiday around a board game I'd never heard of: Quelf. Quelf seems created to serve as license to clown around, sing, say weird things, and all manner of silly, random, childish behavior that people become too self-conscious to keep engaging in after a certain age. It was great fun.

Each card gave another bizarre directive to the player who drew it. For example, on one of her turns Naomi had to balance a book atop her head and walk backward across the room. My first task was to "re-arrange all the furniture in the room while giving running commentary as if you were an interior decorator". I launched into stream-of-consciousness babble, gesturing to certain objects while spouting out whatever I could until the sandglass was drained. I made something up about how the present placement of a telescope next to a certain window would act as "bad feng shui, refracting light through an improper portal... ". Nonsense as it was, I guess it sounded convincing--several people in the family later asked if I didn't actually know the workings of feng shui.

I'm looking forward to more Quelf sometime; I'll have to track down a copy to introduce to the siblings. I'm also looking forward to whenever--wherever--Naomi and I next meet. We're throwing out possibilities of potential places to get together in the Midwest while I'm attending the language program in Indiana this summer. Increasing the likelihood of a rendezvous: I'm planning to visit several cities around the country--Washington, D.C., included--at summer's end, after the program finishes.

But, even with planning and a couple likely places to rendezvous, I know better than to count on actually seeing each other--given how our scheduled meetings fell through this past year. See you somewhere and hopefully soon, Naomi. Thanks for the Quelf!