Cross-Border Party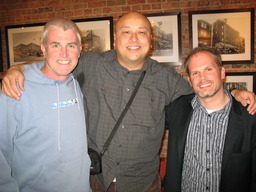 Brad, David, and Jamie:
Former Co-workers

Seattle, USA
June 11, 2010

I've been so busy over the past few days. I just worked an additional day with the Census Bureau--even after formally handing back my bag and my badge over a week prior. The crew leader called me up in desperation; I agreed to work one more half-day. Then yesterday, I moved the last of my belongings out from my Chinatown studio and into Greg's basement. This afternoon I returned to Greg's basement together with Ben in order to take inventory together of everything I own. What's spurring all this activity? Why was Ben helping me take inventory of my posessions?

I'm about to quit Seattle and emigrate to Canada.

My years-long process in acquiring permanent-resident status is coming to an end. The moment I use the visa that the consulate stuck inside my passport to enter Canada I'll be able to legally reside, work, and retire in Canada: 'til death do me in. This has been so long in coming...

When I picked up my passport from the Canadian consulate several weeks ago, I mailed out invitations to everybody whose address I knew. I decided the appropriate way to celebrate my new status would have to be with a two-day, cross-border party spanning the two countries. I set venues for drinks on both sides, the first in Washington State, followed by another in British Columbia. Friday night (tonight) was here in Seattle. Saturday night (tomorrow) will be up in Vancouver. I'll acquire my Canadian permanent-resident status in-between, while driving from one party to the next.

I scheduled tonight's gathering a few blocks up the street from my Chinatown studio, at the Panama Hotel Teahouse. It's a nice old building that's old by Seattle standards. The Panama was in the core of Japantown until WWII, when all ethnic Japanese living in the area (including U.S. citizens) were rounded up and sent off to internment camps. The current owner, Jan, has taken pains to create a pleasant atmosphere tastefully incorporating period objects effects left behind by residents who were suddenly sent away, residents who were to never return to the posessions or lives they left in Seattle.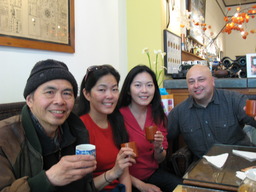 Dad, Cousins Jenny and Cindy
Celebrate with David

I'd guess that over the course of the evening that 25 to 30 people dear to me dropped by. I was impressed with the range of people who came through, representing not just family, but people I'd met throughout all periods of my life. The longest-standing unrelated connection had to be Kim--who I met when we were both seven years old and about to begin 2nd grade. She and her mother were among the first to arrive. Over the course of the evening so many faces--from those I first met in some decade long-past to those first-acquainted just last-year--filtered through: Friends I made in graduate school. Co-workers from long-past dot-com days who subscribe to my weblog. Neighbors of siblings whose homes I've housesat. Co-workers from days more recent who I met working the census just last year.

The prize for who came the furthest to attend my 2-day party goes to twin cousins from L.A., Jenny and Cindy. They not only flew up just for my celebration this evening but will hop in the car with Ben and me tomorrow to hit the Vancouver side, as well. Utmost respect to my cousins.

I'm not sure what to expect at the border tomorrow. I told Ben, Jenny, and Cindy to pack a picnic and a Frisbee. The main border crossing, where I-5 turns into B.C. Highway 99 is surrounded on both sides by a beautiful park with gardens and picnic tables, the Peace Arch Park. I'm assuming that they'll all be admitted into Canada in a matter-of-minutes. But who knows how long it will take for Immigration and Customs authorities to admit me and process my inventory list of "goods to import without duty at some future date?"

Answer to be revealed in the next entry...