Post-Wedding Dash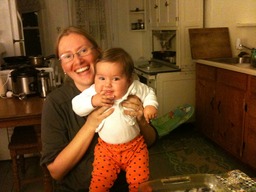 Logan and Baby Lily

Brattleboro, USA
October 14, 2013

Dad and I are about to head along on our way north after a brief overnight call in Vermont.

After cousin Jeffrey's wedding I turned around from Long Island to drive back up to Montréal. But, rather than with the twin-cousin-company I had on the way down, I'm returning with Dad in the passenger seat.

We could have made the trip in one shot. It likely would have been under a six-hour drive had we taken the most direct route. But, I figured that tagging on an additional hour-long detour would be not just a good way to break our journey, but the only place to call on an old friend anywhere en- or off route.

So, this has become a return to Brattleboro to call on Logan's family. In a stroke of bad timing, Olivier just flew out this morning for a work assignment in Haiti--meaning it wasn't a reunion with the entire family. But, Logan and Baby Lily were still in town and played welcoming hosts.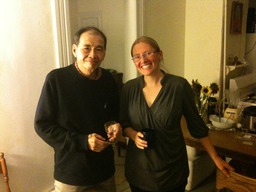 Dad Meets Logan

Logan prepared a dinner for our arrival: salad made up from CSA produce and macaroni and cheese made up from WIC dairy products.

"Should you really be cooking a meal for us with the good stuff?", I asked Logan. "Aren't you afraid that your WIC bounty will run dry with the federal shutdown?"

"Oh, this is Vermont!", Logan quickly replied. "They'll have some way of coming up with a reserve program if the federal government freeze extends beyond another month or two. "Speaking of which, they always give us way too many eggs. We have cartons that are going to go off if they aren't eaten up soon. Would you like a dozen eggs to go for your journey back to Montréal?"

I accepted the eggs.

Thanks for hosting both Dad and me, Logan. I hope your whole family is in town whenever I next breeze through. I hope that happens again very soon. Your home is always so filled with love.