Jeffrey & Kristin's Wedding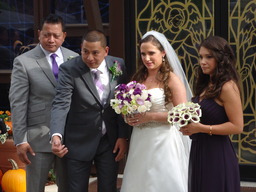 Cousins Jason and
Jeffrey, Bride Kristin, and
Maid of Honor, Jaime

Plainview, NY, USA
October 13, 2013

This wedding was anything but a tearful affair. This was more a raucous party to celebrate the youngest of our generation getting married. Guests were dancing. Guests were chanting. Guests were casting their underwear about the ballroom floor.

Cousin Jeffrey of the New York branch of the Wong Clan is now a husband. Last night, he and bride Kristin--who grew up not far from one another out here on Long Island--have just gotten married.

I've attended excessive weddings before. This one took more than the cake. I was already stuffed by the time the hors d'œuvre session was finished. The wedding reception began there in a separate hall off the ballroom. The walls were ringed with appetizer stations, each manned by a server, offering a combination of dishes that recognized the Italian heritage of the bride and the Asian heritage of the groom. Peking Duck and lasagne were set amongst delicacies specific to neither ancestry (e.g., oysters and lobster) thrown in for good measure. The event ended up back in the same hall following the same concept--but set with stations of chocolate fondue, cannoli, and ice cream--with quadruple-tiered wedding cake as centerpiece.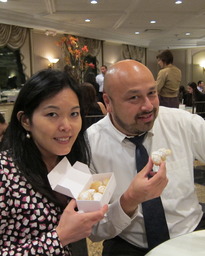 Cousins Cindy and David
amidst Too Many Desserts

Playing designated driver, I was sadly unable to avail myself of the open bar.

There were the standard toasts and roasts--most of the latter coming from cousin Jason in his role as best man. I saw both cousins briefly when they came up up to Montréal a few weeks ago for one leg of what was evidently a string of international bachelor parties.

Though it's likely been the busiest day of his life, I'm glad to have shared some time with my youngest cousin. We were born on opposite sides of our generation so never really got to know one another. We did see a bit of each other when everybody in the extended worldwide Wong family gathered in Las Vegas exactly one year ago. But, my strongest memories of cousin Jeffrey were of him as a three-year old playing in his family backyard when I was visiting New York one summer at the end of my teens.

Cousin Jeffrey's wedding has invited family from time zones beyond EDT. Auntie Eleanor and other relatives who have flown in from Hong Kong probably take the prize for those who came from farthest to attend. Aunt Martha is here. As mother of the bride, Auntie Lulu is of course here. Her older brother Tito Nilo, who I last saw when he hosted me and my father in the Philippines seven years ago is also on-hand. It's been great to re-connect with so many relatives and to catch up on where life has taken everybody.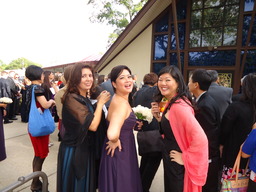 D.C., NY, and L.A. Cousins:
Melodie, Jade, and Tina

Predictably, the extended family I've spent the most time with has been the siblings and cousins from my own generation. In addition to New York cousins Jade and Jason who are--of course--here for their baby brother's wedding, Cousin Melodie and her husband Ben drove up from Washington D.C.. Three of Uncle Joseph's daughters: Cousins Tina, Jenny, and Cindy have come out from L.A.. I drove the latter two down from Montréal after their visit to La Belle Province.

I've been happiest to see immediate family faces from Seattle for the first time in nearly a year. Dad has come out for the occasion, as has Greg and his daughter, Mai Linh. I think my favorite aspect of the wedding reception was being seated at the table alongside Greg, the L.A. and D.C. cousins, and their respective children: Mai Linh, Isaac, and Eli.

That next generation is growing up, too. None of the three at my table had any compunction about stepping out on the dance floor. Sweet as the rest of the wedding was, my favorite moment of the evening came when coffee was served after dinner. The waitress took my order down and asked all the others in my generation if we'd prefer regular or decaf--but didn't ask anybody from the next generation on down. After the server walked away, Mai Linh expressed her discontent:

"I wanted to drink coffee too! But she never asked me!"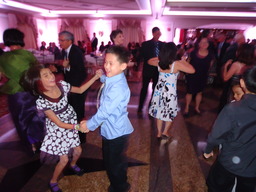 Cousins Mai Linh and
Eli Dance Together

Not yet out of elementary school I hadn't assumed that Mai Linh would be ordering any hot beverage after dinner, either. After she expressed her complaint I encouraged my niece to bring the matter up with the waitress when she came back around.

Mai Linh did so in the politest manner I've seen. She then drank down the cup of coffee set out before her in several gulps with large smiles on her face.

I'm now wondering: if the youngest of my generation has now been married off, does that mean we should start looking to the oldest of the next generation to start guessing who's next?