Persian Immersion IX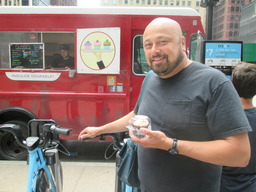 Chicago Birthday Cupcake

Chicago, USA
July 20, 2014

A full day trip to Chicago: transport, museum admission, and dinner all paid by our summer language program. How could that get any better?

I knew how it could get better: by extending that trip by tagging on an additional day to run around the city with friends old and new.

After brunch back in Madison yesterday morning Kayla and I were killing time waiting on the bus for our excursion to arrive. I made a suggestion:

"You've never been to Chicago before, right? Instead of coming back with the group would you like to stay on there for the night then come back here sometime on Sunday?"

Kayla was clearly intrigued by the idea but asked about the practicalities.

"Would we find a hotel?", she asked.

"No, I don't think we'd have to," I said. "I have a friend, Chia-yi, who lives there. I've stayed the night at hers occasionally when passing through town, before. Chia-yi is really active in the couchsurfing community. She hosts people--utter strangers, even--all the time. If there aren't already guests at her apartment tonight she'd probably be fine with having the both of us crash. I'll ask her when we get together at the Oriental Institute later this afternoon. She lives and works right there at the University of Chicago. It's a funny coincidence, now that I think about it. She and I first met when I was doing just what I'm doing now: studying in an intensive summer language program at a Midwestern university."

"How will we get back?" was Kayla's next question.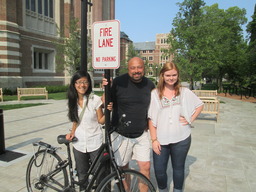 U Chicago Campus: Chia-
yi, David, and Kayla

"I'll take a look at the Greyhound and Megabus schedules. A month ago when I came to Madison for the start of APTLII my Greyhound ticket from Chicago cost $12--though that was booking far in advance. I'd guess it'd be about double that, now. Megabus is always cheap but I doubt we'd be able to get the $1 seat for a departure so soon. I'm guessing that it'll cost in the neighborhood of $25 on either line for each of us to get a ticket back to Madison."

Kayla's final question: "What should I pack?"

As we were planning just an overnight trip neither of us brought much more than a change of clothes. Only one of us even had the foresight to remember to bring a toothbrush. Just past noon yesterday the bus chartered by our language program pulled away from our dorm. Our next stop: the campus of the University of Chicago.

I texted Chia-yi en route. She biked over; we managed to connect outside the Oriental Institute right after our group toured the museum and right before our bus began loading up to bring us to another side of town.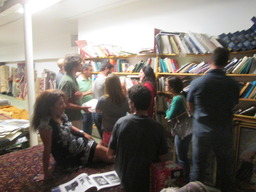 Shopping in Persian Bookstore

"Sure, we don't have any couchsurfers, tonight," Chia-yi said when I asked if we might stay. "I'll have to check with my brother (who is also one of her roommates) but I don't see why he'd object. I'll text you."

We bid Chia-yi "hopefully see you soon" and piled on the bus. From the museum the bus brought us to a neighborhood with a Persian book store and a Persian restaurant somewhere north of Wrigley Field. I wasn't sure just which part of town I was in but the area seemed familiar. It was only when our school group walked inside to be seated for dinner that I realized when I had been there before. We were at Reza's, the very same restaurant where Megan, my nephew Nicholas, and I ate dinner one night the summer I invited him to visit Chicago. Three years earlier we had chosen the place at random after watching a theatre performance just down the street. It felt an odd coincidence to be eating dinner in the same restaurant again.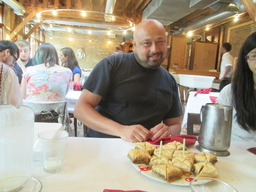 Birthday Baklava

The meal was good. Among other traditional Persian dishes there were kebabs, ghormeh sabzi, and a plate of pilaf seasoned heavily with dill. There was salty doogh to be drunk up with dinner and sweet baklava to round the meal out for dessert. The director of the Persian program, Parveneh, had remembered that my birthday was imminent and managed to get the baklava served with flaming candles and a chorus of "Happy Birthday" sung in Persian. I am actually quite content with the meals we take back on campus: there is enough choice even for a fussy eater like me who craves variety. All the same, I found an authentic Persian meal to be a welcome break from the typical Midwestern fare that forms our standard dining option back in Madison.

After dinner and book shopping all of our teachers and fellow students congregated on the corner Clark and Berwyn to wait for the chartered coach to take them back to Madison. Shortly before it pulled up I announced our plans to stay behind to program director Parvaneh. It was more a statement than a request: I hadn't even thought of asking for permission to stay behind. It was clear that she was mulling the idea over reflecting on what implications there might be in leaving two of her charges behind in another city. So I felt pleased after she paused, then gave us her blessing to stay on.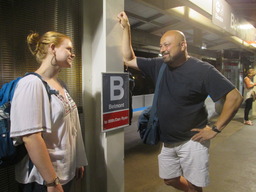 Kayla and David Wait
On Red Line L Platform

Once everybody else was Madison-bound Kayla and I explored the area on foot. We wandered over to where Chia-yi had just finished dinner with a friend. We wound our evening down with a drink together, then took the L downtown to walk along the river and gawk at skyscrapers. Finally, the 6 Express brought us down to Chia-yi's Hyde Park apartment for a night of sleep.

When stepping out to tour the city this morning we literally stumbled upon the perfect solution to get ourselves around town: a bike-share kiosk. As with Madison, Chicago now has a bike-sharing program with banks of bicycles set on corners throughout the city. A day pass cost $7. I calculated that would be about the same as what we'd pay in transit fare--but would allow us far more freedom to skip around from place to place. The system seemed different in name only: the program back in Madison is called "B-cycle" but is known as "Divy Bike" here in Chicago.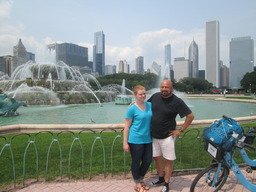 Kayla and David in front
of Buckingham Fountain

To start our day Kayla, Chia-yi, and I biked along Lake Michigan for a late Sunday brunch at the Bongo Room on Wabash and Roosevelt. The same friend of Chia-yi's we'd gone out with last night (Mahfam, who had the added benefit of speaking Persian) joined us for omelettes with avocado and strong coffee. When we'd eaten our fill Kayla and I waved goodbye to them near Lake Michigan then set off on our Divy Bikes for my basic introductory tour of downtown Chicago.

We rode around in a near reverse trip of the walking tour I offered to Nisagul just one month ago. Starting at Buckingham Fountain in Grant Park we rode to the Art Institute where we took the elevator to the roof. After gazing at the skyline view we walked down the footbridge into Millennium Park. We took the obligatory batch of photos of ourselves reflected in the shiny silver bean. A walk-through of the Chicago Cultural Center brought a discovery new to me: there is a panel of inlaid tilework written in Persian running along the ceiling of the room with the enormous dome of Tiffany glass.

Kayla was interested in stopping at an outlet of cosmetic chain Lush as there isn't one back in Madison. I vaguely recalled there being a branch up by the Water Tower. When looking for a Divy stand to check out bikes to ride north we came across a food truck selling cupcakes next to the nearest stand.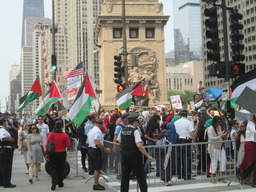 Gaza Demonstation

"They gave you baklava with candles last night but you still haven't had a birthday cake yet. Want a cupcake?" Kayla offered.

"Of course!", I said. "Their sign says that they have a crème brûlée flavor. If they're all out of that I'll go for the red velvet."

Cupcakes in hand we rode up the Magnificent Mile to eat my birthday treat in the park surrounding the Water Tower. It was a stroke of good luck that we'd chosen to go by bicycle rather than relying on public transit. The L would have been a long detour to get to and from. Riding the bus the short distance up Michigan Avenue would have been chaos, this afternoon. Schoolbuses filled with demonstrators were arriving. Men riding motorcycles blared their horns; passengers waved Palestinian flags out car windows. Just north of the river a protest was forming in reaction to the present situation in Gaza. We wove between city buses and vehicles driven by protestors to sit outside the Water Tower and eat my birthday cupcakes.

After we wandered across the street to Lush Kayla seemed content not to buy anything but just to browse the products. From there we rode down to Daley Plaza (avoiding the demonstration area) to see (and play upon) the Picasso sculpture. The Sears Tower was on our way to Union Station which is where our Megabus back to Madison will leave. Though we stopped outside we didn't have time to go to the top of Chicago's tallest building (is it still the tallest in the U.S.?) But, perhaps that could yet happen...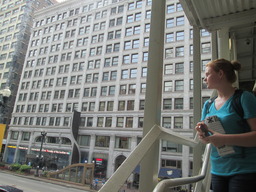 Kayla at State and Lake

I've already booked myself a ticket back here to Chicago at the end of the program. Kayla's itinerary presently has her flying back home out of Madison though perhaps the ticket might be flexible enough to allow her to depart from another nearby airport. She said she'd be game for a return visit to spend a couple more days getting to see this city. Whether or not we do indeed come back to Chicago in a few weeks, I suspect this won't be the last place Kayla and I visit together.

We're about to head back to Madison, now. Though, that city won't be my next dateline. I do have to observe my birthday as I've done for so many years by making a trip somewhere "out of the country". I have had to fudge my trip abroad in creative ways over several recent birthdays. (E.g., one year I set foot into a consulate to be on "foreign soil".) It's been hard to have ample time to get away from whatever else I have going on each summer. Thankfully, I've come up with a novel destination for this year.

So, "goodbye" Chicago for now. Brief "hello" to Madison in three hours. Then...

Next stop: "somewhere out of the country"