Pen Pals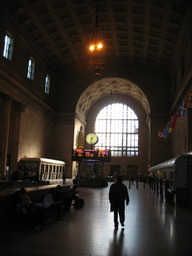 Union Station: Toronto

HAMILTON, Canada
June 21, 2013

We began as pen pals. That sounds so old-fashioned, now. I wonder how many other friendships have been formed recently that started out with letters written on paper and mailed out with postage stamps. But, that's how things started between Akbar and me just a year ago.

Akbar responded to an appeal for postcards and letters I posted on this website when I first moved to Québec City. Using ink and stationery is a manner of communication that even I admit is not the most efficient way to keep in contact. So, when I realized I'd be passing through the area where he lives we began exchanging e-mail to see if we'd be able to meet in-person. Since that initial time connecting face-to-face he and I have met up again each time I've come through greater Toronto. This time through I've stayed on longer and stayed on specifically here in the suburb of Hamilton to spend time with the two of them.

In addition to developing our friendship in a funny, old-fashioned way there are lots of reasons we get along. For example, Akbar is from Karachi and his wife, Sarah, is from Shanghai: Pakistan and China just happen to be the two countries where I've lived longest outside the U.S. We're all immigrants to Canada. But it's not just these common countries where we've lived that allow us to connect. We always get along easily and have a lot to share. I'm sure I'd find them a fun couple to hang out with even if we didn't share such similar background.

Hamilton is about an hour west of Toronto. It carries a reputation as a rough, faded city that saw its prime decades ago. However, Akbar and Sarah love living here. They didn't have to work hard to convince me:

"We don't go into Toronto more than once or twice every year," Akbar said. "There are walking trails up and down the mountain leading into downtown Hamilton and the area surrounding the city. There's a variety of restaurants around town where you can get whatever kind of cuisine you want. We're happy here."

It's been fun to have more time together on this visit and to get to know this area where they find themselves so content. The three of us caught up different places around town, starting with pho at a local Vietnamese restaurant soon after I stepped off the commuter train I took in from Toronto. Over that dinner conversation we found we now share another commonality: all three of us have landed back in school in some fashion. Sarah is in the latter stages of a nurse practitioner's degree while Akbar is extending his credentials as an accountant with additional coursework.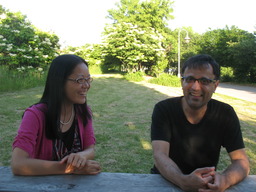 Sarah and Akbar, Bayview Park

Despite their busy work and school schedules we managed to get out and get around town together, often. We took advantage of the fair weather to explore Hamilton's numerous public parks. We watched the sun set down into the valley atop the bluff at the end of the street running by their home. I had only one afternoon out on my own which I spent walking the trails near their home down into the old city center. I'm glad that I scheduled enough time on this trip to get to know Hamilton.

Thanks for giving me the run of your mother-in-law unit for the past two nights, Akbar and Sarah! I'll stop through town again to see you some day before long. Though, I'm sure our next connection will come far sooner: whenever I continue our correspondence with the next letter or postcard.

Next stop: Detroit