Exit: 44 Street II

David in New York
Library Hallway

New York, USA
December 19, 2014

Both times we tried to visit the reading room together (either occasion separated by 25 years) we didn't manage to get inside. No matter. Over the past days Kim and I have returned to several of the very places we used to frequent back when she was going to college here in New York.

Seeing the Rose Reading Room at the main branch of the library at 42nd Street and 5th Avenue had been something of an afterthought. The library happened to be just two blocks from our hotel. Kim had recalled that the other occasion we'd been there together we'd managed to walk around the interior and see some unrelated exhibition on display--but not actually get inside the ornate hall with its painted ceilings, for whatever reason. Neither of us can recall why we didn't see the reading room that previous time though I suspect it was on account of being two lost, clueless teenagers who didn't know their way around. The reason bringing our record of reading-room visits to nil-for-two this morning was that the hall is currently being renovated. Maybe next time?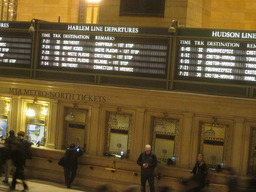 Grand Central Terminal

One place we did manage to visit over this trip where we had also gone together in college days was Grand Central Terminal. When we passed through the station back then it wasn't a place anybody would have wanted to linger. It was drab, dingy, and depressing. But, renovations in intervening decades have buffed up the marble and brought in shops and ambience. Kim pointed up to a rectangle on the ceiling where the massive map of heavenly constellations met marble. She knew of it from a tour she'd previously taken. The dark patch had deliberately been left uncleaned on both ceiling and support during the renovations to show what a century of soot and grime looked like: nearly black in contrast to the entire surrounding area.

We had a drink at a chic Italian restaurant on a balcony overlooking the concourse, a place we remembered as having little more than a few stray benches and perhaps a newstand back whenever we would have last passed through together. Kim recalled that the area directly across from us used to have a massive Kodak advertisement which I remembered only when she mentioned it. It was hardly surprising I didn't think of it until I was reminded. The area where the ad had once towered now had an elegant staircase leading up to the opposing balcony, a staircase mirroring the one we had walked up to where we were having our drinks.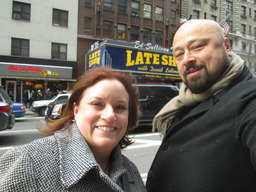 David and Kim Outside
Ed Sullivan Theatre

We both bemoaned the replacement with electronic versions of the signs announcing the destination, track number, and time for imminent departures. The signs that were current when we were last here would flip through letters and numbers (printed on what I assume were enormous pieces of plastic A-Z and 0-9 for each space in a word) to update departure information. Those made for a soft, sustained, fluttering sound like a massive deck of cards being shuffled for ten seconds. Somehow it didn't feel right to spend so long in the terminal without hearing that periodic ruffle.

Yesterday, the two of us made a visit to a place in New York that neither of us had been previously: the taping of a TV show. Kim wanted to see David Letterman host the Late Show before he retires. She specifically hoped to see particular guests who perform a standard Christmas routine every year. Though the studio won't say which guest will appear on which day Kim had managed to calculate that the episode she wanted to see would have to be taped yesterday. She was right about which date that would be recorded and we even managed to get tickets for that day. Unfortunately, there happened to be an extra taping that day--and the one we went to was not the Christmas taping.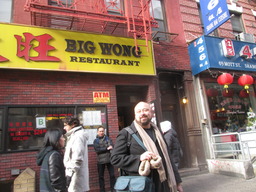 David Outside Big Wong
Restaurant Today

All the same, it was an enjoyable and new experience for both of us. I was curious about the venue but, storied though it may be, the Ed Sullivan Theatre is small and unremarkable. Though, I guess it was a learning experience as well for me. During the broadcast recording I realized something fairly obvious that everybody else probably already knows. But, it was only when attending the taping that I realized the house band on late night TV shows plays through full renditions of each song rather than just picking up their instruments for a few seconds leading up to or returning from a commercial break. They definitely sound a lot better on-stage than out of a TV set, too.

Before Kim headed off to the airport this afternoon we re-visited one last area together: Chinatown. I used to come down to this end of town more often than Kim did. Uncle Philip owned a factory that manufactured garments--a place filled with dozens of Asian ladies operating sewing machines to stitch dresses together. In those days I'd come to Chinatown for Cantonese pastries and to taste flavors of ice cream that in that day were new and exotic. The Chinatown Ice Cream Factory was the first place I tried ginger and green-tea ice cream; we walked right by it on Bayard Street en route to dim sum.

I don't believe Kim and I actually went to dim sum back in college days but I know we must have tried another place offering Chinese food: Big Wong. I have two photos that Kim has taken of me standing in front of that restaurant: one shot today and the other shot 25 years earlier. Coincidentally, Big Wong is located just next door to the apartment where Cousin Jade has lived for the past 15 years.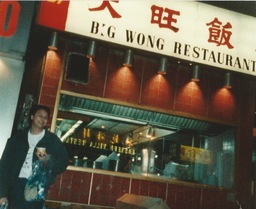 David Outside Big Wong
Restaurant 25 Years Ago

Kim and I parted ways on Canal Street half a block up from Big Wong. She made her way off to the airport; I doubled back to Cousin Jade's apartment. My cousin was the first person I wanted to see with what free time I have left in New York.

Jade and I spent the afternoon together catching up around lower Manhattan. As I knew I'd be seeing my cousin right after Kim would be off on her way to the airport I'd gone deliberately light on the dim sum. Jade and I began with bowls of pho on Mulberry Street, just around the block from her apartment.

My cousin seems to be doing well but has been especially busy recently. She's been taking care of her dad's (my Uncle Philip's) business while he and Auntie Lulu are taking a vacation out of town. We took the subway up to the Christmas market in Union Square where Jade shopped for gifts for her nieces and nephews. After dark we went inside the Barnes & Noble on the north end of Union Square to get a specific gift for her brother.

"You know that Jeff and Kristin are expecting twin boys?", she said. "Get this: Jeff wants to name one of them 'Calvin Hobbes Wong'. So, for Christmas I'm going to buy Jeff the complete collection of Calvin & Hobbes."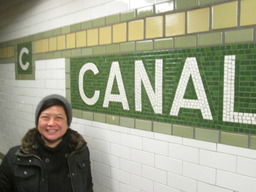 Cousin Jade in Subway Station

I actually thought that was a pretty good name, though both Jade and I questioned whether it would sound as good if he didn't use his full name.

"'Calvin Wong' sounds a lot Asian-geekier, funny-glasses-wearing than 'Calvin Hobbes Wong', doesn't it?", Jade said. I concurred, though did think it strange that having a name that was obviously taken from a cartoon strip could sound less silly than one that didn't.

Fortunately, Jade thought ahead of time before buying that collection. She had remembered seeing some copies of books from that same series lying around the house when she and her brothers were growing up. She wasn't sure which of them wound up with the books. But upon texting to find out Jade received an immediate reply from her sister-in-law, Kristin, along the lines of:

"Oh no! I just bought that exact same collection of books and they're already wrapped and sitting under the tree."

Good luck finding another Christmas present for your brother, Cousin Jade!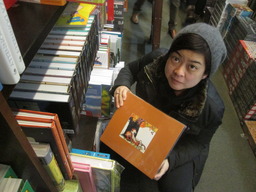 Cousin Jade at Bookstore

We said goodbye near Union Square from where I walked up to 27th & Lexington to meet up with Catherine Q.. Her new place is just off that corner; she came down from work, let me inside, then had to run back to work. I guess she's got something keeping her busy in the office late tonight.

So, that's where I am now, in her new place waiting for her to get off work. Catherine Q. suggested that I skim the on-line menu selections of something called "seamless.com" which seems to be a service that has compiled all the menus of the restaurants throughout New York City. I presume that they're the ones who provide delivery for places that don't deliver, themselves. As Catherine is working so late tonight she's eligible for dinner charged to her firm's client so told me to search for whatever looked good within the delivery area. They list a deli, Sarge's, that offers a traditional deli menu with a corned beef and chopped liver sandwich that sounds amazing.

I hope Catherine Q. is up for deli food, tonight. And if not, I suppose I'll have another three days in town to get my fix.