Beef on Weck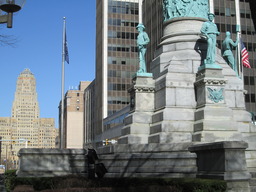 Buffalo City Hall and Cenotaph

Buffalo, USA
April 25, 2015

"Well, that's a clever and different name," I thought to myself upon reading the signboard hanging above the doorway:

LUCY ETHIOPIAN CUISINE

Professor N. and I had just walked up to the restaurant where we had dinner reservations with one her colleagues from the university.

"I think I know why this Ethiopian restaurant is called 'Lucy'," I said. "Do you get the reference, too?", I asked Professor N..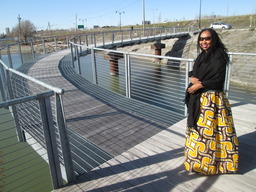 Professor N.

I gave what little background I knew. There was an archaeological dig in Ethiopia in the early 1970s that unearthed the oldest hominid skeleton ever found. I didn't know much other than that the remains were from a woman who had walked the earth over 3 million years ago and that the archaeologists named the skeleton after the song that had been playing repeatedly in their camp over their project: Lucy in the Sky with Diamonds.

Professor N. nodded but didn't seem too familiar with the story. I thought it was a clever reference for an Ethiopian restaurant in the U.S. to make. Customers like me who didn't have a lot of familiarity with the country of Ethiopia itself might have, if nothing else, heard about that particular discovery. Moreover, I found it refreshing to visit any Ethiopian restaurant named after something other than some place name within that country. I've eaten at so many other Ethiopian restaurants in different cities and have found that most of the others use one among the same three names: "Axum," "Fasica," or "Lalibela."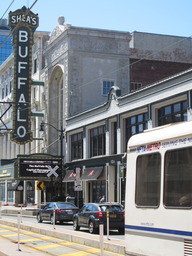 Shea's Theater

Or, maybe I'm overthinking it. Perhaps, belying all my creative speculation, "Lucy" really was nothing more than the owner's name.

Ethiopian food at Lucy's was the start of a long weekend in Buffalo. I came here both to make a little getaway from Montréal as well as to catch up with Professor N.. She and I had talked of maybe meeting in Toronto to explore that city together but her schedule has remained too busy to make a getaway. Instead, I drove all the way down here to her home base. Buffalo is a good 7-hour drive from Montréal but that's fine by me: I love being out on the road for long stretches and so much the better if I'm the one who's behind the wheel. I ferried a couple of rideshare passengers on the way from Montréal to Toronto; I should have three more for the final return leg back to Montréal. The money they'll kick in for transport will cover the cost of the car rental and the gas for my entire roadtrip.

Busy as she's been, now is a good time to call on Professor N.. She received big news only a few days ago: the university has awarded her tenure. That means that my long weekend here has coincided with a celebration party recognizing her permanent professor status. Earlier this evening I joined some of her university colleagues at her favorite Italian restaurant, Trattoria Aroma. The timing of my visit also happened to allow the two of us to attend the touring production of a Broadway musical, Kinky Boots, which has a run of just a few days in town. Personally, I found none of the musical numbers memorable but felt the show was worth attending for its flashy stage costumes and cute storyline. The particular venue where it was staged was an added bonus. Shea's Theater is one of those ornately decorated halls whose interior was constructed back in some other time when fine craftsmanship, attention to detail, and hanging chandeliers went into building new performance spaces.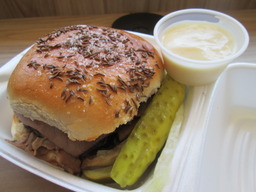 Beef on Weck

Driving out to Buffalo this particular weekend also worked well for a far lesser reason than re-connecting with Professor N. Just a week and a half ago I read an article describing a specialty unique to Buffalo, a sandwich called "beef on weck". When visiting this town on previous occasions I'd tried what I thought was the sole signature dish of the area, Buffalo wings, at their purported place of origin: the Anchor Bar. But, I'd never heard of any other food particular to Buffalo. What was a "beef on weck"? So, as with another recent trip I made not long after learning of some dish local to my destination (a Washington D.C. "half-smoke",) I decided to make another food discovery mission to track down whatever this particular sandwich was.

A beef on weck turns out to be mounds of hot, juicy, thinly-sliced roast beef piled high between a large caraway bun. Horseradish and pickle are both served on the side. The whole thing tasted really, really good. I wonder why beefs on weck (the latter word evidently being an abbreviation for the German kummelweck) aren't found anywhere outside of Buffalo. That was my lunch today and despite that I've since eaten dinner I'm already craving a second sandwich.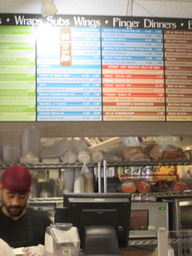 Deli Menu Offering
Beef on Weck

It's been a good extended weekend both for finding new food and for catching up with an old friend. Though, all too soon, this short roadtrip has nearly ended. Tomorrow morning--which is technically just a few hours from now--I turn around to make the long drive back to Montréal. Unusual for me and my schedule: I have to be at work Monday morning. I signed myself up for some casual hours in a temporary position at McGill's School of Law. Over the final exam period I am working as an "invigilator" which is a word I'd never heard before but seems to be the official term at McGill. (I'd call the role I play being a "proctor" or perhaps a "test administrator".) The pay is lousy but it's easy work and will probably total only about 30 hours. I figured, why not?

On my way back I could save half an hour out on the road if I followed the southern shore around Lake Ontario to drive across western New York rather than driving over the Peace Bridge to cross directly back into Canada from Buffalo. Instead, I'm going to follow the longer route, the same one I took here, for two reasons. First, I'm fairly sure I wouldn't have any rideshare passengers to offset my roadtrip expenses if I were to take that more direct route across New York State. Taking the slightly longer route through Toronto assures me of plenty of people who can use a lift from there to Montréal. Second, I'm looking forward to stopping midway between Buffalo and Toronto. That's where Akbar and Sarah live. The three of us have plans for lunch at a kebab house not far from where their home.

Next stop: Hamilton