Half-Smoke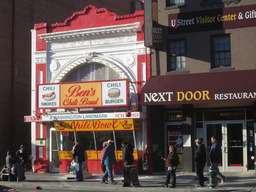 U Street: Ben's Chili Bowl

Washington, D.C., USA
March 8, 2015

Who would buy 100 dice to carry halfway around the planet? And why?

Uncle David and Aunt Nancy would. And they did just that on a recent return from China in order for their grandchildren to play the game I taught them when I last stayed with Cousin Melodie's family two years ago.

"In Guangzhou it only cost 20 kuai for all these dice!", Uncle David said reliving the glee of his bargain buy.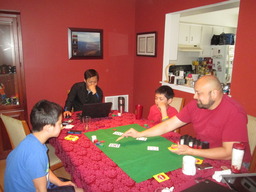 David Deals Blackjack Hands to
Second Cousins Isaac and Eli
Aunt Nancy chimed in:
"We even played one time using all 100 of them out on the table at once. That was one night when we had 10 people here playing the game together."
Evidently, Perudo (which they called by another term used in the game, "dudo") has really made its way around the world. I first played a version of it at a bar in Beijing. I played again years later when calling on friends in Ottawa. Then, after I taught it to my cousin's family here in Washington, D.C., they evidently shared the game on a visit to Cousin Jordan's family in California--with whom it's become a hit, as well. Perpetuating all this die-throwing are Uncle David and Aunt Nancy who brought the 100 dice back from their last stay in China.
I was rusty. The last time I had played the game was likely that first time when I taught it to my second cousins Isaac and Eli. They're now far more expert at Perudo than I am. It had been so long that they had to outline the rules for me: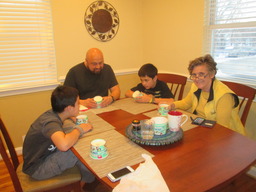 Eli, David, Isaac, and
Aunt Nancy Play Perudo

"Remember, Cousin Dave, each player has to bid one higher. You can do that for either the number of dice on the table or the value that each one shows. So, after somebody says they think there are a total of at least 'five threes' hidden under all the cups you have to say either 'six threes' or 'five fours'. Aces are wild. If you don't think that what the last person said is right, you can call them on it by saying 'dudo'. If you think their bid is exactly right you can say, 'exactly'."

It's fun to be back playing table games both old and new with my relatives. I was happy both to be re-acquainted with a game I'd largely forgotten and to play another game, entirely, with my young second cousins. As always when I visit, I introduced a new game to the extended Washington clan. This time I brought Mille Bornes, an old French card game with special cards to simulate a driving journey. I was surprised that Isaac and Eli hadn't played it before. It was when I was around their age, back when I was in middle school, myself, that I first played the game.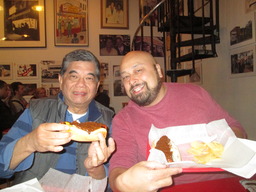 Uncle David and David Eat
Half-Smokes at Ben's Chili Bowl

The game was a hit. The set I brought down from Montréal saw us playing several rounds over consecutive days. Isaac and Eli chose to bring it to church this morning to share the game with their friends. I won't be bringing that set back up with me when I leave for Montréal in a couple hours. I'm hoping that they'll take to Mille Bornes in a similar way that they took Perudo: I'd love to play my next round with with them over some visit in a future year.

In addition to lots of family fun with my D.C. relatives I've also been successful with the other objective I had for this part of my visit. When I mentioned to Cousin Melodie and Aunt Nancy my quest to try a "half-smoke", a particular type of food unique to the D.C. area that I had only recently first heard of, they were both surprised that it wasn't a common item served everywhere else around the U.S..

Melodie came up with the perfect place for us to eat a half-smoke: Ben's Chili Bowl. I'd never heard of it but it's been a D.C. institution on U Street since the 1960s. Three generations of the D.C. relatives and I went together on the half-smoke quest. It was fun to have a reason to seek out something different. In the end it turned out that half-smokes are neither anything all that unfamiliar nor are they very exotic. They're essentially a kind of spicy sausage. But, I was happy to successfully find a place to try one: they certainly go down well when covered in chili.
---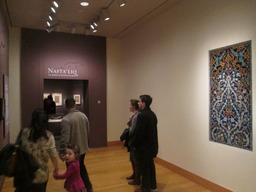 Exhibition - Nasta'liq: The
Genius of Persian Calligraphy

I was semi-successful in visiting the other place I hoped to go over this latter half of my D.C. visit. There is an exhibition currently running at the Sackler Gallery of the Smithsonian: Nasta'liq: The Genius of Persian Calligraphy. The content was right up my alley: examples of manuscripts and poetry written centuries ago by the likes of masters such as Mir Ali Tabrizi.

There was a guided tour of the exhibition scheduled on Thursday. But, the entire city shut down on account of snow on that one particular day. Local businesses, even down to the chain coffeehouse closest to my cousin's home, were closed. The federal government too closed its offices. The Smithsonian, which seldom closes on account of extreme weather, was shuttered as well because of the snowstorm.

Naturally, I was disappointed not to take the tour guided by a docent who would know much more than I would about the pieces on display. At least I did get in to see the exhibition itself on a day after they re-opened. In fact, I went not just once but three times.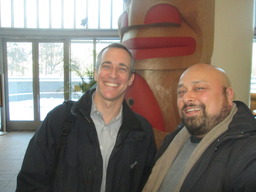 Professor M. and David at
Museum of the American Indian

Seeing works in one style of Persian calligraphy wasn't the only thing I did at a Smithsonian museum while in town. Professor M., whose Chinese brushwork course I took one year ago, is here in D.C. on a year-long sabbatical from McGill. He's the one who somehow came up with funding for all of us graduate students to take a long weekend visiting particular exhibitions at museums around New York, last year. I recalled that he happened to be down here in D.C. this year so dropped to a note to see if he'd be interested in catching up over lunch.

We met at the Museum of the American Indian. I had never been there before. I have to confess that I've still only briefly toured its collections. My reason for choosing to meet there was less to see what was on display in the galleries. It was more out of the same curiosity that drove my half-smoke search: to taste new food.

I'd heard that the cafeteria at that particular museum served a menu based on the cuisine indigenous peoples ate in North America prior to the arrival of Europeans. There was indeed buffalo and bison (is there a difference?) accompanied with various sides made from corns, kale, and yucca. It was pretty good, though not quite as exotic as I'd imagined. My bison came in the form of a burger.

Professor M. has been doing well. He's in the middle of a one-year stint at the Library of Congress. He offered me some good advice about continuing on with graduate studies, specifically making mention of narrowing down a discipline and specializing while still keeping an eye to marketability and staying aware of where hiring trends are going in academia.

He's a good guy. I hope that I'm still in town when he returns to Montréal for the next academic year.
---
Other People I Didn't Spend Enough Time With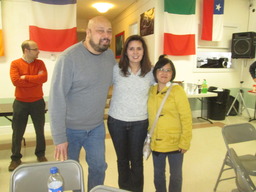 First- and Second-Cousins
David, Melodie, and
Martha in Church Basement

In addition to uncles, cousins, and Professor M., I also got together as I could with several others in places all around D.C.:

Aunt Martha is living out here now. She moved from Nashville to Arlington a couple years ago and has landed a job doing bookkeeping at a Washington-based charity, Bread for the World.

She's the same as ever which is a good thing when suggesting travel plans. We have different styles of travel but that hasn't stopped us from meeting up lots of odd places. We've already seen each other in California, Urumqi, Chicago, Nashville, Las Vegas, and Long Island. She didn't have to think too long before accepting when I encouraged her to come up to see me in Montréal after my courses have ended this summer.

We got together a few places: over dinner, over coffee, and over church. I suggested that we meet at the latter as whenever I happen to visit D.C. on a Sunday I tag along a session attending Uncle David and Cousin Melodie's church.
Mala, Vega, and David
---
It would be sad to breeze through D.C. without saying "hi" to Mala and Vega. Their schedule has been tight over the time I've been in town but we managed to get together briefly. They picked me up at the Pentagon after I took the tour, then drove me up to Rockville for a happy hour. (Which had the advantage of being walking distance from where I was staying with Cousin Melodie.)

Mala and Vega keep on doing good for the world. The small consulting business they started has clients. They're extending the clientele for their services beyond non-profit organizations to individuals as well with offerings such as a weekend session helping people determine how to define and achieve personal and career goals.

Unfortunately, they didn't bite at the invitation I offered to come up to visit Montréal before I leave. They're just too busy with their work. I hope we manage to spend more time than just a happy hour whenever we're next in the same town. I always feel a deep sense of goodness after any time I spend with those two.
---
I think that out of everybody I got together with over this visit to Washington, D.C. it was Ashley who was doing the best. We had just one short evening together that ended only a couple hours ago. We started with a combination platter at Ethiopian restaurant Lalibela on 14th and P. We washed that down with pints at a nearby brewery, the Drafting Table, catching each other up over bites of doro wot and injera. She seemed radiant. Good things are going on in Ashley's life.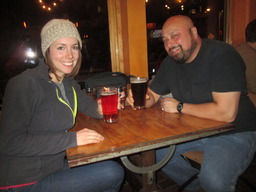 Ashley and David Raise
Pints at Drafting Table

Her job at the Voice of America has transitioned from temporary contract to permanent employee. Among the promotions that the VOA uses to tempt people around the world to listen to their broadcasts is by filming clips that they then upload to YouTube. The latest evidently features her pretending to be in settings where she's supposed to be speaking with locals in either Pashto or Tajik. I still haven't tracked it down on-line but think that will be amusing to watch.

When we sat down to dinner Ashley apologized for being in an unkempt state (which I hadn't noticed) as she'd been out cycling all around D.C. for hours on some sort of bicycle scavenger hunt. Hearing how she's active, busy, and everything else that Ashley has going on these days it was clear that she's fallen into a good niche with lots of good activities going on in her life. It's good to see a friend doing well.

As with my meet-up with Mala and Vega my time together with Ashley was too short. But, I do seem to be breezing through this town pretty regularly. Perhaps I'll come again next year and will have more time to spend with the people I know around Washington.

Though now, it's time to leave. After saying good night to Ashley I walked down to Dupont Circle to spend the last hours before I head back up to Montréal. An hour browsing Kramer Books was followed on by coffee here at the Starbucks down Connecticut Avenue, where I now sit, typing. I'll step out in a few minutes to catch the Red Line to Union Station, followed by an overnight, northbound Megabus.

Next stop: New York City