Cross-Border Shopping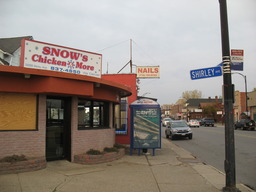 Buffalo, USA
November 11, 2012

In one way I must be becoming more Canadian. As with so many others who reside above 49° N.*, I too have turned into a cross-border shopper. Though, that presumes the term "shopping" can be rather loosely defined.

I didn't buy anything fancy on this brief jaunt to the U.S.. (I'm now trying to think back to just which item might qualify as the last fancy anything I bought anywhere... ) No luxury goods, no electronics, and certainly nothing I'd be granted any duty-free allowance for will be brought back from this trip.

What shopping I did here--entirely basic groceries--was for stuff I'm sure I could have found somewhere around town had I sought it out back in Québec City. But, as américan-abroad I've confronted the reality: there is generally a better selection and variety of goods back down in the motherland. Moreover, everything is just a whole lot cheaper when on the south side of the border.

From local Asian market Ni Hoowa 福華超級市場 I picked up:
1 bottle dark soy sauce
1 bottle Sriracha hot chili sauce
2 packets pho stock
10-pair packet High Elephant's Tusk Chopstick
From German discount chain ALDI I picked up:
1 2-oz. bottle imitation vanilla **
1 block of 6 chocolate bars
1 pouch Made in Australia Licorice
1 round cake of gouda
1 wedge parmesan
2 large bars chocolate-coated marzipan
3 8-oz. cakes cream cheese **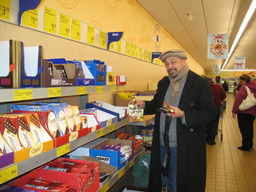 David Shops ALDI Candy Aisle

All these items have been bundled up inside my knapsack. I wonder what they'll make of my customs declaration when I walk across the bridge over Niagara Falls and back into Canada.

I decided this was vacation time so availed myself of other opportunities I wouldn't ordinarily splash out on while in student-mode back in Québec City. These aren't physical items that will cross with me back into Canada. Spicy Punjabi buffet in a strip mall. Yeah! They serve Ethiopian food in Buffalo, too? All right. The new James Bond movie? I seldom see films in the cinema--let alone on opening day--but why not?

I actually didn't come to Buffalo with the specific intention to shop and gorge myself on ethnic food. I just thought it would be nice to have a change of scenery over the week free between terms of intensive language class. Overland fares are cheap. Stringing together fares through rideshare site amigoexpress.com and Megabus made for a $62 return ticket from Québec City to Buffalo and back. A bonus was being able to spend time in Montréal, Toronto, and Niagara Falls en route.

Buffalo City Skyline

I also chose to come here to say "hi" to a few people around town. This isn't my first trip to this city. I first passed through at the beginning of the year while biding my time waiting for Free French to begin. I've kept up with some of the sympathetic Buffaloneans I first connected with on that initial trip--all a short degree of separation removed from CouchSurfing and SUNY at Buffalo.

Thanks for hosting again, Kevin and Katie! Thanks for having me at the cocktail party chez toi, Professor X. Thanks for the invitation to the art opening, Professor N. Best of luck putting in for tenure.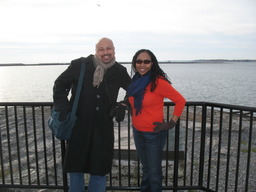 David and Professor N.

Time now to head back north. I think I'm going to make an additional break in my journey en route to Toronto. I've been corresponding with somebody who has evidently been following this travelogue of mine for years. We've never met in-person; our only connection is that he responded to my plea for real mail. "If you're ever in Hamilton... ", he wrote me in a letter he sent to my P.O. box.

Well, okay then!

Next stop: Hamilton
---
* Trivia: My present hometown of Québec City falls not only well south of 49° N., it's also at a latitude south of my original hometown of Seattle.
---
** To be used in the baking up of future cheesecakes